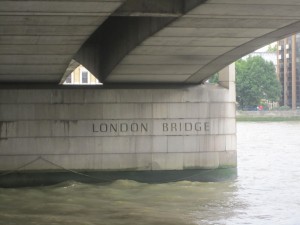 Your London accommodation may provide you with safety and comfort, but does it teach you about old London while scaring the pudding out of you? If the answer is yes, I'm kind of jealous of you. If the answer is no, boy do I have an adventure for you!
The London Bridge Experience and Tombs is located conveniently by the bridge itself and is well marked with signage to ensure you can find it without much hassle. After buying your ticket for one of the available time slots (it runs about every half hour during the day), you wait until your guide takes you into the depths of the bridge to begin re-enactments of the events that led to the building, destruction, rebuilding, re-destruction and re-rebuilding of one of the most important bridges in the world. Then they send zombies after you.
Without giving too much away, I will say for the most part the production values are quite well done. You can learn quite a bit about the London Bridge from the cheesy interactive play so long as you can chill out and not be a cynical douche that spends the whole time going 'It was so fake'. No, really? It was fake? I thought Vikings were actually attacking and they really did disembowel someone in front of me.
Where the London Bridge Experience really shines is when the zombies come at you. After the history is done (This is the London Bridge Experience part), they send you through a decently unnerving haunted house of sorts, known as the London Tombs. You basically follow the person ahead of you blindly through these poorly lit rooms and have everything from creepy whispers to squeeze rooms to chainsaw-wielding maniac chasing you for 15 minutes.
If you're one of those people who get scared easily and like it, you will love this part. Being the he-man that I am, I was not scared, but I still enjoyed it. Still, the douches I travelled with complained that it wasn't real enough. I'm sure if they had have said something, the staff would've brought out the real zombies and sawed off an arm or two. Seriously, you just can't please everyone.
Which brings me to the final verdict on the London Bridge Experience and Tombs. At a hefty price tag of around £20, it can be a bit out of most budgets. If you are someone who enjoys a bit of history and being terrified, it is well worth the admission. Additionally, if you are a holder of the London Pass, your admission is already paid for and if you've been staying in one of the London serviced apartments for a while and haven't been, you're really missing out. I probably would not have went in were it not for already having the London Pass, but I'm glad I went as it was the something different I needed to break up my sightseeing trip.