By: Zoe Sedlak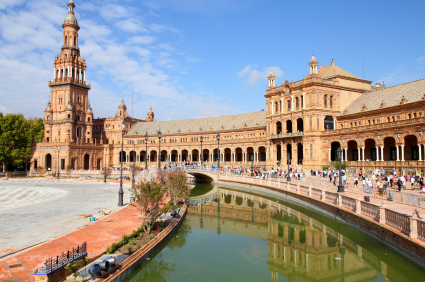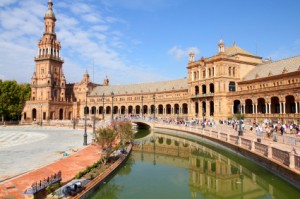 When you think Spain, you usually think Madrid or Barcelona.  But places like Seville have a province and a history all its own that make it a destination worth visiting.  If you have time to rent one of the apartments in Seville, despite the fact that the city has a notoriously high cost of living, there are certain things that may be important to know about it.  For instance, apart from its mix-and-match history as a city largely influenced by Arabic culture but also with Roman and Spanish influences, Seville was the site of an important event back in the 20s that brought its history to the forefront.
One site of particular importance is Maria Luisa Park, which in 1929 was the home of the World's Fair.  Because of this fair, Seville became modernized to accommodate the vast crowds expected.  Medieval streets were widened for automobiles, and permanent changes were effected in the city, all for the oncoming exposition.  Buildings that were constructed for the fair still remain today.  Some consulates were originally built for the Word's Fair.  The fact that something like that can have such a lasting effect on a city shows how much value Seville puts on tourism and culture.  It literally pushed the city into a new age because of the promise of revenue and visitors.
At the same time as Seville's fair, the International Expo in Barcelona was going on, which provided a needed contrast in material between the two fairs.  In Barcelona, it was more about industry, and how Spain would contribute to future technology, so Seville's focus became culture and art.  This allowed them to solidify their own cultural identity amidst a conflicting history.  In this way, the fair became important in joining Spain with Latin America through its exhibits.  The Ibero-American exhibits from places like Peru, Brazil and Costa Rica were a display of their particular cultures, and also a statement on their connection with Spain.  They were all tied together to the same roots, and this fair established their cultures as connected units of one whole.
Now, although Seville apartments boast a high price tag, the city may thank this World's Fair for the tourism it brought so many years ago.  The city that it has become in the decades since this fair are a testament to that; Seville is now a city with its own unique culture separate from other parts of Spain.