It's that time of year again when the nights are drawing in and our thoughts (well mine anyway) turn to winter getaways to make the season that bit more exciting. Paris is a top choice for a seasonal break, not least of all because of its ice rinks.
There's no denying that grownups and kids alike love whizzing around on the ice, feeling the wind in your face as you glide across the surface (and hope you can stop in time and not fall over!).
Paris is, therefore, an excellent destination for a winter escape, as you've got plenty of culture to keep you happy, as well as several ice rinks to enjoy if you feel like indulging your inner child.
As some of these ice rinks are free (or relatively cheap) to use, there's no excuse not to strap on a pair of skates. Shop around to find a cheap hotel in Paris and you can get away without breaking the bank, too!
Here are a few of my favourite spots in Paris if you want to go ice skating – not all the dates for the 2012-13 season have been confirmed yet, so it's best to check what's on when closer to your holiday.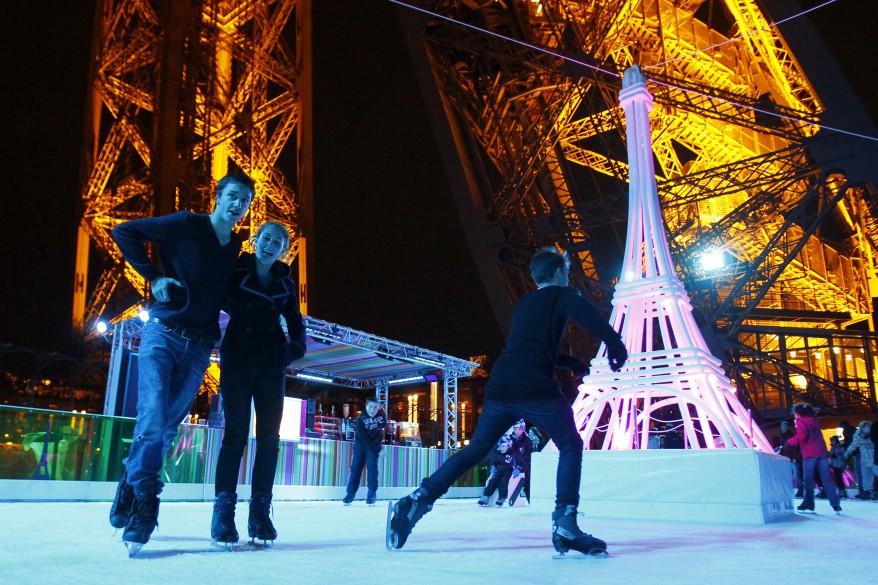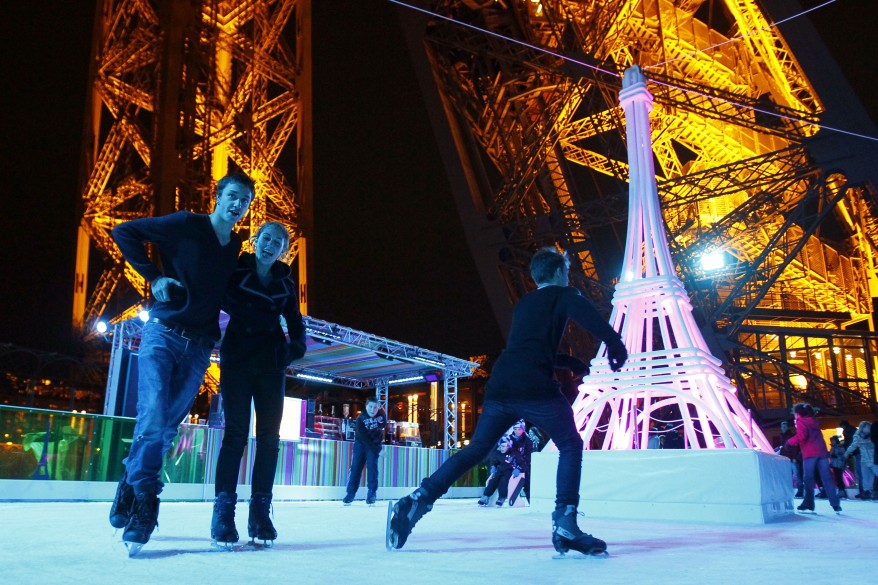 Eiffel Tower Ice Rink
Where: 1st floor of the Eiffel Tower
The name says it all really and you'll certainly need a head for heights if you want to skate here. The ice rink sits 57 m above the ground and it's free to use once you've paid the standard entry fee – you'll even be provided with skates at no extra cost.
If you're looking for somewhere romantic to go skating with your partner, or you're just after something a little different, this is a pretty good option and combines two top winter activities in one! Look out over the stunning views of Paris as you skate, which are particularly scenic if you climb after dark and see the city lit up.
There's also a bar next to the ice rink serving drinks like hot chocolate and mulled wine (although the latter is probably better sampled after you've been skating).
Ice rink at Hotel de Ville
Where: the square in front of Hotel de Ville (city hall)
This ice rink is a regular on the Parisian ice skating circuit, with the large rink typically open from December to March. It's totally free to skate here if you've got your own footwear – if not, you'll have to hire some, but it's not overly expensive.
The Hotel de Ville is an impressive backdrop for an ice rink thanks to its ornate Renaissance front. It's situated on the edge of the Marais district, so there are plenty of bars and restaurants within easy reach if you need to refresh yourself.
Tour Montparnasse Ice Rink
Where: At the foot of the Tour Montparnasse (Montparnasse Tower)
The final ice rink worth visiting on a short winter break in Paris is the one below the Tour Montparnasse. Again, you can combine sightseeing with a little fun on the ice, as the views from this tower are spectacular and allow you to see all of the city's most famous monuments from one place.
It's a similar setup to the Hotel de Ville rink, in that you can hit the ice for free if you've got your own skates. Hiring footwear isn't too costly though, so you shouldn't find it's an overly expensive way to spend an afternoon!