Ski holidays are one of the few things that make UK winters bearable so, for many of us, the annual pilgrimage to the pistes is the highlight of our year. However, it can easily become a very expensive highlight, especially in high altitude resorts that charge a premium for a virtual guarantee of good snow. But, just because you opt to go cheaper, that doesn't mean you have to sacrifice on quality – there are some great deals to be had, even in fashionable France. So dust off your designer goggles, dig out your gold lamé salopettes and get ready to party with the glitterati!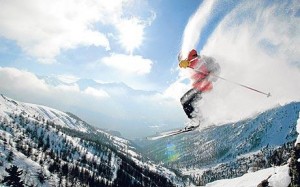 It stands to reason that some of the best prices are only available if you book well in advance, but that doesn't mean you can't snap up some last-minute bargains. Not everyone is in a position to

plan their ski holidays far ahead of time

, while others prefer to wait until the snow reaches optimum condition, which will obviously vary from season to season.
Some of the most famous ski resorts in the world are to be found on the French-Italian border, where the Alps reach their peak at the summit of Mont Blanc. Spots such as Chamonix, Tignes, Val d'Isère and Les Trois Vallées have carved out a place in winter sport history. But if your budget won't stretch to such exclusive jet-set playgrounds (and let's face it, that's what keeps them exclusive!), you can still enjoy good skiing with an Alpine vibe in places such as L'Alpe d'Huez, close to Grenoble and popular with day visitors and families, or Isola 2000, just a couple of hours' drive from the Riviera and

benefiting from plentiful budget flights from the UK

to nearby Nice.

The French Pyrenees offer a great selection of ski resorts for all tastes and abilities, but good snow cover can be less reliable than the Alps. On the plus side, they tend to be less crowded and less expensive. Tourmalet is the second oldest ski resort in France after Chamonix and rises to a height of 2,500 metres, while Font-RomeuPyrenees 2000 to the east is equipped with 500 snow cannons and over 100 km of cross-country skiing pistes.

The Vosges mountain chain, running between Lorraine and Alsace on the eastern border of France, offers excellent skiing, particularly in very cold winters. The main resort is La Bresse, which has illuminated pistes for evening skiing and attracts day visitors from Strasbourg and Luxembourg. Slightly higher than the Vosges is the Jura range, which follows the northern border of Switzerland and is especially popular with Nordic cross-country skiers. The Massif Central has numerous small skiing hotspots as well as the major resorts of Besse-Sancy and Le Lioran, which are fully equipped with cablecars, ski lifts and ski tows.

No one can predict the weather but, with a bit of luck, you should be able to ski somewhere in France from mid-December to mid-April. However, most resorts are well aware of the vagaries of the climate and offer a range of alternative activities such as skating rinks, hiking trails, cinemas and tennis courts to keep customers happy even if the snow stops falling.