The Philippines is a country full of amazing natural beauty and places to visit. It is one of the most popular tourist places in the world today. While you're here, you are bound to spend a wonderful holiday. However, sometimes it becomes a little confusing for the first-timers. They couldn't figure out what to do here to enjoy their trip to the fullest. In this article, we will talk about things to do the best things to do in the Philippines. So, read on.
Best Things to Do in the Philippines

Go to Puerto Princesa Subterranean River National Park
As you might already know, this national park is famous for being a UNESCO World Heritage Site. Residing in Puerto Princesa, Palawan, it has secured its place among the new Seven Wonders of the World. So, visiting Puerto Princesa Subterranean River National Park would be a great idea. The river flows beneath the St. Paul Mountain Range and passes a number of caverns. Here, you will get a view of beautiful cavernous rock cathedrals, stalactites, etc. Plus, you will see many wild and marine species as well. Thus, visiting the river is absolutely worth it. However, a tour here costs around 735 PHP. So, it could a problem if you're on a tight budget.
Experience kayaking like never before in Panagsama Beach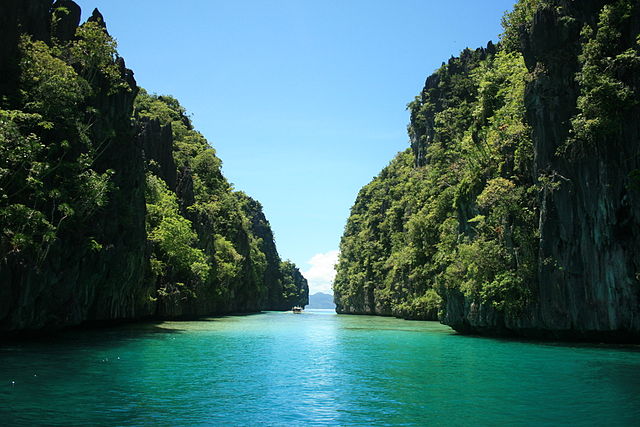 If you're seeking some water adventure, Panagsama Beach could be a paradise for you. Located in Moalboal, Cebu, this beach is perfect for water activities like kayaking, snorkeling, scuba diving, etc. Plus, there are plenty of opportunities to opt for whale watching or dolphin spotting too. FYI, the beach is rocky and full of corals with little sand. This helps you enjoy sunbathing and swimming. Among all other activities, kayaking is on the next level here. The Class II rapids make sure you get the thrill you're looking for. Also, the crystal-clear turquoise water as well as the surrounding nature and marine life make it a more enjoyable experience. And, all this won't cost you much. Pay only 100 PHP and you're in for a treat.
Walk on Bamboo Hanging Bridge
Located in Loboc, visiting this hanging bridge is surely among the best things to do in the Philippines. This bridge is famously known as the Tigbao Hanging Bridge and attracts a lot of visitors each day. FYI, it is actually a pair of two bridges (one for each direction) that helps people cross the Sipatan River. While walking on either of them, you'd witness the stunning natural beauty surrounding the place. Both bridges are constructed out of bamboo and are supported by steel cables. So, they are totally safe to walk on. They are so sturdy that even motorbikes can run over them without any worries. Travelers can visit the place at a nominal fee of 35 PHP. Therefore, it's very affordable, and you shouldn't miss it at any cost.
Visit the famous Ayala Museum
If you wish to understand the rich history of the country, visiting the Ayala Museum would be a must. Located in Greenbelt Park, this museum is known for showing the progress of Filipinos – from cavemen to modern men. There are numerous provisional and permanent galleries to help you better understand the culture, art, and heritage of the Filipinos. The museum is home to a large number of purchasable artifacts, home décor, ship models, etc., too. Also, you can buy art books, local craft items from Ayala. However, the entry fee is quite high (425 PHP). If you're fine with it, visit Ayala anytime between 9 am and 6 pm from Tuesday to Sunday.
Mesmerize yourself at Chocolate Hills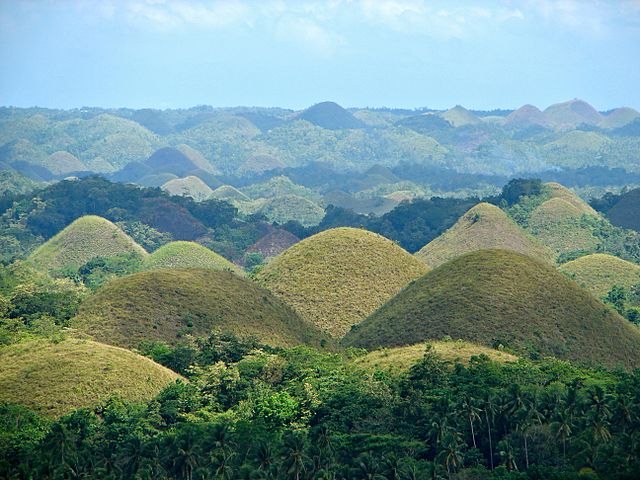 Located in Bohol province, Chocolate Hills are among the must-visit places in the land of the Filipinos. While it's not made out of chocolates, you'd be amazed at the stunning beauty the hills possess. The hills get their moniker from the fact that their brown hue makes them look aesthetically chocolaty during summer. Its unique landscapes, hiking trails, Tarsier Sanctuaries, etc., have made the hills incredibly popular among both locals and tourists. Once you reach the hills via the scenic trails, you're in for a visual treat that'd stay with you forever. So, missing it would be a huge loss.
Pause at Fort Santiago
While you're in Intramuros, Manila, don't forget to visit the iconic 16th-century fortress known as Fort Santiago. This fort is not only a national landmark but also is dedicated to the freedom of the nation. For your info, Fort Santiago attracts a lot of visitors for its historical importance. But this is not all. The fort boasts amazing Italian-Spanish architecture. Also, it has a museum that is famous for showing memorabilia of the great Jose Rizal. Pay this wonderful site a visit and be enchanted by the classiness, breathtaking architecture, and historic value of the place. Also, the ticket price is very reasonable (75 PHP for adults and 50 PHP for students/senior citizens/disabled persons). So, do visit between 8 am-7 pm and have a memorable experience.
Give Burnham Park a visit
Located in Jose Abad Santos Dr, Burnham Park is a famous tourist spot in the country. It is regarded as the best summer destination there. Visiting Burnham and enjoying some thrilling activities with your friends/family is among the best things to do in the Philippines. You can also opt for some boating amidst the lush flora and fauna of the surroundings. FYI, apart from boating, this park is also perfect for numerous other activities like picnicking, skating, etc. Plus, the events held at the grandstand or the flowerbeds will surely make your visit more amazing. The swan boat trip costs 60 PHP/person and will give you moments that you will cherish forever.
Explore Mayon Volcano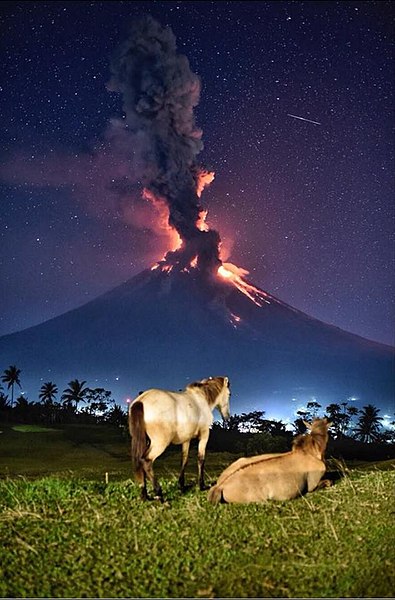 Situated in the Southeastern Luzon, Mayon Volcano is a real beauty that will surely make you awestruck. However, it is the most active volcano in the country that erupts frequently. Its perfectly conical shape, its wonderful sceneries, its inescapable appeal – all contribute to its being this famous among tourists. Here, you won't just sightsee but also take part in many adventurous activities like ATV riding, hiking, camping, etc. So, come here and see for yourself what Mother Nature has to offer.
Say hello to Hinagdanan Cave
Located in Bohol province, this wonderful cave is made out of limestone and has natural sunlight peeking through little holes. This, along with the stalagmites and stalactites on the ground and ceiling, creates a mesmerizing atmosphere. We can guarantee that it would surely dazzle your mind. Also, there is an underground lagoon for the visitors to enjoy a soothing swim. However, it is not free and costs 50 PHP/person. There are plenty of souvenir shops around the place. Come here anytime between 7:30 am and 5 pm and dive into an extraordinary experience of a lifetime.
Spend some quality time at Rizal Park
In case you were unaware, the Rizal Park at Ermita, Manila is the biggest urban park in Asia. The park gets its name from the national hero Dr. Jose Rizal to whom it is dedicated. The park is home to verdant gardens, majestic historical monuments, stadiums, etc. Plus, there are 3D maps, picnic grounds, as well as an open-air concert hall. Visiting Rizal Park is undoubtedly one of the top things to do in the Philippines. It not only makes you familiar with the rich Philippine heritage but also everything needed for a good time. These include dancing musical fountains, horse carriages, and so on. Thus, don't miss the chance to visit this place at a nominal cost of 50 PHP and make great memories.
Come to the 3D Museum of Art
Located at 15th Ave, the 3D Museum of Art is the hugest 3D museum in all of Asia. So, visiting this place is one of the best things to do in the Philippines. At high costs of 500 PHP (adults) and 400 PHP (students), it's possible to see 200+ 3D paintings and sculptures. These include animals, Egyptian ruins, and so on. If you can afford it, don't hesitate to give this place a visit. Rest assured, all that money spent would be absolutely worth it.
Conclusion
Here, we told you about the best things to do in the Philippines. So, now that you know about them, don't wait any longer. Pack your bags and visit them all ASAP. Bon, voyage!
Frequently Asked Questions:
What are the must-see places in the Philippines?
There are many such places scattered all over the country. These include Panagsama Beach, Ayala Museum, Rizal Park, and so on.        
What is the Philippines best known for?   
The country is best known for having an abundance of stunning sea beaches and luscious fruit.
What to do when you're in the land of the Filipinos?
One thing is for sure – you'd never run out of things to do in the Philippines. From visiting the famous Burnham Park to picnicking at the Rizal Park – there are so many things to do here. Refer to our article for more.