If you thought skiing was only limited to winter, then think again. The French Alps offer some amazing locations to ski throughout the summer too. It is possible, but only at the higher altitudes where there may not be fresh snowfall but during the mornings the snow is crisp and very skiable.
Skiing in summer often means quieter resorts, cheaper prices and offers a good start for beginners on the slopes. The weather is usually more agreeable too with warm sunny days to enjoy.
There are two main resorts in the French Alps that offer glacier skiing during the summer months, these are Les Deux Alps and Tignes. Both have great facilities, offer full morning ski sessions and have plenty of activities to occupy you when the slopes are closed.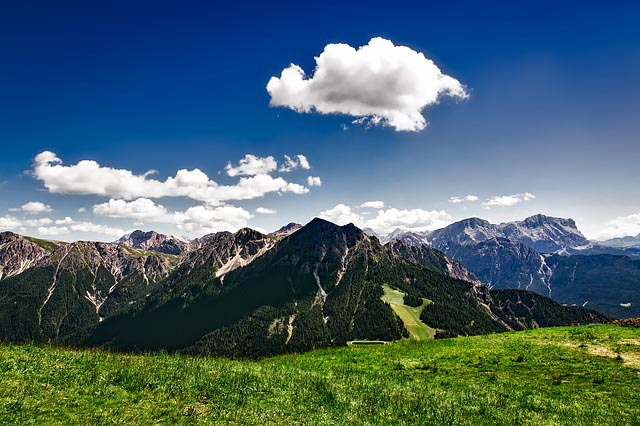 Photo credit: pixabay
Les Deux Alps
With guaranteed natural snow, this resort is a great choice for summer skiing. A stunning location with superb panoramic view, Les Deux Alps is one of the world's highest ski areas and Europe's capital of summer skiing. The glacier stands at 3600 metres at its highest point and the resort also offers the longest on-piste vertical in the world.
The slopes are open from early morning until lunch time before the hot sun penetrates the smooth snow and the afternoons can be filled enjoying the other activities the area has on offer.
The great thing about summer skiing here is that it's so relaxed. Beginners can enjoy learning in a chilled-out environment and yes there are still ski lessons in the summer months. Seasoned pros can also practice in the morning and relax in the afternoon.
The summer ski area has lift access and is open between 715am and 1230pm. The lifts also grant access to mountain biking and hiking routes.
Accommodation options here are in abundance even in the summer months. Choose from chalets, apartments, both budget and luxury hotels and even campsites. There really is something for everyone.
Other activities to enjoy
When the slopes are closed, you won't be bored in Les Deux Alps. Whilst both mountain biking and hiking are very popular and fantastic to experience in this area, there are other options that may not have crossed your mind.
A horse riding centre is located near to the slopes offering a great alternative experience in the area. The centre provides riding lessons for ages of four and upwards in one or two hour slots which is a great activity for families with young children.
Beach volleyball – yes that's right! At the entrance to the resort there are sandy volleyball courts which are free to use. Balls can be hired locally and there are even beach volleyball and beach football tournaments arranged on a weekly basis.
Plenty of money to spend? Helicopter tours can be booked for a real unique perspective of the amazing scenery. A tourist flight will give you panoramic views of the surrounding mountains and really is an exhilarating experience.
If you want to relax, why not book yourself a massage or a beauty treatment? Or take time out in the pool and enjoy the use of the sauna and jacuzzi.
Getting to Les Deux Alps
You can get to Les Deux Alpes by flying into one of the nearest airports and catching a bus or transfer to the resort.
Grenoble is the nearest which is about one and a half hours but there can be limited availability which also increases the prices. Geneva is the next best option, with more flights and more reasonable prices however it is a three-hour journey from Geneva airport to the resort.
You could always book a package break and take the stress out of the booking and organising process. Packages usually include everything you need during your stay including transfers. Alpineelements.co.uk have some great deals which are worth checking out.
Tignes
The Grand Motte Glacier is a great place for skiing in the morning then hiking in the afternoon. The altitude keeps the snow crisp in the earlier hours where there are 20km of slopes between 3000 and 3456 metres. The main resort is set on the edge of Le Lac and sits at 2100 metres above sea level.
Open from late June to early August, the summer season is relatively short. Even though you only get the morning to ski, the fast funicular will take you to the foot of the slopes from the resort in around seven minutes. Opening from 715am to 1pm this gives you a whole six hours of ski time if you wish.
Once at the glacier there are 12 ski lifts that will help you to navigate and a snow park with pistes to play on too.
Accommodation is varied in Tignes which means you are likely to find exactly what you are looking for to suit your needs and at reasonable prices too.
Although you get less time on the slopes than in the winter time, summer skiing in Tignes means less crowds, cheaper passes and warm sunny days. The perfect alternative to the bustling and busy winter time.
Other Activities to Enjoy
There are plenty of other activities to take part in at Tignes once the slopes are closed or for an alternative to skiing.
Adventurous types can choose from canoeing, mountain biking, paragliding and the newer extreme water sport of hydro-speeding which is similar to surfing down white water rapids!
If you want to be physical but stay indoors then there's an indoor rock climbing wall, a bowling alley -which is great for families, squash courts for the competitive friends, swimming pools and if you haven't worked out enough on the slopes a gym.
Relaxing more your thing? Go to the cinema and watch the latest releases during the evening, enjoy a sumptuous spa day and massage away those ski-induced aches and pains.
As you can see there's plenty more ways to spend your time when you can't ski all day.
Getting to Tignes
In the summer months, there aren't usually any flights to Chambery the closest airport to Tignes, so the best airports to fly into during summer are Grenoble, Geneva or Lyon. The transfer times are all similar in the region of just under three hours.
Flying and driving is a good option as it gives you the flexibility when arriving at your resort. Transport options can be limited out of season so if you haven't booked a package deal and don't want to drive it is recommended to arrange ahead of time.
All you have to do now is grab your ski gear and set off! With two fantastic resorts to choose from in this beautiful part of the world there has never been a better time for an amazing summer ski break.