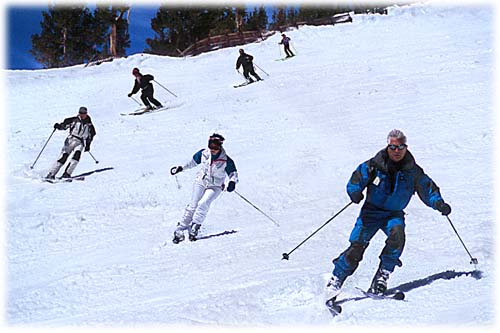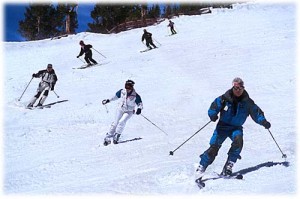 I've been an average ski junkie my entire life. Thanks to my job as a sports photographer I've traveled and skied, all over the world. So when I was asked to rank the Top 5 ski destinations in the world I jumped at the chance. I thought it would be fun, until I realized how many great places I would have to leave off my list. In the end, after considerable deliberation, I made my decisions based on great skiing and accommodations, I've also considered charm and family activities.
#1 Zermatt Chalets, Switzerland – If Whistler wins for convenience Zermatt wins every other category. Skiing in the shadow of the Matterhorn is breath taking, skiing vertical drops of over 7,000 feet is exhilarating, and direct lift access from town makes it all easy to get to. With 5-star accommodations and dining on every corner, history and discovery around every corner – Zermatt is every thing you would expect from a historic ski town. Don't forget to take the Alps highest cable car and visit the Italian side.
#2 Whistler Mountain & Blackcomb Peak, Canada – Located 125 miles north of Vancouver the Whistler Blackcomb Ski Resort is the largest in North America. It boasts 20 black and over 100 blue runs; and it's just a quick plane ride away! Whistler Blackcomb opened in 1966 and got its moment to shine as host to the alpine skiing events during the 2010 Vancouver Olympic Games. If there is a downside to the resort it would be how many people actually go there, the place always seems busy.
#3 Niseko Mountain Resort Grand Hirafu, Japan – A few things make Niseko great, besides the fact you get to go to Japan. First, it has such great powder, not to mention the second most snowfall of any ski resort in the world. Second, lots of foreigners travel here, including many Australians, so you'll get to make great new friends since there won't be as many language barriers. Plus, it's a great family opportunity to learn about Japanese culture and history. Oh, did I mention the amazing skiing!
#4 Steamboat Springs, Colorado – Steamboat Springs is one of the coolest towns I've ever been to– it also happens to have a great ski resort somewhere nearby. Situated in the northern ranch lands of the state Steamboat is still a working cowboy town that features world famous hot springs . The Steamboat Ski Area is located on Mount Werner, in the Routt National Forest and features 165 runs. One of the best ski schools in the country is here and has produced 79 Olympic skiers and snowboards.
#5 Vail, Colorado – Vail Ski Resort was opened in 1962 by Pete Seibert and Earl Eaton. The two men found what would become Vail Mountain while serving nearby during WWII. They thought the mountain would make a great resort, and they where right. Vail gained popularity when President Gerald Ford vacationed there. Boasting 193 runs Vail is the biggest single mountain resort in the United States, over half of which are advanced or expert runs. Today Vail is scenic beauty and opulent luxury right here at home.