Paris is famous for its urban attractions – art, architecture and fashion, to name but a few. If you fancy seeing another side to the city, I think exploring some of its parks is a brilliant way to do so.
The French capital is actually seriously green, being home to more than 400 parks and gardens. So, finding a scenic spot to spend the afternoon shouldn't prove too much of a challenge. Still, I've put together a shortlist of some of the best to help you get an idea of what's on offer.
If you're planning to travel in the autumn or winter, don't dismiss the idea of visiting some of these. Yes, it'll be pretty cold, but it's also likely to make the scenery all the more dramatic, and the gardens will be ideal spots for crisp walks in the open air. Plus, it's a good excuse to treat yourself to a hot chocolate and crepe when you get back inside!
Parc des Buttes-Chaumont
The first of our top parks is out in the 19th arrondissement, but it's well worth hopping on the metro to get there (the nearest station is, conveniently, Buttes-Chaumont). Like many of Paris's most scenic gardens, this one was designed by Adolphe Alphand and is known for being the steepest park in the city.
Well outside the standard tourist thoroughfares, this park is real scenic haven. Laid out like an Anglo-Chinese garden, it's home to waterfalls, cliffs and winding little paths. Plus, if you like animals, you'll find there's a fair amount of wildlife you can spot – particularly birds like black swans and warblers.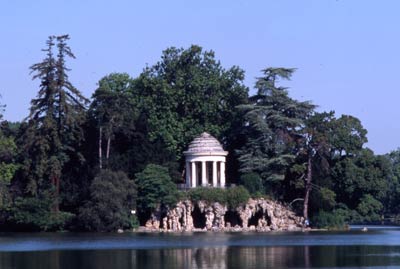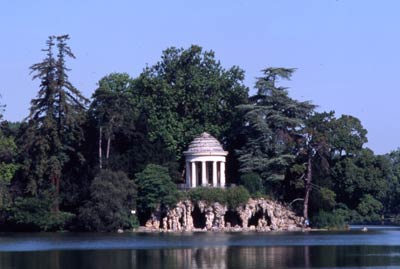 Bois de Vincennes
The biggest park in Paris, Bois de Vincennes used to be a royal hunting forest. Today, it's a popular place for walking and boating, and even horse riding, if you fancy it. Its eclectic mix of attractions includes restaurants, a small farm and the Parc Floral, which is an interesting cross between an amusement park and a botanic garden.
Jardins des Champs-Elysees
Next on our list is the Jardins des Champs-Elysees, which you'll come across if you visit the Louvre. So, it makes sense to combine trips to the two, but of course you can just explore the gardens if you fancy.
They date back to 1667, but they were redesigned by Adolphe Alphand in 1859 and have remained much the same since then. Guided tours are available if you want to know more about the site, but you're free just to walk independently if you'd prefer.
Jardins des Plantes
Perhaps the ultimate place to go for plant lovers, Jardins des Plantes is Paris's exciting botanical garden and is home to a whopping 10,000 species. This is perhaps also the most formal garden on our list, having originally been created by Louis XIII's doctor, who aimed to grow medicinal plants.
These days, you can see a massive range of plants in alpine and winter gardens, as well as tropical greenhouses. Plus, if you head inside the old laboratory, you can see where Henri Becquerel discovered radioactivity back 1896.
This is just a handful of the gardens you can visit while you're here. The great thing is that, as there's so many, there are bound to be a couple of gems you stumble across by accident while exploring.
If you haven't yet sorted the accommodation for your trip, look for useful information. As you're probably aware, Paris can be a bit on the pricey side, so it's worth taking a little extra time to dig out a decent deal on somewhere to stay. Fortunately, most of the parks and gardens are free to enter!