If you want to escape the bustle of your daily life, you might be planning to go on a vacation. When people think about tourist spots, popular ones like London or Paris come to their minds first. Yes, they do have their own charm. But, they are nothing new. Now, if you would like to try something unorthodox, why not give Brisighella a visit? It is a nice, picturesque village in Italy. We can bet that most foreign visitors have not even heard about this place before. If you are also one of them, read on. In this article, we will discuss things that you can do in Brisighella, Italy.
Best things you can do in Brisighella, Italy
Visit La Rocca
One of the best things to do in Brisighella, Italy is to visit La Rocca meaning The Castle. The lovely village of Brisighella contains three beautiful hills having a different structure of a different century. Here you can find a castle dating back to the 14th century. This castle is pretty well-maintained and is a symbol of the place's rich history. So, if you love to explore and dive into history, La Rocca is the perfect place for you. The castle also has speakers set up in its rooms. These speakers let out loud voices that make you go back to a forgotten time. You can explore the castle yourself or take help from the local guides. Plus, the lookouts here offer one of the best views of the village.
Climb up La Torre
La Torre means The Tower. It is the most modern among the three structures or crowns in Brisighella, Italy. The clock tower was built in the 19th century. You can easily reach this place on foot if you follow the spiral staircase. In fact, La Torre would be your first place to arrive. The tower looks a lot larger when you are closer than it looks from the village. If you like to observe nature, this clock tower can provide you with a great view of the surroundings. As we said earlier, Brisighella is unbelievably picturesque. So, the photographers can utilize La Torre as a perfect vantage point.
Walk down the Via degli Assini
The village of Brisighella has so many things to offer its visitors. One such thing is the Via degli Assini. It is an ancient wooden beamed path, known to locals as the Donkey's Street. You can find this walkway very easily if you're in or near La Torre. Look at your right and there it is – the famous Donkey's Street. This walkway was built in the 14th century and was used as a military outlook. Also, there were houses and stables with horses underneath. However, today, there are no stables here, and the street no longer serves any defensive purposes. Instead, the stables have become fancy cafes.
Taste the award-winning olive oil
One of the most famous and prized assets of Brisighella, Italy is its Brisighello olive oil. You can find bottles filled with green, clear olive oil here. Some of them may contain a peppery flavor, while some are more refined. But, one thing is for sure, all of them would satisfy your tastebuds the same. You can avail a sample of fresh olive oil in local stores. Most of the time, you would also get a piece of bread along with it. Trust us when we tell you that it would be a great experience.
Go to the gypsum quarry and concerts
In case you didn't know, Brisighella was a huge mining town. Even today, you can see the quarry and the gypsum that bordered its lion's share. However, many of the big caves are being used for different purposes. For instance, one such cave has been turned into an open-air geological museum. You can also find lifelike statues of various excavated mammals in the area. It feels very good knowing that the place was once home to large mammals and prehistoric animals. Plus, there is a concert venue that came into life by repurposing one of the old caves. Don't forget to give it a visit while you're here.
Enjoy thermal baths
Brisighella, Italy is not just some scenic, soul-soothing eye candy. It is much more than that. It is also a spa town popular with the locals. The old village of Brisighella has the first spa within only a few hundred meters away from it. It is made out of the waters from the nearby mountains. These areas are famous for their Wellness Weekends. That means Brisighella would not only provide refreshment to your mind and soul but also your body.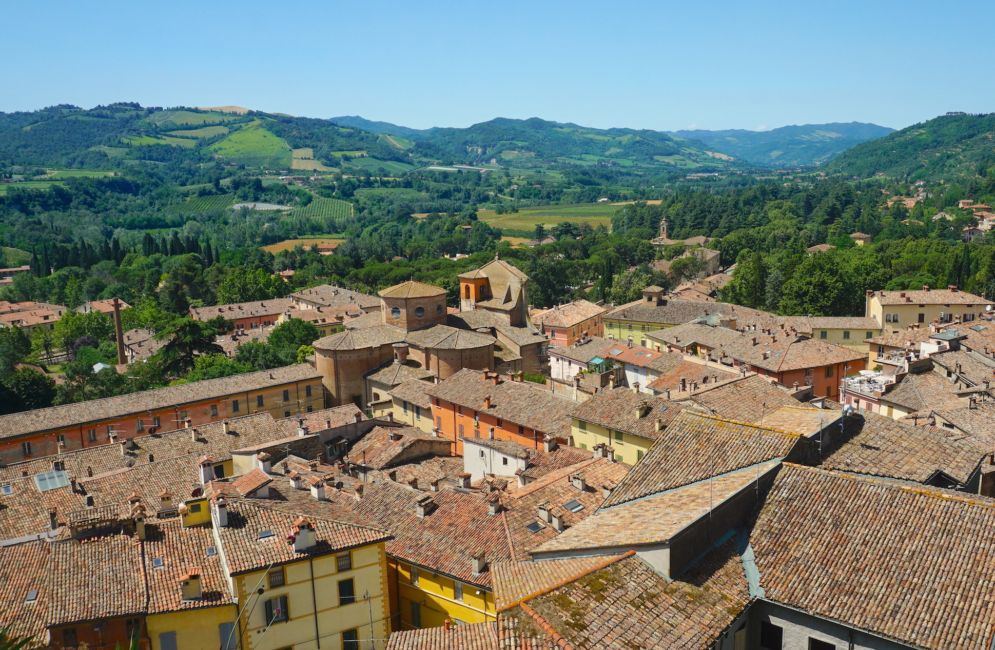 FAQ
Can I visit Brisighella with my kids?
Yes, of course. You can visit Brisighella with your kids. Brisighella is one of the safest places in all of Italy. It's true that this tiny Italian village is perfect for romantic trips with your partner for its scenic beauty. But it is equally suitable for trips with your family and kids. They are bound to enjoy it.
Which places should I visit in Brisighella, Italy?
Brisighella has lots of places that you can visit during your stay. From La Rocca to Via degli Assini to Monte Romano Astronomical Observatory – the list is huge. You can also visit Stazione di Brisighella or Chiesa di Pieve Tho.
What is the best time to visit Brisighella, Italy?
January is the coldest, July is the hottest, and November is the wettest month in Brisighella. So, you should avoid them. April-May and September-December always have high chances of rain. The best months, however, to visit Brisighella are May and October. During these times, the weather remains very pleasant here.
Conclusion
To conclude, Brisighella is one of the best places you can visit this year. Here, in this article, we gave you a list of the best things to do in Brisighella, Italy. Come here and have a memorable weekend trip with your family or a beloved one.