A yacht charter is essential to your holiday breaks. There is a specific boat style that would satisfy travel needs. Deciding on your own may not lead to a yacht charter best suited for your budget. Asking for help makes the buying process a lot faster and more convenient.
For more ideas, yachting terminology has different names for ropes suitable for your travel plans. This is something you must be familiar with for a safer voyage. It will also be easier to communicate with the operator with such terms.
Advantages of Yacht Charter
Most travelers can testify to the goodness of working with a yacht charter. They experience a comfortable sea journey first-hand due to the following benefits:
1. For Better Privacy
Every traveler desires an uninterrupted vacation. A yacht rental is an answer if you want a private space to spend time with your friends and family. You will have the privacy you need away from the crowd thanks to this.
Furthermore, you have full command over choosing people you can welcome as guests. Individuals whom you travel with assume a huge part in the entire cruising experience. It will be a private getaway with a crew to meet your requirements.
To provide guests with a place to unwind, the majority of luxury boats offer exquisite cabins. You can see the ocean all around you every day from the yacht, which is another thing that stands out. You can enjoy the ocean's crashing waves and cool breeze.
2. Promotes Convenience
Planning a vacation can be difficult because there are so many things to think about together with the expenses. However, chartering a yacht is intended to be trouble-free. Some tasks, like managing the logistics and learning how to operate a yacht, are eliminated as a result. All things considered, you can depend on the chief's abilities that would carry you to the unlikely treasures of the world.
You only need to sit down, unwind, and take pleasure in what you pay for. Meals will be prepared for you by trained chefs aboard. The crew is responsible for inspecting and cleaning the boat, so there will be no issues during the trip.
One thing to keep in mind is that the staff will look after you while you do any water activities. Without the assistance of the crews, such minute details may cause stress.
You won't have to worry about anything when you charter a yacht because everything is under control.
3. Enjoy a Flexible Travel Schedule
Chartering services offer travelers the freedom to do whatever they want on a boat trip. It permits you to create itineraries with yacht charters.
It might include visiting a variety of islands, sunbathing, and even trying some of the local cuisines in the places you visit. You can pick the option that works best for your sailing schedule and your budget. And decide how many days you want to travel and which islands you want to see.
Because the yacht includes everything, you are free to do whatever you want while you are at sea. The captain of the boat has no right to restrict your freedom.
4. More Foods
On a yacht, al fresco dining with delectable cuisine prepared by a professional chef is the ideal setting. It will guarantee a bespoke meal for every guest, from breakfast to dinner. You can ask for a customized menu to accommodate picky eaters.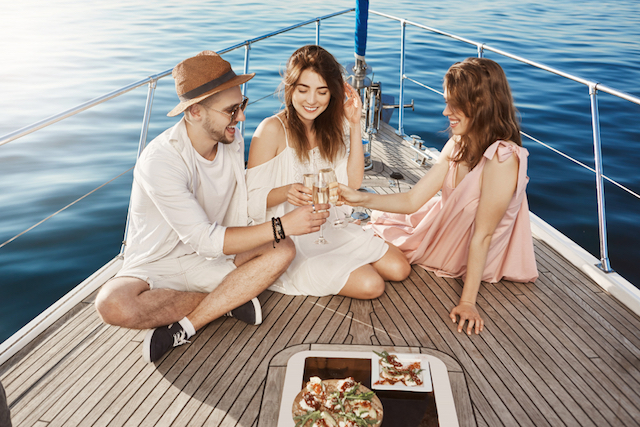 If you plan a party on a yacht, the food service comes with delicious drinks. On board, craft beers and cocktails are the best way to party. Nevertheless, if you have junior team members, this is not recommended.
Effective Tips For Successful Yacht Charters
Now that you know how important it is to discover yacht charters, the next step is to learn some tips on how to find the right one for you. These include:
1. Consider Travel Features
A yacht charter is like a home for a limited time. It consists of all the necessary amenities to satisfy your travel needs. This depends on the boat size wherein bigger ones can provide entertainment areas.
2. Budget
Do not neglect discounts when chartering a yacht. Dealers offer luxurious boats at different prices. Also, the overall cost will include maintenance services to extend the yacht's lifespan.
3. Check Destination Offers
Higher fuel charges are vital for more distant travel. Each yacht charter has a destination in mind that you can visit. For this reason, it is easier to estimate the overall cost of a private yacht.
4. Read Testimonials
Chartering services are now accessible online to cater to a wider market. Previous clients may leave feedback for you to rely on when making decisions. Verify the reviews for a safer purchase.
5. Communicate Your Needs
Work with the yachtsmen by telling them what you need for a luxurious trip. A good charterer will share details with you and even discuss the pricing. One of the red flags is boat providers who do not acknowledge your petitions.
Final Thoughts
Yacht charters play a vital role in your sea lifestyle. They have a certain type of boat in mind to recommend, as well as tourist spots. The whole service will include foods and drinks ideal for family getaways. Contact a reliable boat charterer to schedule your itineraries earlier than the peak seasons.