Monetizing your blog is a vital approach to making money from your blog content. One simple way to monetize and earn from your blog is through Admitad. If you are planning to monetize your blog soon, this guide is for you. Because below, we will take a look at how you can make money with the help of Admitad.
How to monetize your blog or social media platforms?
As a blogger, you have to follow these five simple steps to start earning money from your content:
1. Build an online audience first
Before you can monetize your blog, you have to build a significant online audience. Take any successful bloggers, content creators, influencers, etc., for instance. All of them have a loyal online audience who love and have faith in them.
If you lack such a following, you won't make it in the online world. Why? It's because no matter how awesome your content is, you won't be able to monetize it if nobody views it.
Therefore, it is a must to elevate not only your content quality but also your fan base. That way you can start collaborating with brands and earn from your online content. Hence, first and foremost, you got to focus on building a good following and audience on your preferred platforms. These could be:
Your YouTube channel to boost the number of subscribers
Your website to bring more blog readers
Your social media profile (Facebook, Instagram, etc.) to build a connection with your followers
Your email list with an intimate audience base
2. Pick a profitable niche
After you have built a dedicated following and an audience base, you have a pick a profitable niche. Yes, that particular niche has to have the potential to bring in good profits. All successful influencers, bloggers, etc., will give you this advice.
If you want to earn from your online content, you have to be careful while choosing your niche. Pick a topic that you know has good prospects. It has to be something where advertisers are enthusiastic about paying money to reach the audience.
Conduct a bit of research before going for a particular niche with good advertisers and collaboration potentials. However, if you feel puzzled regarding where to start, don't worry. There is a great article by Admitad Academy on how to find a profitable niche. You should definitely check it out.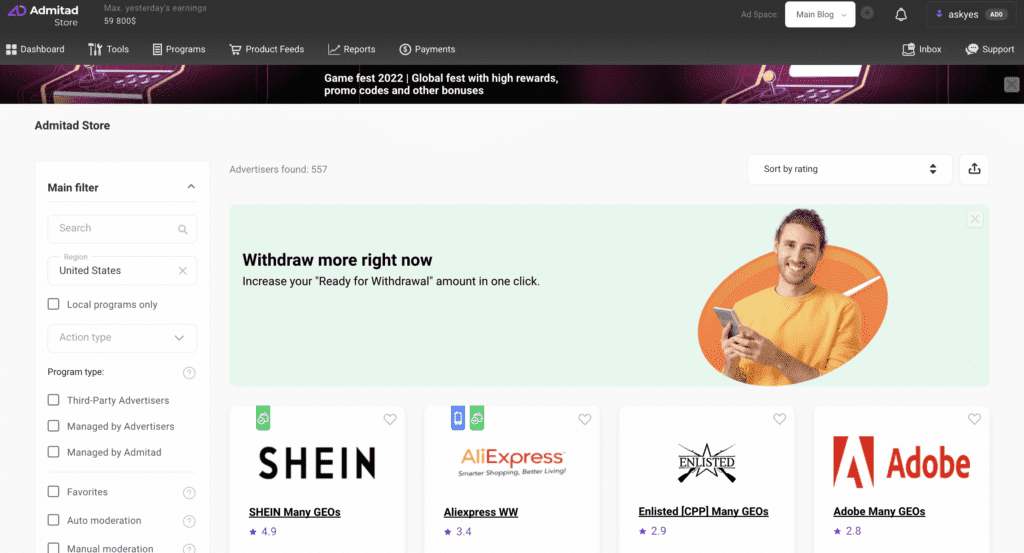 Note that Admitad, collaborates with both advertisers as well as bloggers, within their partner network. And as a result, they contribute to creating connections. This helps bloggers easily reach out to these big brands that are usually reluctant to talk to small bloggers.
From that perspective, partner networks are a lifesaver for novice bloggers, as they create those important connections on your behalf. They allow you to take a good look at the available brands and their offerings in one place. And when the opportunities arise, you can capitalize on them and pitch yourself to start your collaboration. You can also view the commission rates, cookie durations, average sales, and more.
This also opens up opportunities for comparison. So you can compare different brands and pick the one that best suits your audience and is the most profitable.
3. Don't just rely on sponsored posts – try affiliate marketing too
What a lot of online content creators do wrong is to only depend on sponsored posts for earning money. This hampers their ability to monetize their content to its fullest potential. To get the most out of your online content, you have to start affiliate marketing as well.
For your info, affiliate marketing gives you full control over the brands you promote. It has no restrictions regarding ways of promotion, frequency, and so on. You control every aspect of the promotion. Interestingly, it doesn't impose a limit or provide a one-time reward. Instead, affiliate marketing is a way of earning recurring and passive income.
An example will help you understand better. Suppose you find a good brand to collaborate with on Admitad. Then, you reach out to them, campaign for them on Instagram, and receive a one-time payment.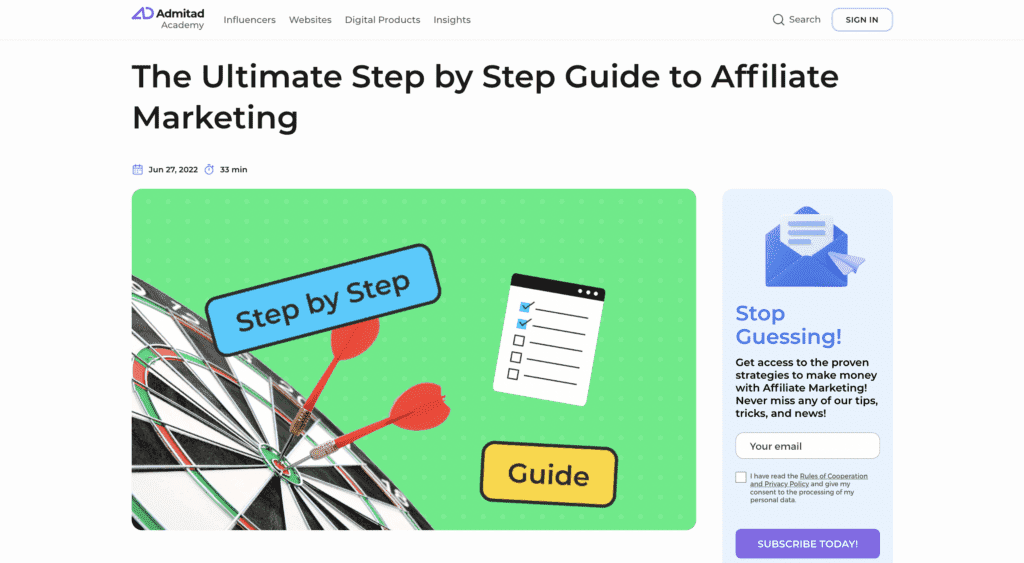 Now, if you loved working with that brand and they have an affiliate program, it can prove to be a blessing. If that is the case, you can pitch it elsewhere and earn money. Whenever someone makes a purchase seeing your content created around that particular brand, you get a commission.
Naturally, content creators who have never done affiliate marketing find the entire thing a bit mind-boggling. That is true especially if they have never thought of anything other than sponsored posts to make money. If you too come under that category, here is a great article to help you start affiliate marketing.
4. Monetize your website along with your social media
Now, you have to monetize your website instead of just monetizing your social media. Having your own website or a self-hosted blog is vital to reach your audience. However, even after possessing such a platform, what most bloggers do wrong is neglect it.
They focus more on their social media and forget to utilize their websites as they should. And consequently, they miss out on the earning opportunities from their website that can serve as a standalone content platform.


For instance, you can earn good money by opting for the Admitad partner network. Also, you can search for other affiliate programs suitable for your niche and showcase their products on your website/blog. Think about it: an Instagram story would be visible to your audience for 24 hours.
Likewise, reels show up on your audience's feeds for only a few weeks. But blog articles and website content would stay forever. If you have opted for good SEO and other important factors, people would still find your content even after many years. There are a lot of chances to monetize your website. Ignoring them won't be a smart move.
Besides, you can add banners on the sidebar of your website that your audience can spot easily. Plus, there is the scope for in-content marketing. Affiliate programs like Admitad are known for providing bloggers with these banners. They also allow users to generate clickable links directly from their affiliate dashboard. This makes it easier for you to do promotions on all your online platforms.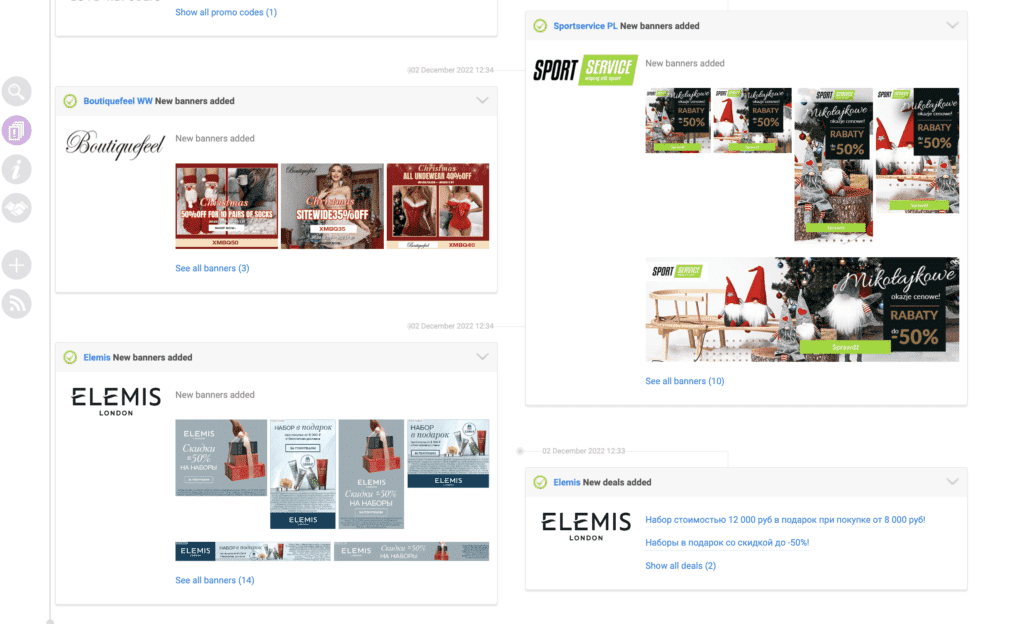 5. Optimize your affiliate partnerships and increase your clicks
Lastly, you have to optimize your affiliate partnerships and boost your clicks. Most new affiliate marketers get enthusiastic, and they religiously start finding affiliate networks. They start collaborating with brands and showcase their products. However, it is a new thing to them. So, they don't fully know what they are doing and rely on guesses to make things work.
The correct approach to maximize your clicks and conversion potentials is to keenly observe what your implementations are and what outcome you got from implementing them. After you have developed an idea, you should adapt and make the necessary improvements.
To understand better, you can read this article to know how to boost clicks and conversions on your affiliate campaign. If you are struggling with your affiliate links, here are some tips:
If you are not getting sufficient clicks, it indicates that your links or banners are not sufficiently visible. People are not seeing them, or you are failing to engage them enough to make them click. It could be that your posts about a product lack proper enthusiasm, or you are falling short of explaining how it can solve the problems your audience is facing. Thus, it is vital to take appropriate measures to enhance the visibility of your links and their sales copyright.
On the other hand, if you are not getting enough conversions, it could be that the products are a bad fit. Provided that you are seeing more clicks but fewer conversions (a good conversion rate is 2%), you have to check if the products you are promoting are suitable for your audience's needs. For instance, suppose you have oily skin, but a blogger you follow only recommends products for dry skin. Would you click on their links and buy those products? Right, you won't. So, in such a case, the solution is to re-evaluate the products you promote and ensure that they resonate with your audience's particular needs.
Final words on affiliate marketing for content marketers
Content marketing is not about tricking your audience to buy products through your links or tricking brands to collaborate with you. It is about connecting with the right people as well as brands to help them find each other.
Hence, a good content marketer has to carefully assess the needs of your audience and then recommend products that best suits those needs. Listen to what your audience has to say and learn from them.
Once you have acquired a good knowledge of your audience, start looking for great affiliate opportunities, and follow the above five steps to monetize your blog and social media content. That way, both you and your audience would benefit from it. They get nice product recommendations; you get the money!