Travel Horror Stories is a column in which travellers submit scary, traumatizing, crazy or just flat out annoying tales from on the road. This story is brought to you from Jane at 40before30.com If you would like to share your horrific experience, please email lindsay@thetravellerworldguide.com
Nadi, Fiji – Don't Trust a Man in a Skirt
My travel horror stories always seemed to be linked to me doing something stupid.  It appears bad things only happen to me during travelling because I lead them on.  One particularly scary experience which springs to mind involved me being duped by a very friendly seeming man wearing a skirt at Nadi airport in Fiji – the skirt part is irrelevant.  Most well seasoned travellers know never to book accommodation through a booth at an airport unless absolutely necessary, let alone get taken into an office and let yourself be convinced out of everything you have read, researched and spoken to travellers about previously.
Let me explain.
I met an English girl in Starbucks in Lima.  She was supposed to be travelling with her boyfriend but when she came out to South America to meet him he had met someone else and told her to go home.  The swine.  Anyway I digress, that's her horror story, not mine.  I was on my way to Fiji from whence she had come.  She told me about a paradise resort in the Yasawa Islands and how to get there.  I convinced three other friends to come with me.  So far, so 'The Beach'.  The four of us arrived in Nadi airport and much like the Alex Garland novel things went downhill from there.  We were immediately sidelined by the aforementioned man in a skirt (again the skirt is irrelevant) who told me that we must hurry if we want to get off the mainland today. He said the boat left at 10.00am, it was now 8.00am, we must act fast to secure tickets and accommodation.  After a 15 hour flight, crossing a time zone, losing a day, I, being gullible, believed him.  I said, "Fine, book us those boat tickets, we are going to Octopus resort".  He said, "No can do, it's full".  Again I believed him.  He arranged for us to spend one night on an island nearby, at Ade's place, and then we would stay at Octopus (a.k.a paradise) thereafter.  We left his office chuffed with our plans and swift decision making.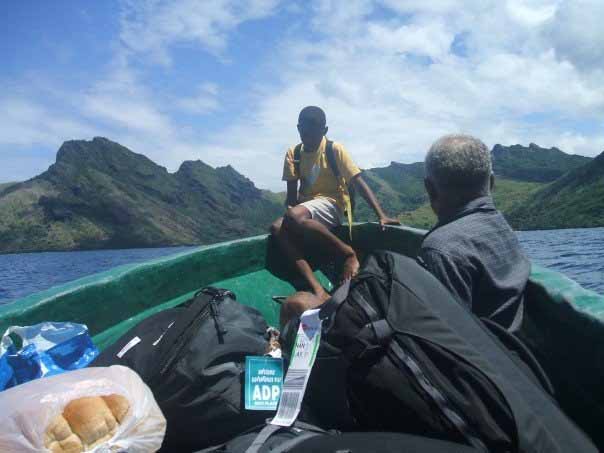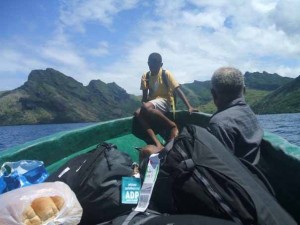 The dubious fishing boat which came to collect us, stacked high with bread, ferrying children with holey clothes, without even a bench to sit on, was the first warning.  Ade demanding money when we had already paid the man in the skirt was the second.  The introduction to our ex-chicken shed of a room was the third.  The lack of a mozzie net and absence of a lock was the final straw.  We asked about security.  "There is no need for locks here," said Ade.  There was.  As I attempted to unpack, swatting hens, killing spiders, I looked up and saw a local man standing in the doorway.  He did not move, he did not speak, just stood there menacingly grinning until my friend returned, disturbed him and thankfully he fled.  From the moment we arrived on the island we felt uncomfortable.  We decided to cut our (over the odds rate) losses and leave.  Ade had other ideas.  "No boat anymore" she says.  The dubious fishing boat was nowhere to be seen and our host was not in the mood for arranging another, negotiation proved to be fruitless.  We were trapped there and felt helpless.  The 4 of us squeezed into what we thought was the slightly better room of the 2 – less hens – and pushed a chair up against the door.  This disturbed a wasp's nest which came alive angrily.  Just great. No one slept well that night.  The mozzies had a veritable feast despite our strongest Deet.  We were up and packed to leave long before the boat was due.  Ade didn't say bye.  We didn't say thanks.