By: Bradley Fink
Having planned to backpack up through Africa, I arrived with a friend named James via London to the beautiful city of Cape Town. After having coffee at the airport, we took a taxi to Stellenbosch, where 8 spectacular hectares of wine farm sat below the Helderberg Mountains. This was the Auberge Rozendal Wine Farm. At the back of the farm there was a guesthouse with 16 en-suite rooms. A lady gave us the key to one of these, and settling in we napped for a bit, showered, and then the two of us went to dinner at the manor house on the estate. Over a delicious, home-cooked meal, a farm worker named Stephan told us of some sights to see heading inland. Then we took a bottle of wine to his cottage, where he showed us some photographs, his maps of the country, and a route going east to Johannesburg.

On the following day we drove into town for our inoculations (Typhoid, Hepatitis, and Yellow Fever). We were also given malaria pills to be taken every seven days. Then we drove with Stephan into Cape Town, up to Table Mountain, and around to Camp's Bay. In the city we walked down Long Street, looked into some bookstores for information, bought two new mats for our sleeping bags, and at noon we drove back to the farm. On the way we passed a township of tin shanties and huts, where Stephan said that there are over one million African refugees. He said that they have all come to look for a better living, and instead they are just living crammed together like that. There are no jobs for them here, no means for an education, and many of them are growing desperate. Back at the farm we talked of South Africa, which Stephan said is more racially divided than anywhere else he has been.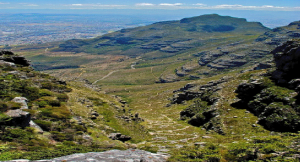 "It's not just tension between blacks and whites," he said.
"It's between the Zulu and the Xhosa, the Sotho and Shona. There have been tribal differences here for thousands of years."
When I suggested that with time things may change, Stephan shook his head.
"There's no end to it," he said. "One child is taught to hate another. If you knew the history you would understand the futility of it. It's a wonder there is any stability at all."
After lunch we went to Sommerset West to look for a car to drive the fifteen-hundred kilometers to Johannesburg. At a rental agency we were offered a safari jeep for five thousand Rand (725 USD), plus the price of petrol, which we decided is much too expensive. Stephan suggested that if we look around we might find something cheaper in the city.