By: Zoe Sedlak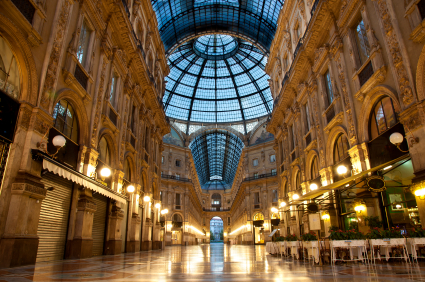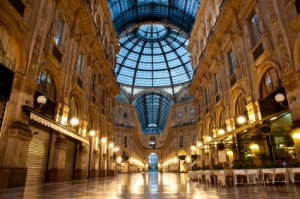 Giorgio Armani, Valentino Garavani, Gianni Versace, Gianfranco Ferre, Miuccia Prada, Dolce & Gabbana.  Even if these are not household names for you, I'm sure a few of their last names will ring a bell.  They're on all of those expensive purses and sunglasses you see in windows of down town stores, and many of them are mentioned in that cinematic classic I'm sure we've all seen – The Devil Wears Prada.  They've also got one more thing in common: these people, arguably some of the most influential modern fashion designers in the world, are all native to the Italian city of Milan.
Although you don't have to live in one of the apartments in Milan to see the outcome of someone like Miuccia Prada or Giorgio Armani's work, the fact that Milan is deemed the fashion capital of the world is something worth looking up.  This is the city that knew Miuccia Prada before she was PRADA, before Dolce and Gabbana were DOLCE & GABBANA.  It's the city with a rich history in fashion that goes back centuries, and has come to define Milan as a fashion focal point.
In the 1500s, Milan manufactured luxury goods, which was an important industry for them, and the rest of Europe.  So important, in fact, that they named an English word after the city itself; milaner or millaner, which referred to fine wares like jewellery, cloth, hats and luxury apparel.  As the city was claimed and reclaimed from various regions of Europe over the centuries, its fashion industry fluctuated as well, but later into the 19th and 20th centuries, Milan regained its status as a producer of practical and simple but elegant clothing.  Their clothes were affordable compared to those of other fashion capitals like Florentine and Paris, and after run ins with its fashion competitors of New York City, Paris, London and Rome, Milan is now recognized as the fashion capital of the world.
Milan is the home of a vast number of institutions and educational centres as well, providing more than just an interesting shopping experience for those visiting or living in the city.  However, it can't be ignored that many people visit this city for the intense shopping experience.  Famous shopping areas like Galleria Vittorio Emanuele II, Piazza Duomo, Piazza San Babila are all every bit as epic as their names suggest.  Galleria Vittorio, for instance, is an architectural marvel as well as a place to peruse and purchase luxury goods.  It sports a glass-vaulted dome over the street which connects itself with two other famous shopping centres, which made this area a milestone in the development of the first enclosed shopping mall.  It's still an outside space, but the glass dome above the streets provides coverage from the elements as well as something fantastic to look up at.  The Galleria goes beyond fashion, and becomes an article linking the past architecture with today's manufactured goods.
Fashion may not pull me towards a city like it does other people.  I may not get how anyone could lay down thousands of dollars for a shimmery dress with a bunch of bows on it as seen in Milan Fashion Week.  But I can definitely appreciate the important contribution that the strong presence of fashion has made to this city.  I may not be rushing to go rent some Milan apartments and scour the city for the latest fashion, but I may go sightsee at one of the shopping centres, people-watch, and learn how some of the most well-known Italian last names today came to be inspired by this beautiful city.