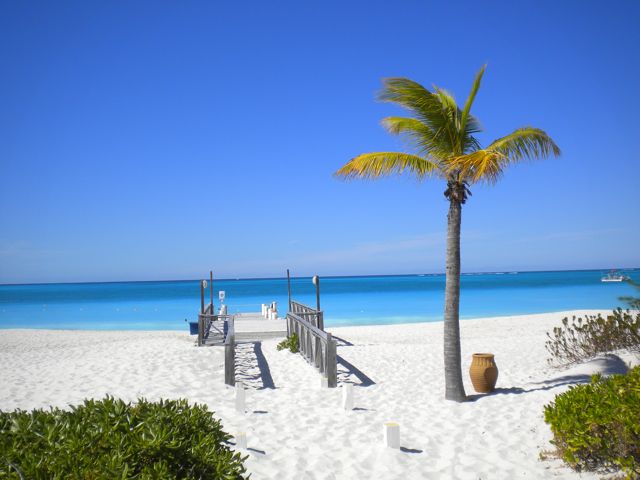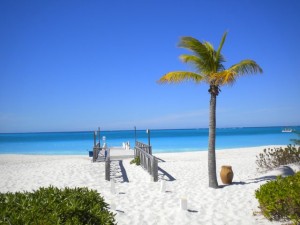 More than three thousand islands, islets and cays make up the beautiful Bahamas. Located in the Atlantic Ocean, the Bahamas is a magnet for travellers looking for an escape from their busy everyday lives. The Bahamas is famous for sun, sand and sea, but there are many other adventures that you can do here. Even Christopher Columbus was enamoured by these islands. Go sailing, diving, kayaking, swimming, lounging on the beach, shopping, partying, and dining. You can explore underwater caves, have fun at a casino, or take a cruise. When you stay at places like Club Med Turks and Caicos all inclusive resort, your options will be endless!
Here are the best beaches in the Bahamas:
Grace Bay Beach on Providenciales
Probidenciales is home to the famous Club Med resort in the Bahamas and this 12 mile Grace Bay Beach is rated among the top ten beaches in the world by Conde Naste. It has stunning white sands, aqua blue waters and amazing reefs to snorkle or scuba dive around.  This beach is also a popular destination for fishing.
Paradise Beach on Paradise Island
Paradise Island is composed of a pristine white sand beach that is one mile long. The clear crystal water is both inviting and peaceful. A large portion of Paradise Island is open to the public. You will find little huts all around for you to stay in. Enjoy parasailing, snorkelling, jet skiing, diving and other watersports activities here, Take a walk along the powdery white sand beach or take an underwater adventure and see wrecks and sea gardens. There are also breathtaking views around Paradise Beach. Walk up the towers of Fort Fincastle and observe the island from two hundred feet above sea level. Visit a reassembled 12th century French monastery on the Versailles Garden. If you're bringing the kids, take them to Atlantis Paradise Island Resort and Casino's enormous playground. Composed of thirty four acres, the playground features a marine habitat, an underwater snorkelling trail, a Mayan temple replica and a river ride.
Cabbage Beach on Paradise Island
Cabbage Beach is one of the busiest beaches in the Bahamas. People flock to Cabbage Beach all year round. Enjoy the long stretch of beach that is three kilometer long. The beach is crowded not just with people, but also with hotels, bars, restaurants and other commercial establishments. Cabbage Beach has been dubbed the "las Vegas of the Tropics".
Western Esplanade near Nassau
Also known as Jukanoo Beach to locals, Western Esplanade is a mere ten minute walk from Nassau. On weekends, you might see people having a cookout or barbeques, or groups having fundraisers along the beach, Western Esplanade provides a great view of the harbor and the ships coming and going. If you are bringin kids with you, they will enjoy horse back riding and pony riding.
Caves Beach near Nassau
Caves beach is a place to sit back and relax. It is much less populated compared to other beaches. Go swimming, snorkelling or dining at some of the best and most authentic restaurants on the island. Crescent-shaped Caves Beach provides free access to the public all day. Bring a book, spread a towel and relax. Take a walk down the beach and watch the sun set. After, enjoy a tasty fish fry for dinner at a nearby resto.
The Bahams has many things to offer to its visitors. Blessed with nature's many wonders, it is the perfect getaway from the hustle and bustle of everyday city life.