Amsterdam is a marvelous city with really awesome canals, super high buildings and yes, it's full of a lot of coffee shops. There's many things you can do besides visit the red light area and check out a coffee shop too. Therefore, below are the top 5 things to do in Amsterdam.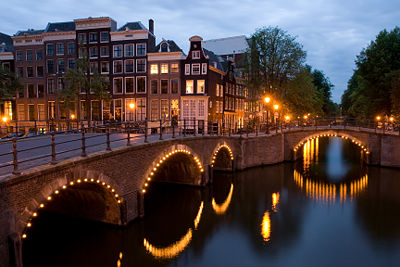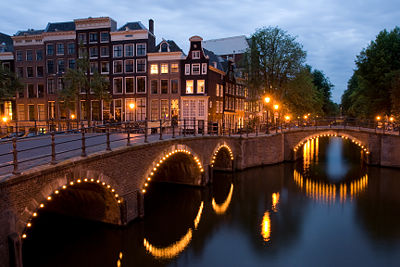 1. Canal tour
Amsterdam is considered to be the Venice of the north because of it's wonderful canals surrounding the city and there isn't an easier way to enjoy them than having a canal tour. There are even some Amsterdam hotels that even over look the beautiful canal. While cruising along the water you can take in the lovely architecture surrounding the canals. There's a lot of options for boat tours from hop on/hop off to enjoying dinner on the boat. Whatever you prefer or can afford, you will enjoy it! Lastly, if you're there in during the right month, you can see the Amsterdam Canal Parade.
2. Visit the Ann Frank Museum
World War 2 was a really difficult period in the Netherlands. The Anne Frank House is a museum displaying Anne Frank and her family's life in the war and their battles. You can see her mystery annex where she and her family hid and where she wrote her diary. If there's a line outside, it may be worth the wait.
3. Pay a visit to a coffee shop
There are lots of coffee shops for you to find a variety of cannabis products and amazing coffee or lattes. Make sure to look for the green and white tag in the windows to ensure it's a real coffee shop that's registered to sell cannabis items. If you are fresh to cannabis be sure you ask the workers for suggestions, they're happy to help.
4. Visit the red light district
De Wallen or the red light district of Amsterdam is an interesting spot to move around and discover. Search for the red lighted windows on the ground floor of the traditional town houses and buildings. You also must be very careful in this district. Apart from the females in the red light windows, there are excellent restaurants in the area and Amsterdam's china town nearby.
5. Check out the Old Masters Dutch Artwork
The Rijksmuseum Museum has a big selection of fine art made by the Dutch Masters from Rembrandt, Vermeer and much more. The Rembrandt House (Nieuwmarkt en Lastage Amsterdam, Netherlands) Museum is absolutely awesome. You can see his props, studio spaces and exactly what his living space appeared like when he lived there. You can also find live demonstrations of how Rembrandt created his color from pigments.
Amsterdam is a fantastic city and if your time is minimal in the city, or if you can't make up your mind about what to do, then the 5 detailed above ought to be a great way to enable you to get started!