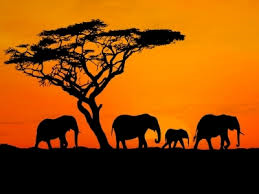 If you only think that Africa is just a place to experience uncomfortable wild safaris and hardy outdoor camping, well think again! You will be surprised by the number of luxurious options you will have, a luxury safari in Africa is a once in a lifetime experience that you will never forget. Below are three of the best destinations to enjoy one:
TANZANIA
Tanzania is a fascinating safari destination boasting of numerous parks and reserves which contain massive concentrations of spectacular wildlife in their natural habitat. It is the land of Kilimanjaro, Serengeti and Masai culture.
In the north of Tanzania you can find stunning parks like Lake Manyara National Park with thousands of pink flamingos, Ngorongoro Crater the safe haven for animals, the Tarangire National Park with varied landscapes and the famous Serengeti National Park with beautiful open plains, hills, forests and the famed annual wildebeest migration. Another amazing feature of the northern Tanzania is the majestic Mount Kilimanjaro with its snow peaked summit and a place for great outdoor activities.
As you move southwards you will be amazed by the parks in this region, they include Ruaha National Park, Mikumi National Park and the Selous Game Reserve which offers fascinating game drives.
On a Tanzania safari can enjoy luxurious safaris to different parks and staying in luxurious lodges and hotels offering world-class services right within the parks.
BOTSWANA
Botswana is a popular destination for luxury safari holidays; it offers a captivating wilderness characterized by remarkable deserts, water holes and pans that are homes to spectacular wildlife. Its national parks are a playground for animals and they cover vast tracts of land offering you memorable safari experiences.
The Okavango Delta is a hotspot for safaris as it hosts huge concentrations of water and land animals. It is a place of scenic beauty with canals that you can explore in traditional boats to the islands of the delta which are teeming with different species of antelopes, elephants, warthogs, bush babies, monkeys and even birds.
Interspersed throughout Botswana are rich collections of historical and cultural heritage, unique art rock, amazing geological wonders and traditional craft are just but a few of the attractions. You will fall in love with luxurious lodges offering cozy accommodations where you can relax after a long day in the wilderness.
NAMIBIA
Namibia is largely an arid country with vast open spaces, breathtaking sceneries and amazing contrasts; the ocean, dunes, deserts and mountains. Namibia safaris are the place to explore spectacular wildlife which has adopted the harsh climate of the desert. The vast desert country of rolling golden dunes and swirling mists intrigues the hearts and souls of travelers.
Namibia is also home to Africa's largest game park, the Namib-Naukluft Park which features towering sand dunes at Sossulvei, desert plants and watering holes that attract animals. Discover the wonders of the Etosha national Park with its variety of wildlife. The Caprivi Strip is largely ignored by most travelers but it is captivating especially after being in the desert, it is a tranquil oasis of waterways and wildlife.
There are numerous luxury safari lodges with magnificent views of the wilderness strategically located in the major safari areas.