So let's say you've got seven days, plenty of spending money and a return ticket to wherever you want in Europe. Maybe you'd fly to Nice and spend a week on the beach, or perhaps hit the slopes in St Moritz. These are our top five drives around Europe.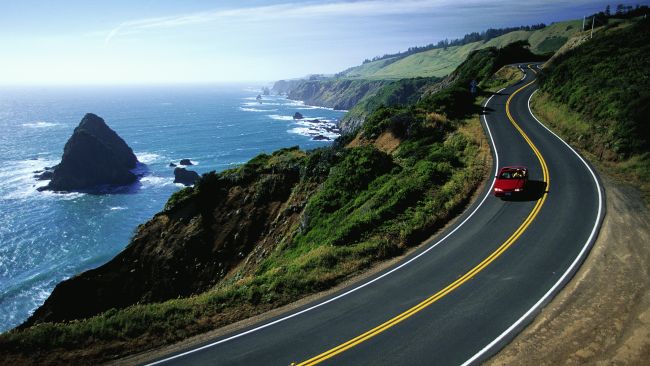 Atlantic Coast Highway
Okay, not that Atlantic Coast, but the Portuguese Atlantic Coast which runs all the way from just below Extremadura in Spain, through Porto and Lisbon and right down to Portimao, a top Algarve holiday destination. Expect crashing surf, beautiful food and tarmac which, most of the time, is not just pan-flat but pan-hot!
To See: Lisbon is perhaps Europe's most underrated capital city, but also check out the hip surf town of Peniche where the record for the world's largest wave was bagged by American Garrett McNamara earlier in 2013.
To Drive: It's a long trip so be comfortable, but you can probably bank on sunshine. A drop-top BMW 1-series or a Peugeot 208 CC will be ideal for city and long motorway hauls.
Cruising in Corsica
Corsica is firmly back in fashion with British tourists at the moment and, given its rugged scenery, it's really no surprise. If you base yourself in Bonifacio in the South, you'll have access to one road: the N198. Don't worry, though, it loops around the island and is spectacular!
To See: The cities of Calvi and Bastia are top tourist spots, but just let your imagination run wild. You can't go too far wrong, but remember that most of the roads are mountainous and 60km will take you the best part of three hours!
To Drive: We'd pick something light with a bit of clout to get you up those hairpin bends. A Golf GTi would be a great choice.
The 'Grand Tour'
Historically young upper-class Englishmen would spend time in Switzerland, Italy and France as a cultural education. While those days are no more, you can certainly see a lot of culture in one trip if you plan well. We'd fly to Geneva, head South to Monaco and catch Turin and Milan before finishing in Rome.
To See: There are art galleries and museums galore in all of these towns, but why not just soak up life with a tiny black coffee and your favourite book?
To Drive: While surely an Italian supercar would be our first choice, Ferraris are not well suited to the cobbles. Pick the Alfa Giulietta instead!
Lowland Luxury
Northern France, along with Belgium, Holland and Luxembourg aren't typical tourist destinations for Brits. They are, however, stunning places to visit and easy to get around by car. Starting in Strasbourg you can pick you way through Belgium and up towards Amsterdam, or alternatively go perfume shopping in Cologne.
To See: Bruges and Brussels, Maastricht and Metz or Liege and Leiden make ideal pairs. Whatever you do, check out the in the region's rich history of chocolate, wine and beer production.
To Drive: We'd take a Citroen 2CV, but a C4 might be more practical!
Hidden Spain
Spain is so much larger than most Brits imagine, and it's not all done with a relaxing cup of café con leche on La Rambla. Instead, head south towards Seville, Granada, Cordoba and Cadiz. This is an unspoilt and utterly stunning area of the country. The roads are quiet, fuel is cheap and the days seem to go on for ever.
To See: Book in advance to get into the Alhambra in Granada. You will not be disappointed.
To Drive: The Seat Ibiza or the Ford Fiesta are the only choices. Enough gas for the long motorways, but plenty small enough to squeeze through the streets of Seville.  They're made locally too.