Michigan, the state in the Great Lakes and Midwestern region in the USA is getting a lot of attention these days. And it is for a good reason. There are quite a few things to do in Michigan. Read on and you will definitely agree on this. You will be amazed to know that it is the only state that comprises of two peninsulas. Whether you are travelling with family or friends, Michigan is a great place to spend your holiday. There are many things to see in Michigan.
United States is buzzing with pulsating tourist attractions and vibrant nightlife. The breathtaking, enchanting landscapes and places offer family fun and outdoor activities. Most of the American airports including Michigan offer flights. And there are so many cheap flights available for budget traveler. They offer domestic as well as flights to other European countries.
What To Do In Michigan?
If you are planning a trip to Michigan, get ready to encounter breathtaking landscapes, clear skies, fabulous adventures, and tranquil forests. Visit some of the cool places in Michigan today. You will fall in love with the beautiful place, in any season. Tourism is growing in leaps and bound in Michigan. You will find various natural and man-made attractions in Michigan. Check out the small towns and villages, islands, and colorful lighthouses, with the azure sea as backdrop. Explore the college towns like Ann Arbor or East Lansing. Moreover, there is the added attraction of the expansive Upper Peninsula. Get ready to witness shipwrecks, old forts, and snow trails. Michigan Attractions are many, for you to choose from. You must know that more than half of Michigan is covered with forests and beaches.
Top Things To Do In Michigan
The major tourist destinations in Michigan are Detroit, Ann Arbor, Flint, Grand Rapids, Holland, Saginaw, Warren, and Sterling Heights, to name a few. Michigan has numerous natural beauties. You can try various things to entertain yourself and your family. Try out a few of these from amongst things to do in Michigan.
Mackinac Island
Visit Mackinac Island. You can access the island by ferry. The island will transport you the olden era. Hiking and riding horse-drawn carriages seem to be the only way to commute within the island. You should definitely try shopping at the old shops and also visit Fort Mackinac.
Isle Royale National Park
Isle Royale National Park is another place, that you must include in your list of top things to do in Michigan. Spread across 430 square miles, the island probably is a result of glacier activities. You can also visit the national park located amidst the forests, in north west Lake Superior. See the wolves and falcons, apart from taking a boat ride.
Detroit Zoo
Visit the Detroit Zoo, if animals are on your mind. It is almost two miles from the city center. Check out some of the arctic animals at this brilliantly designed zoo. Polar bears are easily visible here. Also learn about the culture of Inuits. Kids will find this place amongst the best things to do in Michigan.
Palmer woods
Palmer woods is another district in Detroit, worth mention here. Feel free to explore the place that has around 300 Tudor Revival buildings and neo-Georgian style buildings. Dorothy Turkel House is located in Palmer House, and is under renovation. It is a landmark building. These things to do in Detroit Michigan, makes the place popular.
These are amongst the things to do in Michigan. Wait, there is still a lot more to come.
There are plenty of things to do in southern Michigan as well. Visit Nichols Arboretum, or engage in Dune rides. You can also charter hire a huge yacht and sail around Lake Michigan. Choose from several varieties of handmade truffles at The Chocolate Garden.
Cool Places In Michigan
Apart from the usual locales, there are quite a few unique places to visit on your trip to Michigan. They are:
Grande Ballroom
Grande Ballroom is one of them amongst things to do in Michigan. This is an abandoned ballroom in Detroit, Michigan. It was famous for rock culture in the 1960s. In 1972, the ballroom closed. And, is since in abandoned state. You will have to see the building from outside, as its locked. It is in dilapidated condition, so there is no way anyone dares to venture inside.
Hell in Michigan
If you want to be the Mayor for a day, head to Hell in Michigan. It is located near Ann Arbor. There are several theories behind the unique name, Hell. Buy unusual stuff at the shops downtown or visit during winter, to see its frozen side. It is surely one hell of a place, in Michigan.
Other Activities in Michigan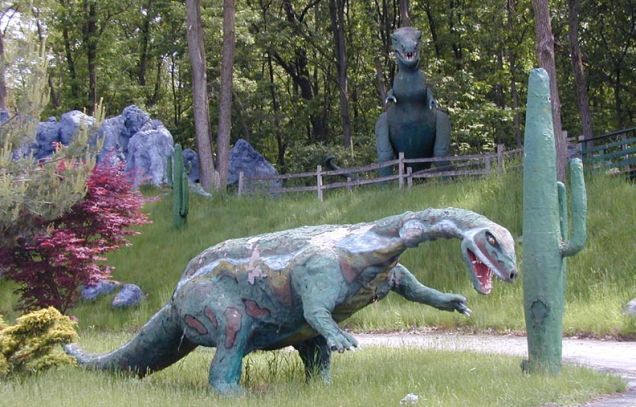 This will include the abandoned Dinosaur theme park. It is in Onsted. The park opened in 1963, with life-size Dinosaur statues, Safari trains and a 400-foot jungle rapid water slide. However, with decreasing footfalls in the 1980s, and declining transportation in the area, the park closed in 2002. You can visit the park, with prior permission from the landowner, since it is private property.
If you are still not satisfied with the queer and unique places to visit in Michigan, do visit Turnip Rock at Port Austin. It is located just off the Michigan shore in Lake Huron. A large number of visitors venture out near the rock in boats. So, there is congestion.
Include these cool places, in your Michigan activities.
Fun Places To Go In Michigan
If you are looking for some fun things to do in Michigan, then stop right here. The year-round paradise has so many things to offer, but summers seem to be special. You can engage in so many fun things, like attending festivals, amongst others. Midwesterners throng the place in the summer months.
Start with a relaxing vacation by the beach. It is one of the most laid-back activities, that you can engage in. Fall in love with the amazing beaches. Silver Beach is a top summer favorite. Engage in fun water sports activities along with your kids. You can also head to the other beaches like Esch Beach, Dune Beach, and Ottawa Beach.
If you are an outdoor adventurist or love camping, find one in Michigan. It is a favorite pastime for the people of Michigan. You can choose a luxury tent, a cabin, or a treehouse. Rocky Top Farms is quite famous for camping. And, so are The Wild Cherry Resort, Paddler's Village, and Mount Bohemia.
Activities in Belle Isle:
Another activity, that you can include in things to do in Michigan is spending time at Belle Isle. Three miles in size, and off the shores of Detroit, you can find plenty of greenery, an aquarium, and a museum there. There are other fun things that you can do there, including playing golf, visiting the zoo, or Livingstone Memorial Lighthouse.
Michigan is famous for its cherries and vineyards. The wine making industry is quite famous. So, you can include it in your things to do in Michigan. Plan trips across famous wineries like St. Julian Winery in Paw Paw.
You can also engage in some fun things to do in Michigan with kids. You can take your kids to Mid-Michigan Children's Museum or The Henry For Museum. Palms Book State park is also quite popular with kids.
Are you looking for some fun things to do in Michigan for couples? There are many romantic getaways like Victorian Inn on Ferry Street, or the Lighthouse at Northport. Ishpeming is everything romantic and is located in the Upper Peninsula. Couple can even stroll in the vineyards.
FAQ:
What is the number one attraction in Michigan?
Amongst the various attractions that Michigan has to offer, Mackinac Island seems to be the top favorite. You should count it amongst the things to do in Michigan. The island has some of the most incredible landscapes to offer. Venture out on a boat tour, or relax in the beach. Arch Rock is a famous spot, worth exploring. Find wild butterflies aplenty on the island.
Where should I go for a day trip in Michigan?
You can take part in various day trips in Michigan. Visit Traverse City, on a day trip. There is a light house, wine and the lake for company. You will truly enjoy this beautiful place in Michigan. You can consider this to be amongst the top things to do in Michigan.
What can you do in Michigan for free?
Apart from paid attractions, there are plenty of free things to do in Michigan. You can go on a exploration drive of the 92 light houses in Michigan. The exterior views are free of cost. Go on a bike trail. Hang out at Millennium Park. You will find plenty of natural trails, fishing and recreational areas at the place. There are water-based activities as well, that are chargeable. You can also hang out at the farms on the West Coach.
What things are only in Michigan?
Tourists can find a few things, that are available only in Michigan. They include the Pictures Rocks National Lakeshore for guided boat tours. There are 90 miles of natural trails around the place. The Tahquamenon Falls are worth mention here. It is a series of five water falls, at various levels. Mackinac Bridge is another attraction that is popular as the 5th longest suspension bridge in the world. These are amongst the things to do in Michigan.
Conclusion
Michigan is a place worth exploring, with so much to do. There is a wonder at every turn, that does not cease to amaze the hungry traveler. It is the only state that touches four of the five Great Lakes and also has the longest freshwater coastline in the US. There are so many things special about the place, that you should include it in your must-visit list. You should consider all the top things to do in Michigan from the list above, to enjoy the trip to the fullest.