The earth never fails to surprise us with its plethora of strange things. One such strange thing is the Lake Michigan Stonehenge. The original Stonehenge structure is located in the UK and is among the Seven Wonders of the World. It is one of the most popular sites in all of the UK. Now if that wasn't enough, a team of archeologists discovered a similar structure under Lake Michigan. It's 2021 and we still have no answers regarding its origins. Let us take a deeper look at this mysterious structure.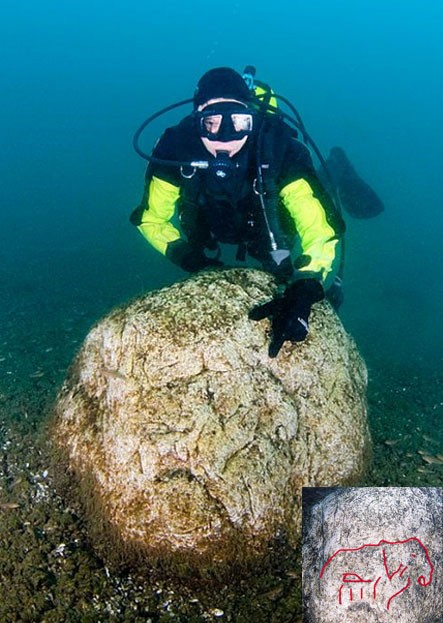 How was the Lake Michigan Stonehenge discovered?
Mark Holley, a professor, and researcher at Northwestern University led a scan of Lake Michigan. The year was 2007 and the reason for conducting the scan was to find and research some old underwater shipwrecks. He found a car and some shipwrecks older than the Civil War era. So, the scan was already a big success. But what he found a bit later shook himself as well as the entire world. He found something that was far greater than some old car and shipwreck. Never in a million years did he expect to find a structure having an uncanny similarity to famous Stonehenge. Not because they were 12 ft. tall. No, not at all. In fact, the stones Mr. Holley found that day were much smaller in comparison. However, what makes the two structures similar is not their height. It's the manner in which they are arranged. These stones are arranged in a way that tells us that can't be anything other than being man-made.
As these stones remind us of the famous UK site, they have rightfully earned their present name. Even after 14 years since their discovery, we don't know much about their origins. Some scientists and experts have assumed that the structure could be 9000 years old. But it's not that easy to infer its actual age that easily. Here is why:
What could be the age of Lake Michigan Stonehenge?
As we already said, the structure could be 9000 years old. This is suggested by its Radiocarbon dating. But nothing could be said for sure. Why? Because some other discoveries have only made things more complex.
One of these stones has a figure that looks very much like a mastodon hand-carved on it. Now, we all know that the mastodon is an animal that went extinct in 8000 AD. That means, 10,000 years ago. Humans were not there when mastodons roamed the earth. But, as we can see it is hand-carved on the stone, right? How is it even possible when mastodons went extinct by the time man would've carved the stone?
If you think that this was all, you are sadly mistaken. The plot only thickens from here on. As if it was not enough, another mystery comes in. When you think about it, the structure has to be man-made, right? In support of this theory, we can say that no natural formation could be this measured. Also, if it was natural, what will you say about the Mastodon carving on the stone? Now, we all know, this lake has been there since after the Ice Age. So, we may ask how humans of that time even placed the stones like that underwater. All this could only point towards one thing: the structure is much older than the Ice Age. Before the Ice Age began, the lake was not there. It was dry. So humans could have easily built the structure. It is that simple, right? The problem, however, is it is not.
Humans could never have built a structure as complex as this one before the Ice Age. Why? Because humans were not skilled enough at that time to even design a structure like this. Nor they had the tools or means needed. So, how could they build it? Now, this makes things all the more perplexing. How could a structure like this be built before the Ice Age? Or, if it was built after the Ice Age, how was it placed underwater? It makes zero sense.
All this mystery has made the site a hot topic on the internet. And, it has remained like that for a very long time. Even today, every six months or so, the topic comes up again.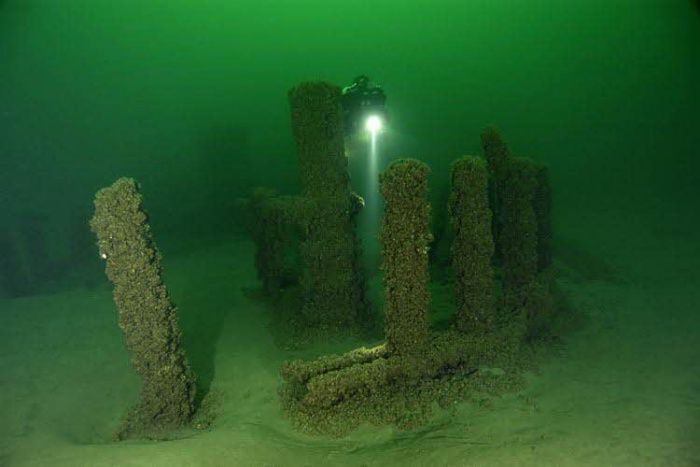 Some facts about Lake Michigan Stonehenge
While lots of things about this site are yet to be known, we have been able to know a few. Here are those sure-shot facts about these underwater stones:
The structure is made out of several stones. These stones have proper circular placement. This is something only humans could do.
Next is the carving of the mastodon seen on one of the stones. This is so finely carved that none other than the man could do it. Also, the mastodon is carved using tools that were not around before the Ice Age. So, it is hard, if not impossible, to carve it before that period began.
The third fact is that the structure can't be just 9000 years old despite the radiocarbon dating. It got to be older than that. But how much exactly? That's a question that we still don't have the answer to.
The structure is a great asset to mankind. It is among the most interesting discoveries of all time. If researched right, it could help us get insights into many unknown aspects of human history.
The Marvelous Stone Structure
The structure residing nearly 12 ft. underwater is an amazing finding in itself. That is true even if we leave all the mysteries surrounding it for a moment.
The radio scans conducted by Mr. Holley showed some structures formed under the lake. It was after this that an underwater expedition was to take place. The participants in that expedition were Mark Holley's team and Chris Doyle, an underwater photographer.
They found the structure 12 ft. under the water level. This expedition was a great success as it first discovered the carving on the stone. The findings are known to the public. But what is not public is their exact location. And, there is more than enough reason for that. It is to prevent any locals or tourists visit the place and end up damaging it.
The researchers at Northwestern University wanted to take their research on the structure to the next level. But they didn't have the fund needed to do so. Thus, the research became stagnant at one point.
Of course, other researchers have tried to conduct their own research to find out which era the structure belongs to. But the trouble here is that most of these researchers are not divers.
This has halted any further progress in the research on this structure. And, that's why we know only a little about this great formation.
Other Similar Types of Discoveries
After the structures came to light, many researchers started to search for similar structures.
One such research led to the discovery of stone circles near the Beaver Islands. These circles are also man-made. Some of these stones have holes, while some contain lines drawn over them.
As if it was not enough, another underwater expedition has found similar structures under Lake Huron. This discovery is amazing in itself. But what makes it more amazing is that Lake Huron and Lake Michigan are linked via Lake Superior. So, these two lakes have the same water system even though they are regarded as different lakes geographically.
This fact only furthers the debate that a civilization lived in the North American area before the Ice Age. As the water systems are alike, many researchers assume one thing. They assume that the civilization that lived there also lived in this part of Canada.
And these are only the beginning. Who knows how many of such formations lie underwater?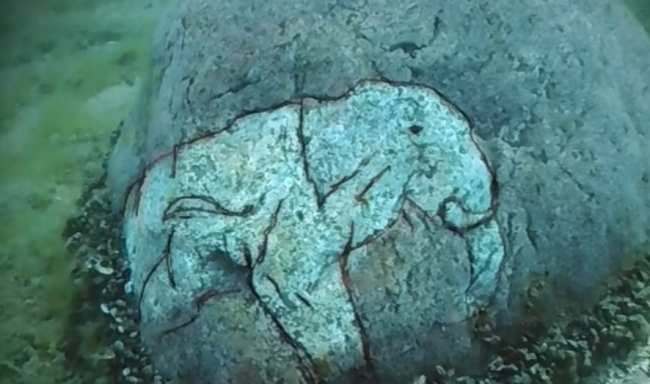 Frequently Asked Questions:
Who was the discoverer of Lake Michigan Stonehenge?
Mark Holley, a professor, and researcher at Northwestern University first found the structure while conducting a scan of the lake. His intention behind the scan was to locate and research old shipwrecks underwater. But after finding a car and a shipwreck beneath the lake, he found this amazing stone structure.
Who built the Lake Michigan Stonehenge?
We still don't know. There are only a few things that we know about the structure. And, unfortunately, its origin story isn't one of them.
What is carved on the stone under Lake Michigan?
One stone of the forming under the lake has a fine carving of a mastodon on it.
Conclusion
To conclude, Lake Michigan Stonehenge is a stunning man-made wonder. It was first discovered back in 2007, and the research is yet to reveal its true origins. Because of lack of funding and some other causes the research on the structure has not progressed much. Maybe someday in the future researchers will finally succeed. And, we will get to know more about it as well as an undisclosed part of human history. But for now, all we can do is be patient and wait.