When it comes to outdoor activities, The Silver State has to occupy a top place on the list. We all know that it has the highest number of mountain ranges out of any US state. Some of these ranges have peaks reaching the height of 13,000+ feet. It also boasts having the driest region in all of the US, the Mojave Desert. Interestingly, one can find many natural thermal pools scattered across these peaks and deserts. In this article, we will give you a list of some of the best Nevada hot springs. So, read on.
List of 5 Best Hot Springs in Nevada
Arizona
Ruby Valley
Gold Strike
Spencer
Trego
5 Best Hot Springs in Nevada
1. Arizona Hot Springs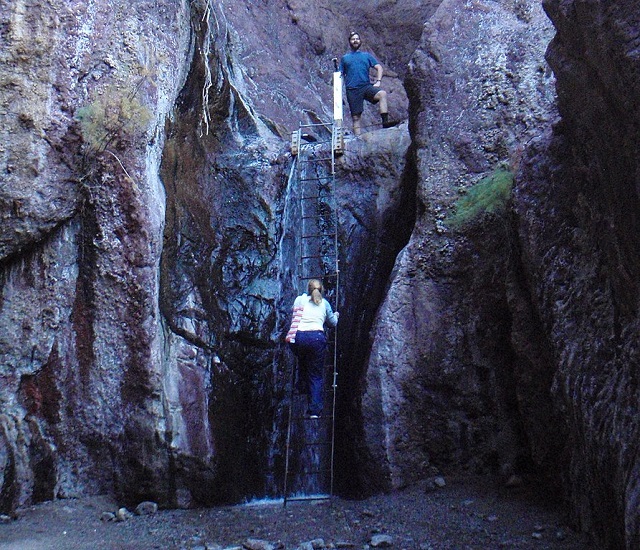 If you're eager to give yourself a break from the Las Vegas nightlife and relax, this could be perfect. This thermal pool has 3 tiers and resides in a dark slot canyon bordering Lake Mohave. It is also very close to the famous Hoover Dam. The geothermal pools are situated about 1,000 feet from the river. Here, the canyon walls are almost fully vertical. The water comes out of the fissures in the ancient volcanic rocks close to the intersection of the two faults. The waters here are very clear and have healing properties as a result of being mineral-rich. The water temperature stays around 43°C all year long.
White Rock Canyon is a stunningly splendid volcanic region. Plus, there is a wide variety of desert plants here as well. These include rabbitbrush, rock daisy, desert fir, and many more. Due to the popularity of this place, the pools mostly remain crowded. So, it's best to take a bath late at night and go camping beside the Colorado River below.
Remember that the ladder to reach the pools suffered flood damage. Thus, it's not possible to access them from the river now. The only way to access the pools is via the Rock Canyon Trail. Reaching this place requires a hike, and the weather remains hot there. So the best time to visit it is during late October-April when the temperature is a bit cooler.
2. Ruby Valley Hot Springs
Another amazing geothermal wonder is situated on the border of the well-known Ruby Wildlife Refuge. As we all know, this wildlife refuge is among the remotest wildlife refuges in the Lower 48. The pools reside in the middle of the big marsh. Thus, migrating birds, antelope, and many other species live in this area. So, you'd be dazzled by the natural beauty here. Plus, the limestone ledges and a metal ladder make it super easy for visitors to access the pools.
The main pool is known for being huge, deep, and having a nice emerald color. Besides that, it maintains comfortable warmth of 35°C-37°C throughout the year. The main pool has a wooden platform next to it for people to chill, tan, or simply keep their stuff.
Apart from the main big geothermal pools, there are several smaller ones. These smaller pools become too hot to soak sometimes. Hence, it's best to perform a touch test before entering them.
If you have a pet and don't want to leave your little furry friend behind while you soak, don't worry. This area is known for being pet-friendly. However, you got to keep them away from the waters as no pets are allowed to enter the pools. Keeping all factors in mind, it's best to visit these pools in the late spring and early fall.
3. Gold Strike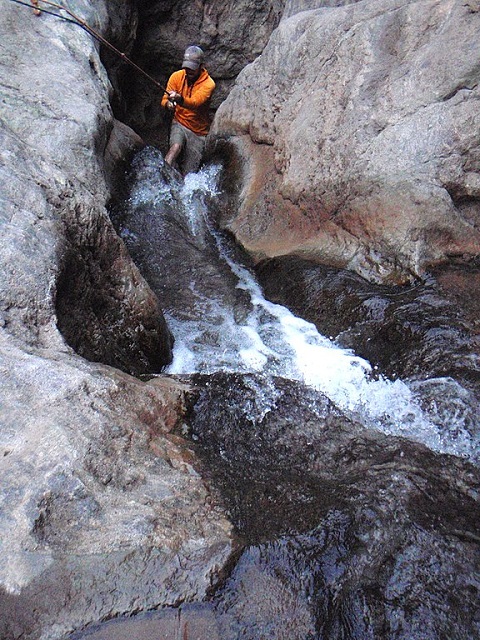 Located along the Colorado River, Gold Strike is a famous geyser. One could easily reach the place by driving about 45 minutes from Downtown Las Vegas. However, the real struggle begins when you try to reach the pools. They are not easy to access. For that, you have to engage in a 4-mile hike via a narrow vertical canyon. Needless to say, this requires some careful scrambling. So, you got to put in work. Plus, there are plenty of rattlesnakes in the area. Also, remember that sometimes the trail could face flash floods as some parts are narrow. So, it is best to reschedule your hike for a later day if you feel that it might rain.
But once you reach the natural spa, it would be worth it. Here, you can relax in the water that oozes out of the stony canyon wall cracks. There are 3 chief geothermal pools in the area. The first among them remains dry some times of the year. The second is known as the Cave of Wonders. And the third is the most popular among all and resides just beyond a few small waterfalls. The water temperature stays around 38°C. So, it is pretty comfy and relaxing.
There is also a river nearby. Thus, you can take a cool refreshing dip if you want after a warm soaking session. Gold Strike is located near the scenic Flightlinez Bootleg Canyon in Boulder City. As it's best to hike through the trail during October-May, it is also the best time to visit the pools.
4. Spencer Hot Springs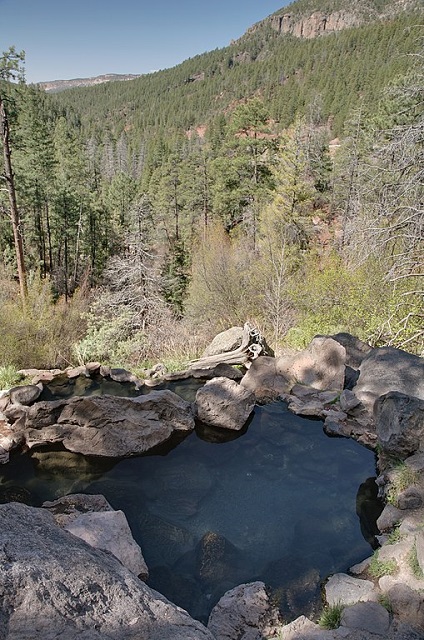 Spencer is one of those Nevada hot springs that offer you some of the best views possible. These geothermal pools are maintained by the Bureau of Land Management (BLM). Here, you will find 3 (sometimes 4) bathing spots, filled with water coming from natural geysers through water pipes. Two of these spots are artificial pools made from metal cattle troughs or cowboy tubs. While the third pool contains a natural soft base. The fourth cowboy tub that visitors could access sometimes is comparatively cooler than the rest. While soaking in these pools, you will get to see the huge desert. Among its several surrounding attractions is the famous Toquima Cave – one of the finest pictograph instances in North America. You can visit it by taking a quick 30-minute drive from the geothermal pools. Also, you will see the Toiyabe Range and its rough peaks. Located just off U.S. Route 50, these thermal pools are very easy to access. It is because of the 0.1-mile lightly trafficked trail. The geysers comprise a steamy metal tub and feature an in-ground thermal pool.
Once you're done bathing, you can camp here if you want. Or, you can visit Austin – a nearby town with several cafés, lodges, and antique shops. It will boost your overall experience. The water temperature stays about 55°C all year long. So, winter would be the best time to visit Spencer to take a nice, warm bath and rejuvenate.
5. Trego
The Black Rock Desert gains its popularity mainly from the 8-day festival of Burning Man. But besides that, it is also the home to some picturesque geothermal pools that provide an awesome experience. Trego is one such pool. It is basically a stretched ditch with a soft mud base. This pool can help you take a relaxing mineral-rich mud bath. The water temperature is known to fluctuate from time to time. It varies between 32°C and 38°C depending on the season and the entry point you pick. So, it's important to perform a touch test before you enter the waters.
It is quite easy to access as well. You just have to drive along Route 49 towards Sulphur. After driving 30 miles up the gravel washboard, you will reach Trego Crossing. From there, the pools are only a short distance away. For your info, the pools are at the north end by the railway track.
One great advantage of Trego is that not many people know about this place. Therefore, the geothermal pools here are not as crowded as some other popular Nevada hot springs. That means you can enjoy a refreshing warm mud bath in a calm atmosphere here. You can visit Trego anytime you want. But we recommend you visit it and take a hot bath when the weather is less warm.
Conclusion
As you can see, the Battle Born State has a lot of natural thermal pools that you can visit. In this article, we gave you a list of some of the best Nevada hot springs. So, what are you waiting for? Visit them today, take a warm bath, and revitalize your body and mind.
Frequently Asked Questions:
Are there any natural Nevada hot springs?
Yes, there are many natural geothermal pools in Nevada. These include Spencer, Gold Strike, and many more.
Are there thermal pools close to Las Vegas?
Yes, Gold Strike is one such thermal pool. Located along the Colorado River, Gold Strike is only a 45-minute drive. So, if you wish to leave the bustle of Las Vegas behind and relax, this could a great option.
How many natural geysers are in The Silver State?
When it comes to natural geysers, The Silver State has plenty, and we mean plenty of them. Today, there are over 300 such Nevada hot springs. No other US state has this many natural thermal pools.