The City of Gold is no doubt miraculous during the day. But to get the true essence of Dubai at night, it is important to get a taste of its nightlife. As soon as the sun sets, the city becomes even more alive. It is when the city starts showing its true splendor. Here are some fantastic places to go to in Dubai at nightto experience the city in all its glory. 
List of Exciting Places to Visit in Dubai at Night
Ferrari World
White Dubai
Cavalli Club
Dubai Aquarium and Underwater Zoo
Jumeirah Public Beach
Ski Dubai
Burj Khalifa
Dubai Fountain Show
Dubai Marina
Night Camping Spots
Global Village
IMG Worlds of Adventures
Billionaire Mansion
Gold Souks and Spice Markets
Motiongate Dubai
Al Sadeem Observatory
Al Boom Diving
Winners Equestrian and Polo Club
Bounce Trampoline Park
Buddha-Bar
Best Places To Visit In Dubai At Night
Ferrari World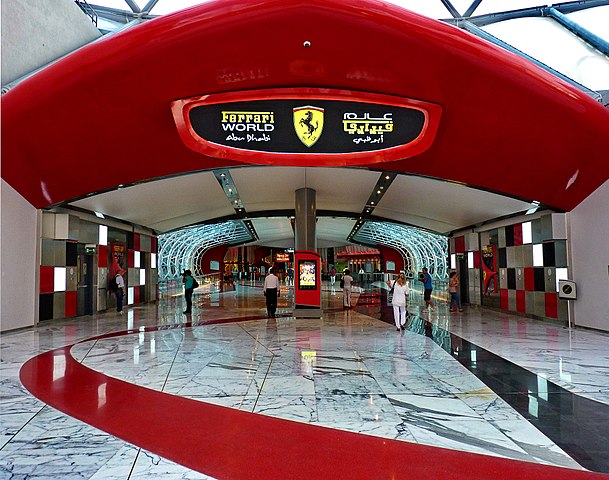 Located in Yas Island, Ferrari World is the world's first Ferrari-branded theme park. If you're an F1 lover, it is a place you don't want to miss. Even if you're not, the place still offers you a full-fledged Ferrari experience that's hard to resist. You would feel the adrenaline rush when you participate in ziplining, karting, and many other activities. The place stays open from 11 am to 8 pm every day except Sunday. And the entry fees are 235 AED and 195 AED for adults and kids, respectively. Thus, if you're seeking thrill in your life, Ferrari World is the place to be.
White Dubai
Next, we have White Dubai – a wonderful nightclub on Meydan Racecourse Grandstand Rooftop. If you're looking for some nice place to dance your heart out under the starry sky, look no further. The place operates from 11 pm to 3 am on Thursday to Saturday. FYI, this nightclub is among the most popular places to get the best taste of late-night Dubai. To enjoy the colorful night culture, you have to spend 400 AED, which is a bit costly. But, if you're fine with it, don't hesitate. It would be worth every penny.
Cavalli Club
Located in Sheikh Zayed Road, Cavalli Club is a great, extravagant restaurant for you to visit. As soon as you enter the place, the shining Swarovski crystals sparkling on the black quartz floor will enchant you. The place operates on all days from 8:30 pm to 4 am. It is so popular that you can spot some of the biggest global celebrities every time you visit Cavalli. The luxurious eatery is known for serving yummy Italian cuisine. Plus, the lounge has some of the most amazing drinks and beverages you would ever find. For your info, the music at the club continues to play from 11 pm to dawn. The place has no entry fee, but you got to book a table beforehand to enter the club. Charming vibe + tasty food + ice-cold drinks + dancing till dawn – what more could one ask for?
Dubai Aquarium and Underwater Zoo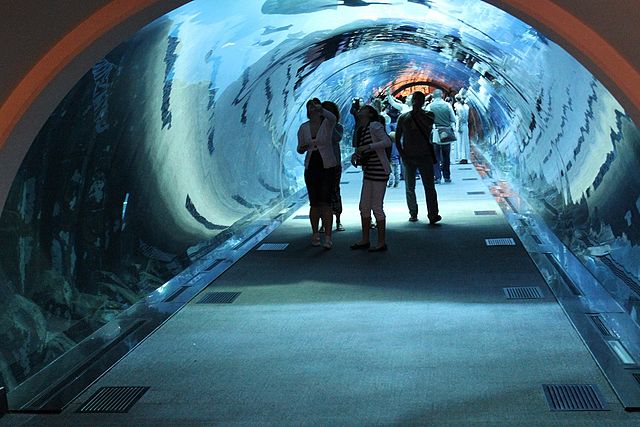 If you want to experience the marine life of the City of Gold, this is a must-visit place. Located in the Level 2 of Dubai Mall, Dubai Aquarium and Underwater Zoo is truly a man-made wonder. The 48-meter long aquarium is filled with sharks that will leave you awestruck. Besides that, if you're a daredevil, you can even opt for some cage snorkeling among the sharks. But, it is not meant for the faint of heart. So, try it only if you have complete faith in your courage. The place stays open from 10 am to 11 pm on Monday-Friday, and 10 am to 12 am on Saturday-Sunday. It would cost you 100 AED to enter this place. So, it's pretty reasonable.
Jumeirah Public Beach
Located in Jumeirah, this public beach is one of the calmest places in the city to rejuvenate your body and mind. Also, there are several cafés, eateries, and some of the best nightclubs in the city nearby. These include Wagamama, Twenty 10, Frankie's Italian Bar & Grill, etc. Hearing the sound of waves hitting the sands while you enjoy the cold and salty sea breeze is heavenly. So, taking a walk on the beach is among the best things to do in Dubai at night for free.
Ski Dubai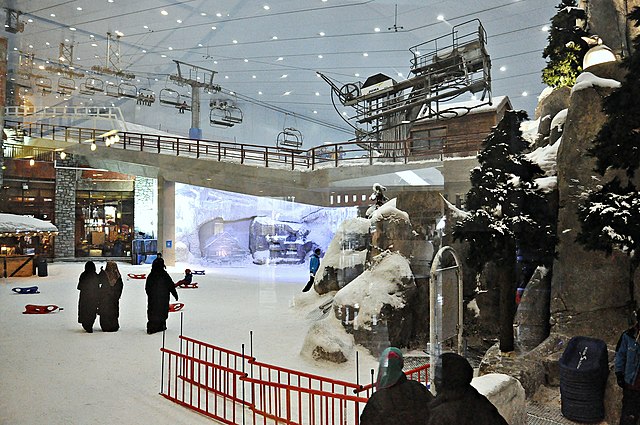 An artificial ski slope? That too within a shopping mall? Yes, the City of Gold never fails to amaze us. If you wish to do some skiing, visit Ski Dubai at the Emirates Mall. This amazing ski slope has a natural mountain style and provides a genuine skiing experience. The timings are 10 am-11 pm (Sunday-Wednesday), 10 am-12 am (Friday), and 9 am-11 pm (Saturday). And the entry fee is 260 AED per person. What better way to end your day than a memorable skiing session right? Apart from skiing, there are options for snowboarding and chairlift rides.
Burj Khalifa
When we think about the UAE, the first that comes to mind is Burj Khalifa. Located in Downtown Dubai, this supertall skyscraper is one of the best places to hang out in Dubai at night. A ride in the world's fastest lift and a view from its 124th floor at night are extraordinary. These dazzling panoramic views from the top of Burj Khalifa should never be missed. FYI, the evening slot stays open every day from 7 pm to 11 pm and costs 129/person AED. So, come here and see for yourself what this place has to offer.
Dubai Fountain Show
In Downtown Dubai, the fountains are famous for being the world's most extensive choreographed fountain system. Colorful lights light up these tall fountains that dance on the rhythm of the music. Having the high rising towers of the city in the background, this archeological marvel is a sight to behold. This 30-minute fountain show where water jets reach around 150-meter height costs 17-29 AED. Thus, it is affordable and definitely among the best places to visit in Dubai at night with the family.
Dubai Marina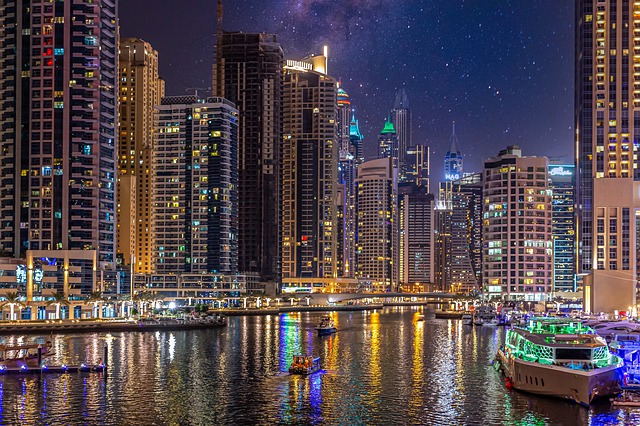 Located in Jumeirah Beach Residence, this artificial marina is encircled by many skyscrapers that light up the dark sky. The timings are 10 am-11 pm (Monday-Friday) and 10 am-12 am (Saturday-Sunday). You have to pay 100 AED to enter the JBR. While taking the JBR walk that accompanies the marina, you would find several bars, eateries, and cafés. Thus, you're surely in for a treat.
Night Camping Spots
There is nothing more stellar than camping under the starry sky. So, for that, the Gulf Tiger has plenty of places where you can do some camping at night. These include Wadi Sana, Acacia Forest, The Fujairah Beach, etc. If you have the necessary things like a sleeping bag or a tent, you can camp for free.
Global Village
If you wish to experience the rich culture of the Gulf Tiger, Global Village is a must-visit place. Located in Sheikh Zayed Road, this place offers amazing shopping and eating options, all under one roof. It stays open every day during 10 am-8 pm and costs only 15 AED/person. In addition, this place is home to some of the best cafés you'd ever find. Also, it offers many cultural programs and events for your delight.
IMG Worlds of Adventures
It is strictly for adventure lovers. Located in Sheikh Zayed Road, IMG Worlds of Adventures is a great theme park. The operating hours are 11 am-10 pm (Thursday-Sunday) and 11 am-8 pm (Monday-Wednesday). There are five zones in the park. IMG Boulevard, Marvel, Novo Cinemas, Cartoon Network, and Lost Valley. Here, you can meet your favorite CN and Marvel characters and have a fun experience. It costs around 62 AED. So, it's pretty reasonable.
Billionaire Mansion
If you wish to get a taste of the lavish lifestyle, visiting Billionaire Mansion is a must. This amazing nightclub resides at Burj Khalifa Boulevard and is famous for its Light and Champagne shows. Besides that, it offers yummy food that you can savor. The timings are 7 pm-3 am (all days except Monday), and the entry fee is 800 AED/person.
Gold Souks and Spice Markets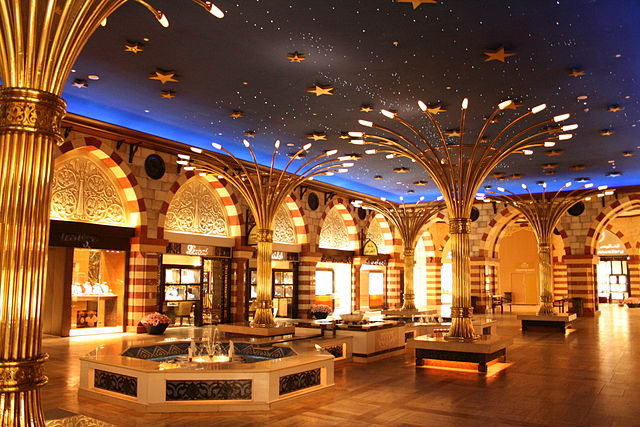 Located in Dubai Mall's Level 2, these are among the best places to visit Dubai at night. Buy tons of gold jewelry like rings, bangles, etc., in the gold souks here. Besides that, you can buy many Middle-Eastern spices and herbs in the spice markets. The operating hours are 10 am-11 pm (Monday-Friday) and 10 am-12 am (Saturday-Sunday). FYI, there is no entry fee. While you're here, try to visit the nearby Dubai Night Market too.
Motiongate Dubai
Residing in Sheikh Zayed Road, Motiongate Dubai is a Hollywood-themed amusement park. It is home to several film studios, water rides, roller coasters, etc. It also has many other shows based on films. Motiongate is a place that attracts both kids and adults as one can meet their favorite Hollywood movie characters here. The place stays open from 11 am to 8 pm, and the tickets start from 275 AED.
Al Sadeem Observatory
Located in Al Wathba, Al Sadeem Observatory is a paradise for stargazers. It operates on Tuesday, Thursday, and Saturday from 6 pm to 4 am. With an entry fee of 175 AED/person, it offers top-notch telescopes, tents, and a regal campfire. It undoubtedly boosts the overall experience. If you wish to learn more about what's up there in the sky, Al Sadeem should be a must-visit for you.
Al Boom Diving
This diving center is located in Villa 254, 33rd Street, and offers visitors a memorable diving experience. Here, you can dive into the ocean and discover marine life in the dark. The waters are gin-clear. So, you could easily see a variety of fish and aquatic plants. Remember that you have to be a certified pro diver who has dived within the past six months. Otherwise, they won't permit you to dive. The timings are 10 am-8 pm (Saturday-Thursday), and 8 am-6 pm (Friday), and the diving costs start from 255 AED.
Winners Equestrian and Polo Club
This is a place where you can opt for full moon horse riding. It lets you discover the desert and dense woods on the back of a horse. Starting from 300 AED, this 90-minute tour is sure to captivate you, no matter you're a rookie or a pro. You can easily find this club in Mushrif Park and opt for a memorable tour from 6:30 pm to 8 pm. But they only offer horse rides on full moon nights. So, keep that in mind.
Bounce Trampoline Park
Located in Marina Mall, this park is perfect for unleashing the child in you and having fun. By paying an entry fee of 70 AED, you can jump as much as your heart desires. The place stays open from 10 am to 12 am on all days. So, coming here and embracing your inner child once again is an excellent rejuvenating experience to get in Dubai at night. So, not visiting would be a huge miss.
Buddha-Bar
If you want peace of mind, Buddha Bar is where to be. Located in Grosvenor House, Al Emreef Street, this place is home to beautiful interiors and yummy food. While you're here, you can enjoy the magnificent views of the Dubai Marina from the windows. The place stays open from 7 pm to 1 am (Saturday-Wednesday) and from 7 pm to 2 am (Thursday-Friday). While there is no entry fee, you got to pay around 250 AED for your meal.
Conclusion
Now that you know about these beautiful places in Dubai at night don't wait any longer. Pack your bags and visit them ASAP. Bon, voyage!
FAQ
What can I do in Dubai at night?
The Gulf Tiger offers many things that you can do after sunset. From dancing in Cavalli Club to enjoying the tranquility of Buddha-Bar – the options are endless.
How cold does it get in Dubai at night?
The nighttime temperature here stays around 12°C-15°C near the coastline and 5°C in the desert all year long.
Is it safe to travel to Dubai in the dark?
Yes, it is safe. The entire city is strictly monitored. So, the crime rates are very low, and violent crimes are almost zero.