There are almost 1,200 islands floating in the vast expanse of the exclusive economic zone of the Indian Ocean that creates the iconic paradise known as the Maldives. But of these, only 187 are inhabited, with a further 128 designated as resort-islands. Most people flit in and out of the idyllic resort islands without even glimpsing the life of the locals that live and work there, but there is a whole other side to this tropical country that's well worth exploring.
Thanks to a change in legislation, tourists are now able to explore islands inhabited by the locals, leading to increased jobs for the locals and a chance to gain a more authentic experience from your visit. From more affordable holiday homes to a tour of the capital itself, let's explore how to experience this popular destination from the eyes of the people who live and work here.
Culture and history
The majority of the population reside on the capital city of Malé, which is a densely populated urban area in stark contrast to the resort islands with little but luxury bungalows, palm groves and ivory beaches in sight. A tour around this bustling city will give you a quintessential insight into the lives of the friendly Maldivian people.
There are also locals living on Hulhumale and Vilingili, where people live in colourful houses and trade seafood and fresh produce in the bustling markets. On Hulhumale, there's a line of guesthouses on the beachfront, offering a more affordable option to the usual five-star resorts of the luxury islands.
As a Muslim country, the city naturally has many beautiful Mosques built from coral stone with intricate detail and craftsmanship. There is even a National Museum, showcasing memorabilia and historical artefacts from the Mediaeval and pre-Islamic periods. The Islamic Centre is an important landmark where you'll find a beautiful cemetery with tombstones of ancient royal families dating back to the 18th century.
Due to the religious persuasion of the country, there's strict rules around how to behave when visiting the inhabited islands. Be sure to stay covered up even when swimming or bathing, remove your shoes when entering a Mosque and be respectful of the people when exploring. Bear in mind that there is also no alcohol or pork allowed in the Maldives – unless you're on a holiday resort.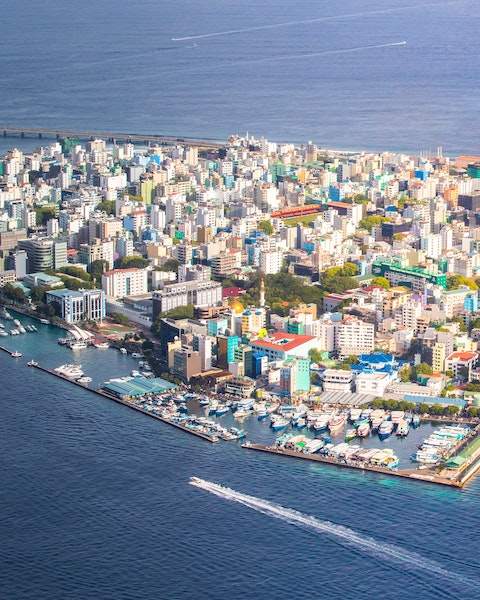 Rooftop dining
There is a very warm, family-feel to dining in the Maldives, with locals often sharing meals and welcoming others to dine with them. Whilst the dishes vary slightly from island to island, all take influences from the neighbouring countries of India and Sri Lanka, incorporating a mixture of delicate sweetness and exciting spices. There's an abundance of great restaurants in Malé, many of which are situated on the rooftops, which makes for a beautifully picturesque dining experience. The quality of food is high, with fresh ingredients sourced from the surrounding land and waters, ripened wonderfully in the tropical climate. If seafood isn't your thing, there are plenty of vegetarian options available.
Some wonderful dishes to try include Golha Riha, which is a curry made with balls of reef fish and a Maldivian curry paste with spicy scotch bonnets and aromatic herbs. Enjoy with rice or roshi and finish with some Addu Bondi, a sweet snack or dessert made with sweetened coconut, jasmine/rose water and sugar, for a truly tropical meal.
Support local
Before they became a desirable tourist hotspot, the islands of the Maldives were considered unsuitable for tourism. As a developing country, the people that live here struggle with poverty and the threat of losing their homes entirely due to rising sea levels as a result of climate change.
By choosing to stay in accommodation run by the local people, you'll be supporting the local economy and community. Tourism is a potentially life-changing income stream for these people. You'll also be broadening your cultural understanding and feeling a cultural connection that can't be found on the plush resorts.
Maldivian people are known to be friendly and welcoming, so it's likely you'll experience plenty of authentic connections with the locals if you're open to learning and engaging with them. From trying Maldivian snacks, called Hedhikaa, to watching the fishermen bringing in the day's catch, to smelling the smoky barbeques lit at sunset from kitchens all around, there are plenty of island-life moments that would be missed without staying on the local islands.
Take your time
Whether you choose to stay on a local island or just visit them for the day, the experience of seeing the other side of life in the Maldives is sure to give you a new sense of appreciation of this popular destination. Be sure to take your time to truly take advantage of the slower pace of life found here, and enjoy not only the stunning weather but also the intimate and welcoming atmosphere provided by the Maldivian people.