The Great White North is one of the most popular countries for natural beauty. These include national parks to gin-clear lakes to snowy mountains. Also, when we talk about the country, we must mention the Canada hot springs. These places are perfect for any person who wants to relax and revitalize their body and mind. Plus, one will find beautiful landscapes around them. Here, we will give you a list of some of the best geysers found in this country.
List of Most Amazing Canada Hot Springs
Fairmont
Takhini
Temple Garden Mineral Spa
Spa Le Nordik
Harrison
Lussier
Banff Upper
Halcyon
Miette
Top-Rated Hot Springs in Canada
1. Fairmont Hot Springs
As we all know, British Columbia is a place full of natural mineral geysers. It is the reason why it has become this popular among both locals and tourists. Fairmont happens to be the largest among all the Canada hot springs. Interestingly, the water you will see here is not only gin-clear but also has no odor.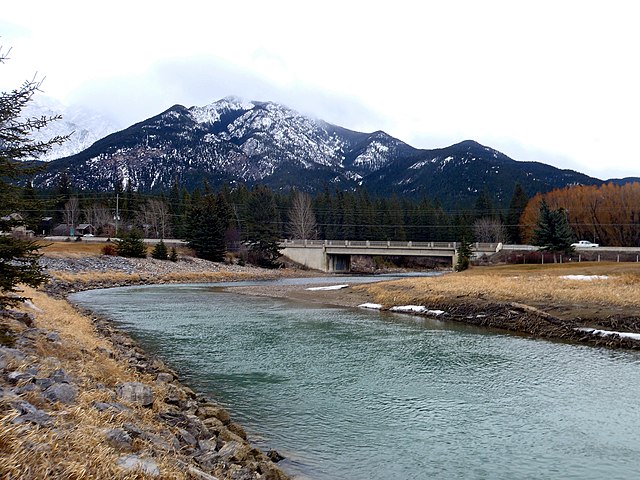 Fairmont is located 27 km southeast of Invermere, close to the Pintler Mountains. Nearly 1.5 million gallons of water have minerals and healing properties low into three pools from the Columbia Valley. The water temperature remains more or less 39°C all year long in the soaking pool. At the same time, the large swimming pool and diving pool's water temperature are 32°C and 30°C, respectively. Booking a classic room here would cost around 72 USD.
2. Takhini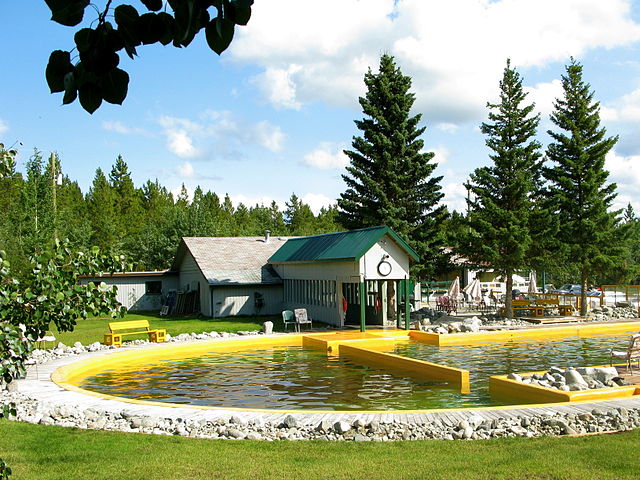 If you ever come to cross Whitehorse, it would be best if you take a day off. It is because you can reach Takhini by driving only about half an hour and start relaxing. This geothermal pool resides on the Alaska Highway. So, there's no hassle in finding it. Takhini is pretty much a pool rather than being a pit on the ground. The boiling water comes straight to the pool. FYI, the water here has a reddish tint. It is because of the Calcium, Iron, and Magnesium present in the water. Plus, it doesn't have the sulfur stink that most natural geysers emit. The water temperature remains 35°C which is perfect for a relaxing soak. A single entry to Takhini costs 11.50 USD for adults. However, kids and elderly people need to pay 8 and 10 USD, respectively. Takhini also conducts an annual Hair Freezing Contest that adds to its appeal.
3. Temple Garden Mineral Spa
Another wonderful spa that you should visit is the Temple Garden Mineral Spa. FYI, it resides in the historic downtown Moose Jaw. One specialty of this spa is that it has both indoor and outdoor pools. Both of these pools are linked to each other through a running water tunnel. The water comes out from the permeable rock formations of an ancient sea bed over 4500 ft. below our planet's surface. Also, it is the largest refreshing geothermal mineral water pool in the country. If you didn't know, the water here is full of minerals like Sodium, Calcium, etc. So once you enter the waters, you will feel calm. No matter which time of the year you visit the place, the water temperature stays 45°C. If you're an adult, it will cost you 17 USD to enter the pool. However, kids don't need to pay any fee.
4. Spa Le Nordik
When talking about Canada hot springs, not mentioning Spa Le Nordik would be a crime. Located in the beautiful Old Chelsea village, this exotic spa could be your perfect escape from your daily bustle. While you are here, you can immerse yourself in a great and relaxing experience. As it nestles in the Outaouais area on the outskirts of Gatineau Park, it offers its visitors unforgettable scenic views. The geothermal pool waters don't have a constant temperature. It fluctuates between 10°C and 39°C throughout the year. So, check the temperature and only enter them when you feel right. The thermal pools full of minerals have a therapeutic effect. Thus, you're bound to have a relaxing experience every time you enter them. It will cost you 55 USD on Monday to Thursday and 65 USD on other days and peak days.
5. Harrison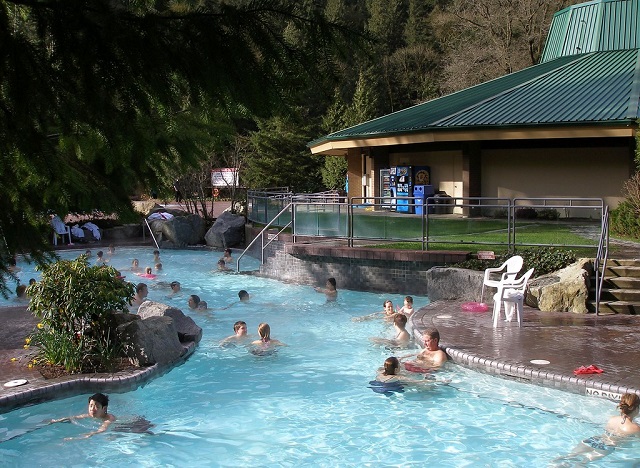 If you don't wish to visit a spa but get the natural feel, Harrison is the place to be. Situated in Esplanade Avenue, this place has a great setting and geyser for one to relish. You can find it by driving two hours from Vancouver. The water temperature remains around 38°C-40°C that is ideal for a relaxing bath. Plus, the geothermal pool is famous for having healing abilities and can treat conditions like arthritis. That is the reason why the Coast Salish initially used it. However, there is a little problem. One can only access the geyser if they are guests in the resort. The general public can't access it. It is located on the Coast of Harrison Lake; the famous Harrison Lake Beach Park is just minutes away. So, you can go out and enjoy the area's scenic beauty after taking a rejuvenating soak. Renting a room in this resort will cost you around 240 USD. Therefore, this could be a big issue if you're on a tight budget.
6. Lussier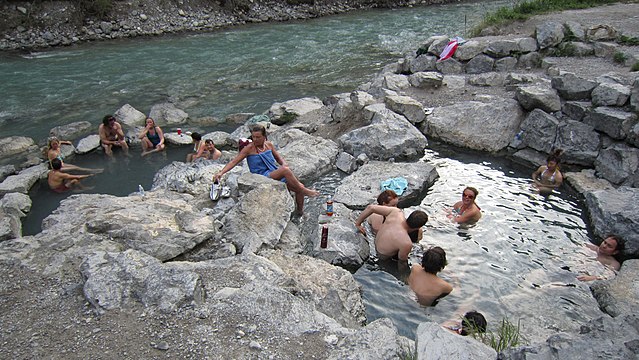 Lussier is among the most well-known Canadian hot springs in the world today. In fact, it is the most popular one in the Rocky Mountains region. It is located between Canal Flats and Whiteswan Lake in Southeast British Columbia's East Kootenay. There are four natural geothermal pools here, and the temperature of these pools varies between 34°C and 47°C. One unique feature of this place is that the thermal pools here line the sides of an icy river. Therefore, if your body gets too hot while soaking in hot water, don't worry. Take a dip in the Lussier River, and you'd be fine. And, the best part? Lussier is entirely free of cost.
7. Banff Upper Hot Springs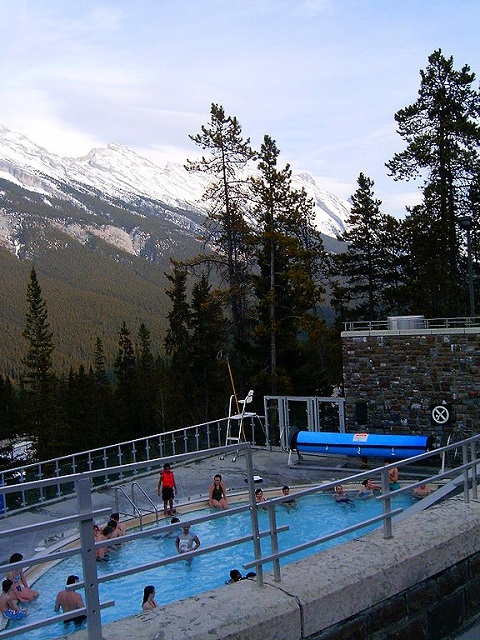 If you're in Banff, don't forget to visit Banff Upper. Banff Upper is situated close to the famous Sulphur Mountain, is publicly accessible, and has healing abilities for its minerals. The area is filled with natural beauty. Plus, the water temperature here fluctuates between 27°C and 47°C, depending on the season. So, it's best to check the temperature before entering the geothermal pools. Interestingly enough, heated municipal water fills the pool during winters. It is because the natural water volume of the pool decreases during that time of the year. While bathing, you will be able to view the Rocky Mountains, which will provide you with a memorable experience. The entry fee of Banff Upper is 7.30 USD for adults and 6.30 USD for kids.
8. Halcyon

Halcyon is located in a picturesque waterfront location on the gorgeous Upper Arrow Lake. The resort has four different pools. These include a hot (40°C), a warm (37°C), a plunge (13°C), and a mineral (30°C) pool. The Lithia waters here have healing properties and cost adults 12 USD for a single entry (free for children under 4). FYI, Halcyon's water is so effective that it was once used to be shipped worldwide as a health tonic. The visitors can bathe in either of the pools or take a dip in the refreshing Upper Arrow Lake waters. Also, while bathing in the warm geothermal pools, one can enjoy the superb views of the nearby Monashee Mountains. That's a beautiful bonus that helps increase the overall pleasure of anyone who visits Halcyon.
9. Miette
Miette  Hot Springs is undoubtedly the hottest thermal pool found in the Rocky Mountains area. You can find it in Alberta's famous Jasper National Park. The water temperature is 54°C when it flows from the mountain. However, the temperature drops to a comfortable 40°C when it comes to the geothermal pool. In the mid-1800s, the iconic Hudson's Bay Company and North West Company employees visited Miette. They learned about it through local indigenous people. The waters here are famous for being mineral-rich and having healing properties. Plus, you can enjoy the surrounding tranquil panorama that includes a view of the stunning Ashlar Ridge while soaking. Or, you can take a picturesque drive along the Fiddle River Valley. Today, adults have to pay 7.75 USD to visit it, while for kids under 3, it's free.