Emirates Palace is an iconic landmark in Abu Dhabi. Constructed at a cost of a whopping $US 3 billion, it takes the prize for sheer opulence and indulgence. It is the only 7-star hotel in the world besides Burj Al Arab located in Dubai. The luxurious and elaborate structure combines Arabian splendor and the latest technology to make a stay at the Emirates Palace an unparalleled experience.
Magnificent Architecture
Emirates Palace is an architectural marvel featuring 114 awe-inspiring domes, each 18 feet high and covered in mosaic glass ties. The Palace Atrium is the biggest dome in the world, and with a covering of 22-carat gold, it is the greatest gilded expanse ever built.
Once you pass the magnificent gates of the regal retreat, you enter a spectacular paradise set in 1000 hectares of gardens on a 1.3-kilometer-long private beach. The interiors glisten with 6000 square meters of gold leaf and an array of beautiful crystal chandeliers and different colored marbles.
The precious Arabian jewel is home to majestically decorated gardens too. Spread across 85 hectares, the beautiful gardens of the palace promise serene strolls, wildlife watching and yoga.
Opulent Accommodation
The royal setting features a stunning range of accommodation options. There are 92 magnificent suites and 302 superior rooms, each combining ultimate luxury with breathtaking views of the Abu Dhabi skyline or the turquoise waters of the Arabian Gulf. Each room provides a personal butler service, allowing guests to experience the level of service similar to a stay at a palace.
The rooms and suites of the hotel are designed to indulge guests with pure opulence. There are room entertainment systems, LCD televisions and private balconies in very room. Even the bathrooms resemble miniature palaces.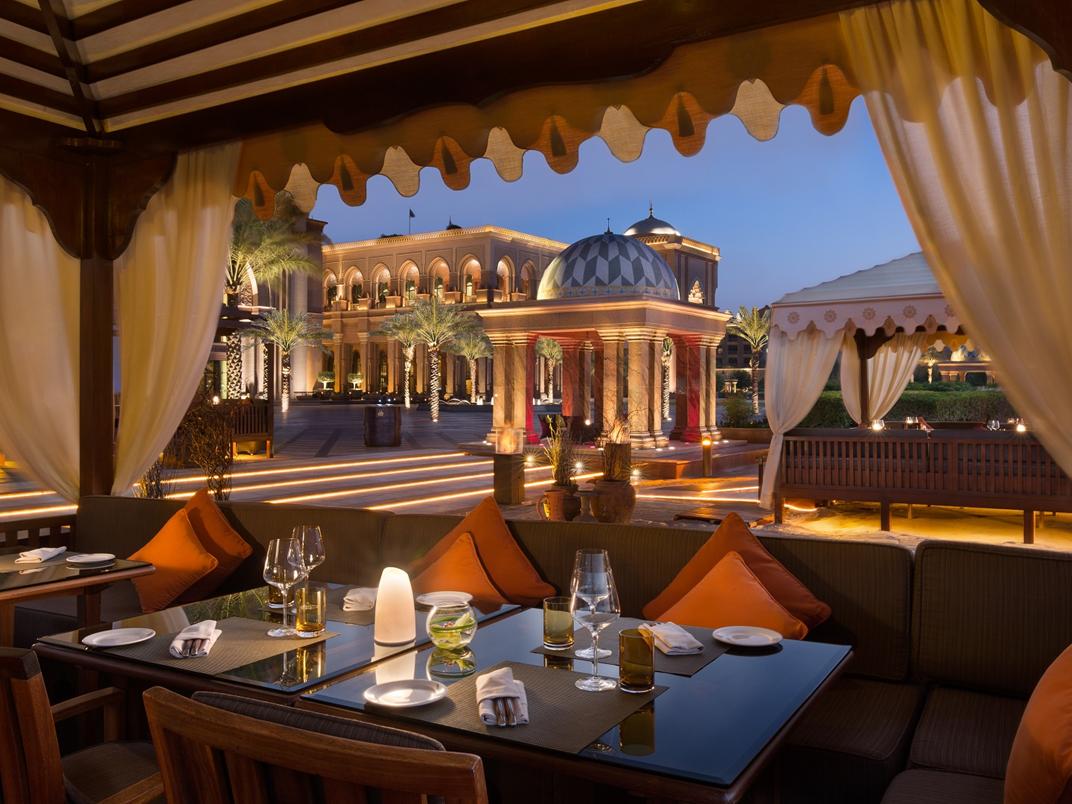 Luxurious Dining
The oasis of luxury boasts of fine dining options. The place is home to 14 gastronomical avenues that offer an extensive selection of authentic cuisines from all around the world. The restaurant offerings include international buffet at the Le Vendome, delicious seafood at Sayad, sumptuous Italian food at Mezzaluna, Lebanese cuisine at Mawal, world-famous Chinese cuisine at Hakkasan, a great grill experience at BBQ Al Qasr, and traditional Emirati cuisine at Mezlai. There are also several lounges for an afternoon tea or a late-night drink.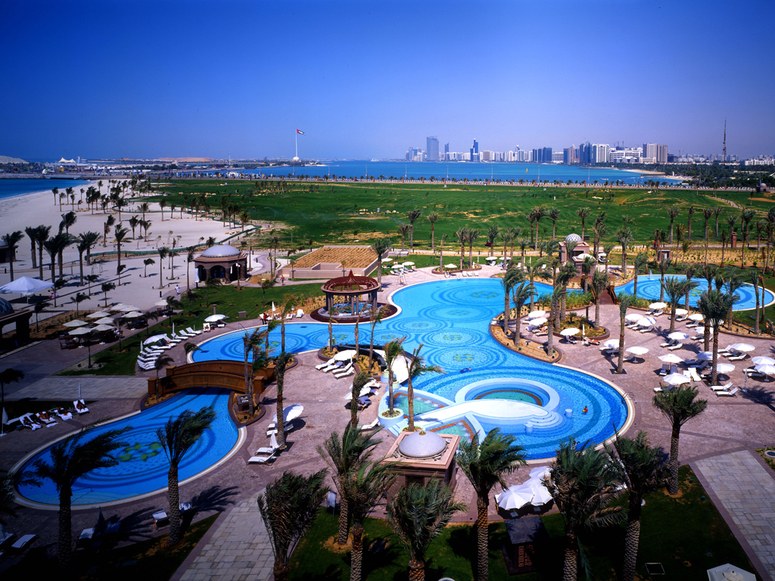 Fun and Engaging Activity Options
Apart from a private sandy white beach, guests have access to the swimming pool at the hotel that includes separate Jacuzzis, a pool bar and a covered children's pool area. The impressive hotel boasts one of the finest spas too. The spa uses the world's most exotic oils and elixirs to deliver wellbeing and radiance.
The hotel features four floodlit tennis court and a Padel court as well. With tennis, water sports, swimming pools and a kids' club, the hotel offers an array of sports and leisure activities. Its marina, which is one of the most well-known in the region, provides 167 berthing spaces. There is also a children's playground as well that is equipped with swings/slides and hosts myriad water and land based activities.
Emirates Palace, with all its grand offerings, is a sheer treat to the senses and is certainly worth a visit.