Norway is the land of fire and ice. It is a place of fjords and glaciers, towering cliffs and rustic wooden lodges. However, Norway is more than just emerald hills and icy waters. From bright, sherbet coloured houses and maze-like streets to Art Nouveau architecture and cosmopolitan charm, Norway's villages and cities have the type of trademark scenery that rivals the country's natural wonders. If you are planning a Scandinavian last minute cruise, then here are 5 Norwegian highlights that cannot be missed.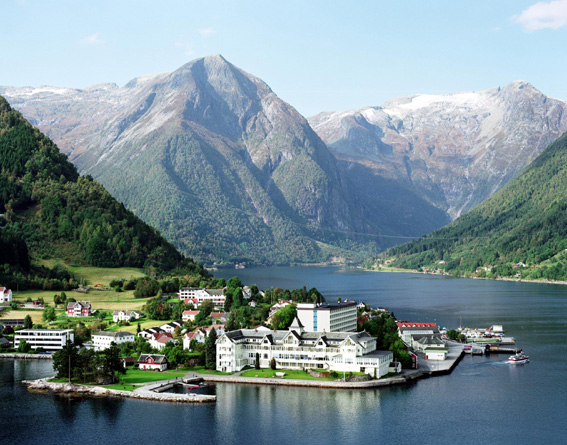 1. The town of Flam is located in Sognefjord, which is the longest and deepest fjord in the world. Surrounded by soaring cliffs, Flam looks like the type of miniature town you would find in a childrens fairy-tale, and when you are walking around the wooden lodges that comprise the town centre, you cannot help but look up and wonder if the famous Norwegian trolls make their home in the mountains.
2. Are you afraid of heights? The Flamsbana, which is billed as the world's steepest railway, is not designed for the faint of heart. However, it is a Norwegian experience unlike any other. Traveling at 865 metres above sea level, the Flamsbana railway takes you on a white-knuckle trip around mountain bends and through cliff-edge tunnels. This is probably the type of sightseeing activity you are going to want to avoid directly after lunch.
3. Horindalsvannet is Europe deepest lake. If breathtaking nature is your late afternoon cup of tea, then this natural attraction cannot be missed. More impressive than the lake, however, are the two waterfalls you will find in the area. Both the Seven Sisters and the Bridal Veil waterfall roar hundreds of feet over the cliffs. If you want to get up close and personal with Mother Nature's power, you are probably going to want to wear a raincoat. These waterfalls kick up some otherworldly spray.
4. Built across several beautiful islands, the city of Alesund is famous for its Art Nouveau architecture and its view of the Sunnmore Alps, which act as a stunning backdrop to this city of magical turrets and spires. Relax and take in the scenery with a large, frothy cappuccino. A trip to the Atlantic Sea Park, which is one of the largest aquariums in Europe, is a great way to spend the afternoon. If you want to learn more about the city's history and architecture, you can also visit the Art Nouveau Centre.
5. Eidfjord is located in Norway's Hardangerfjord region, and if you think all of these village and town names sound a bit confusing, then rest assured you are not alone. This region has a slightly warmer climate than the rest of Norway, so you will not only find the country's trademark mountains and lakes, but apple, pear, plum and cherry tress. This region is known as Norway's orchard, so if you cruise in May or June, the landscape will be speckled with colourful blossoms and petals.