This article has been brought to you by: Donnie Does China. Subscribe to his YouTube channel and his Facebook page.
I live in Shanghai on a tourist visa. That means that every 90 days I have to leave the country.  Now this might come as a surprise to some people but even though Hong Kong is now part of China, traveling there is still considered leaving the country. As a visit to Hong Kong is the cheapest and fastest way of leaving the country from Shanghai, I find myself there once every 3 months or so. While at first I thought these trips were going to be a huge pain in my ass, I now look forward to them because as it turns out, Hong Kong is a pretty incredible city.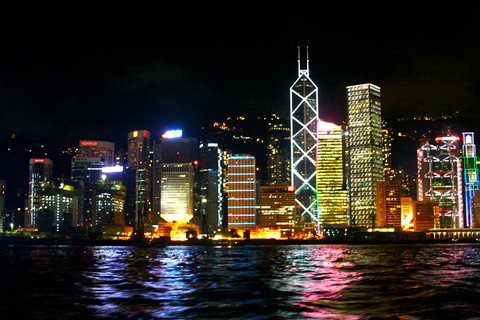 One of the things that make Hong Kong such an attractive city is that a huge percent of Hong Kong is uninhabited rainforest. This means that you can hop on a ferry or a bus from the city center and be on a tropical beach in less than an hour. Hong Kong is a large group of islands and while a few of those islands are the most densely populated places on earth, the vast majority of them are tropical hangouts with white sand beaches, wicked good seafood, and places to go camping.  During my last visit my friend who lives there came home from work in a suit and was like "hey some of my friends are going surfing, want to come?" Any place where that scenario is possible is definitely a place I wouldn't mind living.
Another reason while I find Hong Kong such an amazing place to visit is that the central part of the city is built on a mountainside. That means when you're out trying to find something to eat, shopping, or club hopping, you have to navigate through a maze of staircases, elevated walkways, moving sidewalks, and escalators just to get around. Some might find that exhausting but to me it's exciting as fuck. In fact, Hong Kong has the largest outdoor covered escalator system in the world, which many people use to commute to work. One night I had the pleasure of using the escalator system to travel between bars and clubs which was a shit ton of fun. Guess I'm still kind of like a kid when it comes to escalators.
There are so may insider tricks for you to travel smart. Yes  you  can get free flights to Hong kong with points, for that you have  select the right credit card, pay for everything using credit card and  consolidate your miles by using frequent flyer accounts of yourself to maximize your points. Most of the travel hackers use it as their business to play insider tricks and loopholes to win airlines at their own game. This is the best way to get free flights complimentary upgrades etc.
The only two downsides of Hong Kong are that it is:
1. Humid as hell: I was sweating balls the whole time I was there. I'm still dumbfounded by how so many people who live there manage to wear a suit to work everyday.  If I put on a suit in Hong Kong in the middle of August and walked outside I would be dead within minutes. Maybe seconds. However you do get a nice sea breeze in some parts of the city, which is a plus.
2. Expensive as fuck: When I say this, I'm mainly talking about drinks and rent/accommodation. No joke I bought a round of drinks for my friends at this one club and almost went broke. Ok I'm exaggerating a little bit but drinks at most bars and clubs will cost you $10-25USD. Due to the prices, a lot of people end up buying beers from the Club 7-11 and just getting tanked before going to the clubs.  Hotels can be real expensive on Hong Kong island as well so if your trying to save money stay at Chunking mansions in Kowloon.  Would love to tell you more about Chunking mansions but that will be the topic of another blog post.
Once you get past these two downsides, there really isn't much to complain about in Hong Kong. It has the perfect fusion of eastern and western culture, which makes for amazing food, wild nightlife, and beautiful surroundings. Maybe one day when I have a bit more money I'd consider living there for a while but for now…its back to Shanghai for me.
Donnie out.