Spring is one of the best times to visit Rome, with gorgeous weather, smaller crowds, and wonderful seasonal cuisine.  With the exception of Easter weekend, spring sees fewer tourists from April to June, meaning lines to visit museums and attractions are shorter, and the chances of getting a truly authentic vacation in Rome are higher. Plus, the opportunity to get a great hotel deal is a lot better, as hoteliers all around town discount their rates in order to attract guests during this semi-low season.
The weather during this shoulder season in Rome brings warm, sunny days and cool, cloudless nights.  Once in a while, you'll get a stray rain shower, but for the most part, you'll be able to wander around the Eternal City unencumbered, taking in Rome at its most beautiful.
Things to Do
The best part about visiting Rome is being able to explore its tucked-away alleys and piazzas without a plan in mind and with curiosity leading the way.  Grab a seat on a bench or a wall and people-watch the day away, taking in the controlled chaos that is Rome as locals and visitors mesh together in one of the most historic cities in the world.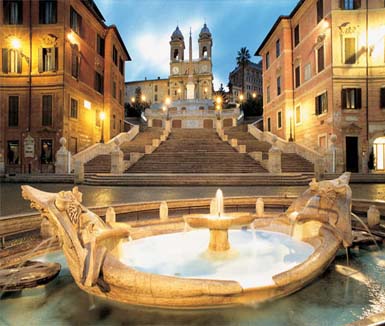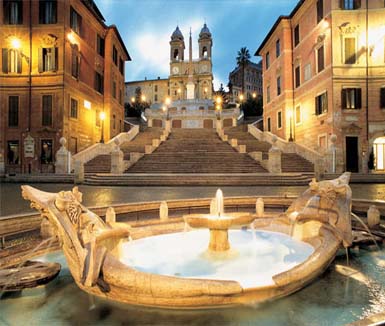 Be sure to take some time to sit at the Spanish Steps, an absolutely amazing meeting place of tourists and Romans who want to take a few minutes to relax in the beautiful Rome sunshine.  With the dual bell towers of Trinita dei Monti and the Obelisco Sallustiano as the backdrop, there is no better place to be on a glorious spring day in Rome.  At the foot of the steps, grab a drink from the Fontana della Barcaccia, a fresh-water fountain by Bernini that marks the spot where a boat once washed up when the Tiber River flooded.  If you happen to be at the Spanish Steps during the Festa della Primavera, you'll find yourself surrounded by thousands of azaleas in full bloom!
There are plenty of other spots in the Eternal City to see nature in all of its glory, including at the many gardens and parks in Rome.  Villa Borghese is perhaps the most well-known park in the city, and it should come as no surprise. With beautiful views, lots of family-friendly activities, bicycle rentals, a lake to go boating on, a zoo, and an amazing museum, it's easy to spend an entire day there.  On the exact opposite side of the city, the Gianicolo offers the best views of Rome, especially from Piazza Garibaldi.  If you continue walking along the ancient Via Aurelia Antico to the enormous and beautiful gardens of Villa Doria Pamphili, which is where Romans go to relax away a beautiful spring day.  There are plenty of walking paths, beautiful little brooks, and, of course, the namesake villa with its meticulously manicured gardens.  Rome's famous Rose Garden opens up to the public in May and June, so take some time to check out the beautiful blooms there.
Rome's piazzas are also a great place to linger during the spring—especially while enjoying a gelato—but none of them quite rivals Campo dei Fiori.  Springtime is, perhaps, its famous piazza's time to shine, as the daily market that always overtakes the square overflows with all of the freshest produce in season.  Springtime favorites include the famous artichokes (we'll get more into those later), asparagus, peas, carrots, fava beans, and puntarelle—curly, sprout-like greens that you'll have trouble finding anywhere else.
Spring in Rome is also the perfect time to take advantage of one of the many sidewalk cafés and dine al fresco. Piazza Navona is perhaps the most lively piazza in which you can find some amazing outdoor restaurants in Rome.  When it comes to must-try dishes, make sure you partake in some Roman classics like spaghetti alla carbonara, suppli, and carciofi.  That last one, artichokes, are really a Roman specialty, and in spring, they are the pride and joy of any menu.  Artichokes alla giudia are fried, while artichokes alla romana are brush with olive oil and herbs and braised.  Pick your preparation or try them both!
Events
There are lots of events in Rome that happen during the spring, many of them taking advantage of the great outdoors.
Easter is definitely the biggest springtime Rome event, as thousands of pilgrims flock to the capital of Catholicism to partake in celebrations with the Pope.  Via Crucis on Good Friday is a huge event that takes place at the Colosseum. Otherwise, there are many masses given throughout the city, including some lead by the Pope himself.
To celebrate the birth of the city, Natale di Roma on April 21 brings lots of parties and revelry throughout town, including fireworks displays and light shows.  Celebrations center around the Capitoline, the Roman Forum, and Circo Massimo.
Primo Maggio, or Labor Day, on May 1 is a national holiday, so some businesses, museums, and restaurants will be closed as Romans head out of town.  But, you can take advantage of the quieter streets during the day and then the concert at Piazza San Giovanni, which starts in the afternoon and goes long into the night.
One day every May, this year on May 17, more than 90 museums in Rome and other cultural hotspots offer free admission from 8pm to 2am, dubbed La Notte dei Musei (Museum Night).  Aside from being able to enter Rome's best museums for free (like MAXXI, the museum of contemporary art), you'll also benefit from entertainment and events scattered strategically throughout the city in some of the best-known piazzas.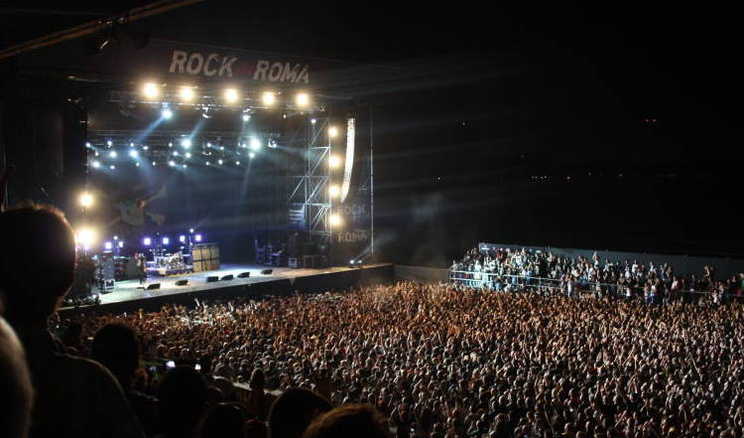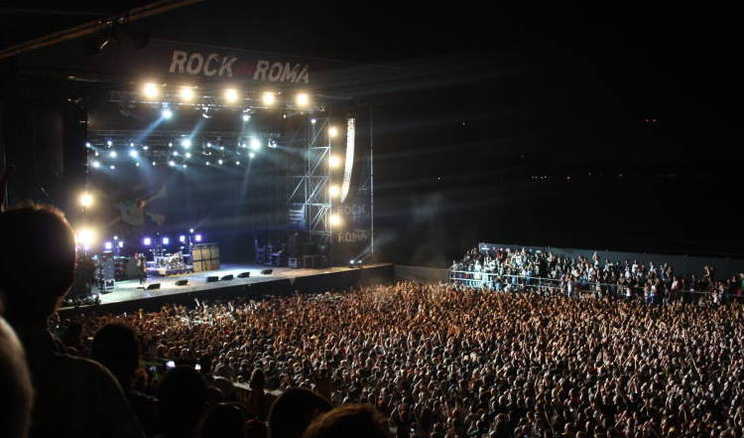 Another fun event in Rome is Rock in Roma, a summer-long concert series at the Capannelle race course.  Huge names are known to take the stage, and 2014 will be no different, with acts that include Metallica and Arcade Fire. The rock festival kicks off on May 27 and goes until August 2.
Festa della Repubblica is Italy's nation-wide Republic Day, commemorating the anniversary of becoming a republic after World War II.  Look out of the big parade held on Via dei Fori Imperiali.
Where to Stay
Another perk of traveling to Rome in the spring is that hotels often lower their rates in order to get more business during this low season.  If you want to make the most of your Rome hotel in the spring, reserve a room that has a private balcony or terrace, where you can relax in the warm sunshine while you're not out exploring the city.
Other options for a hotel in Rome are those right near the beautiful outdoor spaces.  The Inn at the Spanish Steps is right across from the famous stairway and piazza where so many people gather to enjoy a warm spring afternoon.  Likewise, Grand Hotel Via Veneto is right next to Borghese Gardens, where you'll love to spend hours relaxing or strolling around.  Hotel Campo de' Fiori is situated right on the beautiful, bustling piazza that bears the same name.
So, what are you waiting for?  Spring is one of the best times to visit Rome—get busy booking your flight and your hotel in order to take part in this beautiful season of events, delicious food, and gorgeous weather!