Long since popular with wealthy holidaymakers, Marbella has seen many celebrity residents and visitors over the years. Recently it's also become a favourite destination among the younger party crowd. But while it's true that the summer months can see an influx of over-excited hen parties, Marbella's year-round sunshine makes it a great destination for a winter break. As the summer can be unpleasantly hot, this is also an excellent time to explore Andalucia; using Marbella as a base allows you to enjoy the pleasures of the coast, while also heading inland to explore cities like Seville, Jerez and Cadiz.
A cultural hotspot
But what of Marbella itself? While it would be a shame to visit Andalucia and miss seeing at least one of its historic cities, Marbella certainly has enough attractions to fill up your holiday. There's plenty of culture on offer, covering music, art and history. Fans of Dalí and Picasso will find their prints on display at the Contemporary Spanish Engraving Museum, along with works by other 20th-century Spanish artists. The Ralli Museum holds a collection of mainly Latin American art. For something more unusual, check out the Bonsai Museum, one of several such establishments around the world.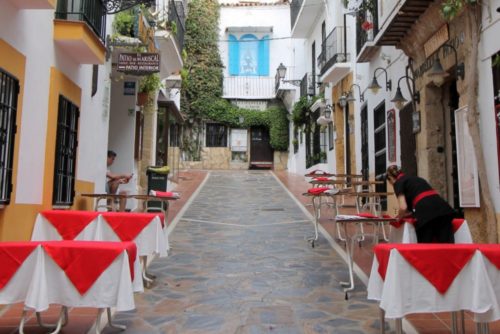 It's festival time
Spain is known for its festivals, and Marbella is no exception. Time your visit well, and you could catch one of the many events held throughout the year. There are film and theatre festivals, as well as other typically Andalusian celebrations. In fact, there are ferias most months, if not several, which will give you a flavour of life in southern Spain. As well as festivals covering the whole town, each district has its own 'fiesta'. If you're lucky, you'll get to try typical Andalusian dishes at one of these festivals; should you miss out on the festivals, search out restaurants away from the tourist trail so that you can find authentic cuisine such as gazpacho and dishes made with locally caught fish.
History that tells a story
Like many popular resorts, Marbella retains its Old Town away from the more touristy areas. This contains many historic buildings and churches, along with the ancient city walls and the remains of the Arabic castle. Near the old town, in the 'historic extension' area, you'll also find a botanical garden and other parks and gardens. All of this makes for some very pleasant walks for those who enjoy strolling around. There are even a few remnants of the Roman era to be spotted in and around Marbella, such as the 1st-century bridge in the grounds of the Hotel Puente Romano, commemorated in the name of the establishment.
Life's a beach
Since Marbella enjoys such a delightful climate, most visitors want to spend at least some time on the beaches. The city offers 17 miles of mostly sandy beaches. Should you want to enjoy more active outdoor pursuits than sunbathing, there are plenty of sporting activities on offer, such as watersports and bike tours, or extreme sports for the thrillseekers. There are also many golf courses in the area. And if you want to dream of a more luxurious life, amuse yourself by checking out the yachts of the super-rich, or admiring their luxury villas from afar.
Glitz and glamour
Marbella still enjoys the reputation of being somewhat blingier than its fellow resorts on the Costa del Sol. In fact. few other locations in all the Spanish Costas can compare with Puerto Banus and the Golden Mile where there's stylish shopping and luxurious, stylish nightlife from restaurants, night clubs, bars and casinos to entertain visitors.
Have fun and be sure to book your Marbella airport transfer with Holiday Taxis.