From antiquated bluff residences and the most established constantly possessed group in the U.S. to incredibly famous workmanship galleries and chapels where wonders appear to happen, New Mexico's history and culture are genuinely astonishing.
El Santuario de Chimayo
Tucked away in the little town of Chimayo along the noteworthy Turquoise Trail, the El Santuario de Chimayo is world prestige as a place where supernatural occurrences happen. The minor house of prayer, around 1856, is based on a site connected with a marvel of the cross of Our Lord of Esquipulas. A little room in the complex contains a pit of Holy Dirt that many accept has mending powers. A holy place simply outside that room is fixed with disposed of bolsters and various moving tributes from individuals who guarantee they were cured subsequent to rubbing the Holy Dirt on themselves. A yearly journey to El Santuario amid Holy Week includes somewhere in the range of 30,000 individuals from around the globe. A few people stroll from as far away as Albuquerque (around 90 miles away), taking up to a week of strolling before they land at El Santuario de Chimayo.
New Mexico History Museum/Palace of the Governors
Encompassing the oldest continuously occupied public building in the U.S., the New Mexico History Museum/Palace of the Governors is a remarkable piece of living history. The sprawling, adobe-style palace was originally constructed in the early 17th century as Spain's regional seat of government. It chronicles nearly 400 years of New Mexico history involving U.S., Spanish and Confederate States of America soldiers, Mexican and New Mexican territorial governors and Pueblo peoples. Included in the palace exhibits are fascinating viewing portals where significant archaeological finds were unearthed. Adjacent to the palace is a dazzling new history museum that opened in 2009 with three floors of displays about the legendary Santa Fe Trail and other eras of the state's colorful history. Native Americans sell their handmade art and jewelry under the palace portal daily. These artisans must be members of New Mexico tribes and pueblos, and their work is certified for its authenticity.
Bandelier National Monument
Walking underneath the towering cliffs framing Frijoles Canyon can be a spiritual experience for visitors to Bandelier National Monument. Stretching for several miles along the canyon are dozens of ancient cave dwellings that were carved into the cliffs by ancestral Puebloan people. While 70 miles of hiking trails wind through the rugged 50-square-mile national monument about 50 miles northwest of Santa Fe, Bandlier's Main Loop Trail's 1.2-mile, mostly level loop offers a great overview of the area where evidence of human activity dating back more than 10,000 years has been found. Short ladders provide entrance to some cave dwellings, and petroglyphs and remnants of a two-story, multi-room pueblo that housed 100 people can be seen. A half-mile trail extension leads to Alcove House, a large cave perched 140 feet above the canyon floor where approximately 25 people lived. It can be accessed via a series of stone steps and ladders.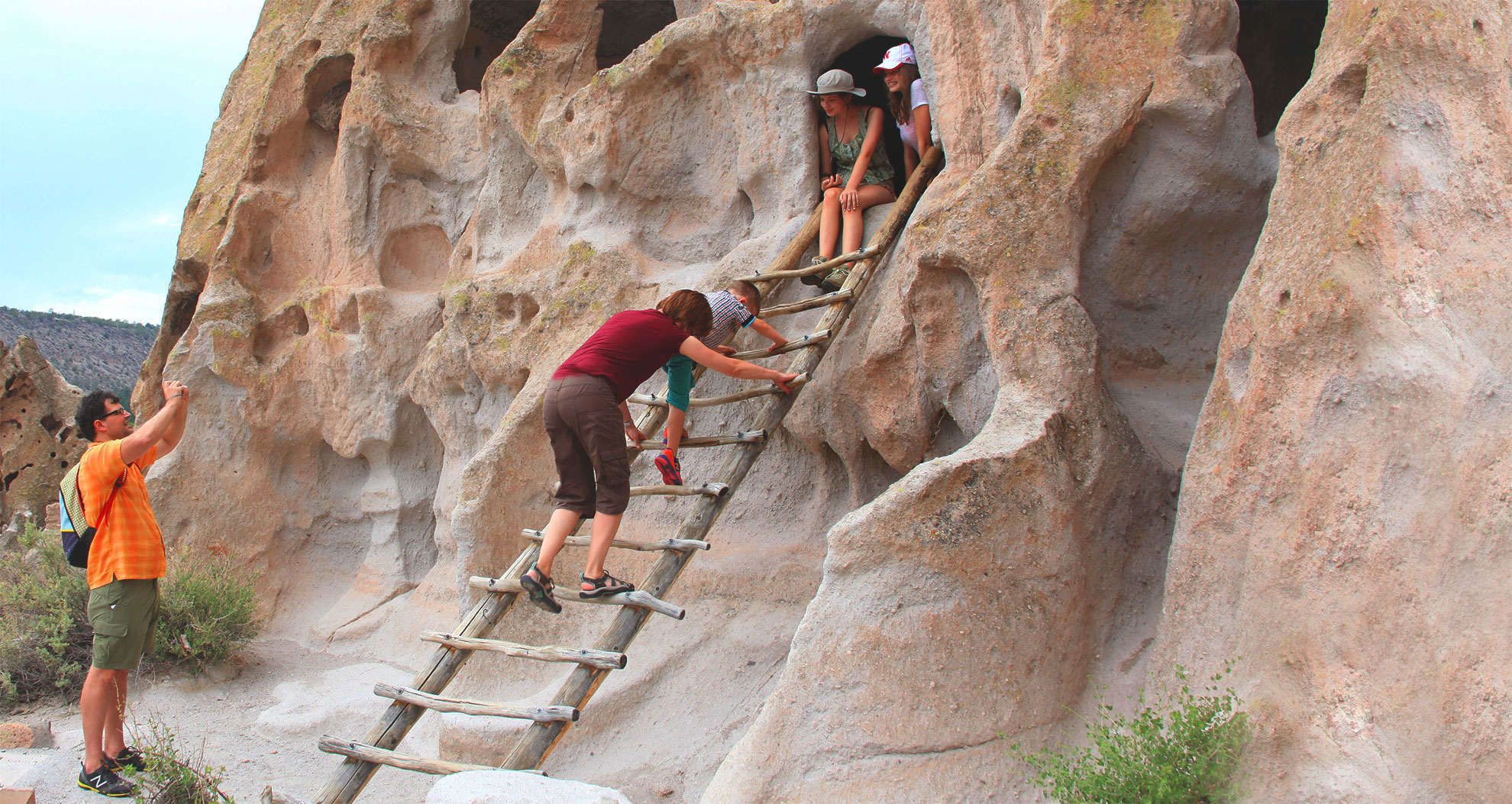 Museum of Indian Arts and Culture
Situated in the heart of Old Town, the Albuquerque Museum of Art and History is a fortune trove of Southwestern workmanship, culture and history. Its noteworthy workmanship gathering incorporates works by eminent Taos and Santa Fe specialists Ernest Blumenschein, John Sloan and Georgia O'Keeffe. Its perpetual accumulation show, "Shared view: Art in New Mexico," investigates similitudes and developments in the Southwest among early Native American conventions, pilgrim Spanish and Mexican pioneers and contemporary provincial workmanship. Pieces incorporate Native American adornments and earthenware production and additionally Hispanic religious and people craftsmanship. The gallery's similarly noteworthy open air mold cultivate has more than 60 pieces, many made by nearby stone carvers. The history shows incorporate a Colonial Period European reinforcement gathering that is viewed as one of the top accumulations of its kind in the U.S. Historical center docents routinely direct free strolling voyages through Old Town.
Albuquerque Museum of Art and History
Located in the heart of Old Town, the Albuquerque Museum of Art and History is a treasure trove of Southwestern art, culture and history. Its impressive art collection includes works by renowned Taos and Santa Fe artists Ernest Blumenschein, John Sloan and Georgia O'Keeffe. Its permanent collection exhibition, "Common Ground: Art in New Mexico," explores similarities and innovations in the Southwest among early Native American traditions, colonial Spanish and Mexican settlers and contemporary regional art. Pieces include Native American jewelry and ceramics as well as Hispanic religious and folk art. The museum's equally impressive outdoor sculpture garden has over 60 pieces, many created by local sculptors. The history exhibits include a Colonial Period European armor collection that is considered one of the top collections of its kind in the U.S. Museum docents regularly conduct free walking tours of Old Town.