If you dream of enjoying an exotic blend of camel treks, spicy aromas, striking landscapes, imperial cities, and bustling souks, Morocco can be your dream destination. It's varied topography makes it an ideal tourist hotspot. The country not only has sweeping desert expanses and mountains, but also idyllic beaches that lure trippers. To add to it, there are hotels galore to choose from. You can select from a wide range of luxury villas by Villanovo in every style, class and budget range. If you are hunting for that perfect villa for your Moroccan sojourn but don't know where to begin, this article presents you with some of the best options.
Dar 138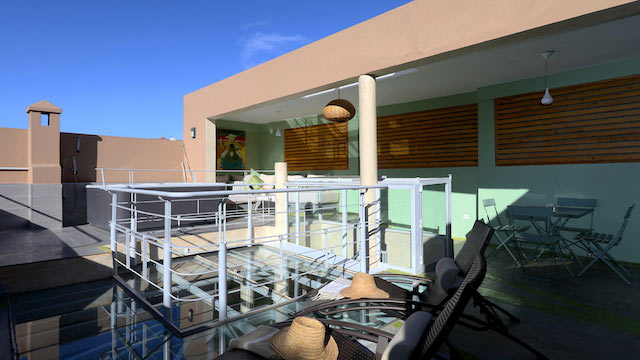 This beautiful riad located in Marrakech has two bathrooms and two bedrooms. A maximum of four people can stay here enjoying the splendid views of La Mamounia's gardens. It is an extremely stylish bolthole that is perfect for private holiday and group of people. This house presents Moroccan-tiled designer patio, guest cloakroom within the entrance hall, leading into two bedrooms with bathrooms ensuite in each. The first floor has a massive open-plan space for living as well as a modern kitchen and dining area that can accommodate six people. The terrace has a lounging area and a solarium and offers amazing views of the olive gardens.
Type: Budget villa (can accommodate a maximum of four persons)
Rate: 150 € to 170 € per night
Location: Marrakech-Medina
Villa Lester Royal Palm
This villa is a luxurious property located in Domaine Royal Palm's heart in Marrakech. It is ideal for couples who love to play golf and more than two couples can stay here. This property has a private pool, a chef who you can call on request, a garden and a spa. You will find a wood-burning fireplace and Sonos wireless speakers to enjoy your favourite music inside the living-room. For the comfort of guests, Villa Lester Royal Palm provides daily cleaning facilities.
Type: Medium-budget villa (can accommodate a maximum of six persons)
Rate: 500 € to 700 € per night
Location: Near Marrakech-Royal Palm
Villa Essaada El Majal
The Villa Essaada El Majal is a luxurious four-bedroom villa that is fully-staffed and has a tennis court. It lies in the heart of Marrakech. There is an open patio large enough to accomodate people in an Arab-Andalusian form of yard. Other amenities include hammam, private garden and a heated swimming pool.
Type: Medium to high budget villa (can accommodate a maximum of eight persons)
Rate: 572€ to 1243 € per night
Location: Marrakech-Palmeraie
Villa Alkhozama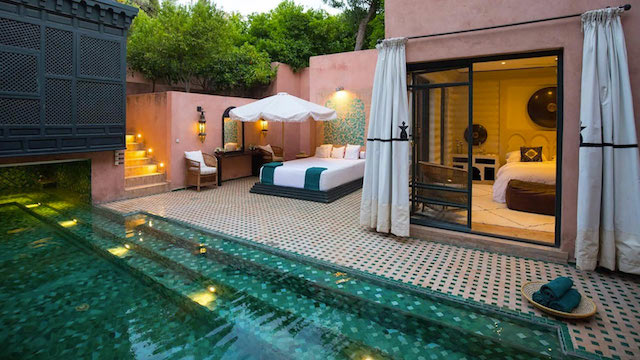 Villa Alkhozama is a two-bedroom villa and is located in one of Marrakech's luxurious estates. Travelers staying here can make the most of the chauffered car and concierge services. It villa has a very contemporary ambience and is decorated with traditional items, crafts and local materials. Children are welcome here and there are baby cots too in this child-friendly villa too. Moreover, you can also order special meals for them.
Type: High budget villa (can accommodate a maximum of four persons)
Rate: 1185€ to 1896 € per night
Location: Near Marrakech-Palmeraie
So what are you waiting for? Rent a luxurious villa, or one of the charming riads in the land where modernity blends perfectly with tradition enjoy a relaxing holiday.