Hello, sun-loving explorers! Get ready to swap your flip-flops for a pair of adventure boots, because today, we're leaving the beach and diving into a cultural treasure chest. We're adventuring to the land where golden desert dunes meet snowy mountains — the enchanting paradise of Morocco. And oh, it's not just about the surf and sand, but also about the cultural waves crashing in divine Berber villages hidden in its landscapes.
Berber villages, where the vibrant tapestry of Moroccan history weaves a tale as fascinating as a moonlit beach party. Each village is a seashell, whispering stories of ancient civilizations, echoing the laughter of children playing in narrow, winding lanes, and carrying the aroma of tagines cooking on a clay stove.
These villages are alive with a rich cultural heritage that waltzes with the rhythm of daily life, adding a dash of allure to our exploration. So, expect a jamboree of earthen architecture joyously blending with lush orchards, handwoven carpets mirroring the colorful symphony of Moroccan tradition, and the soulful music of Berber language, Tamazight, humming across the valleys.
It's time to hop onto our magic carpet as we set out to explore these hidden cultural gems. This blog is your Berber guide, your magic map, unfurling the beauty and authenticity of traditional Berber villages in Morocco.
So, are you ready to ride the wind of curiosity and dive into a vibrant current of tradition, exploring a side of Morocco that sunbathes beneath the brilliant sun, dancing away from mainstream touristic tracks? Hop aboard! It's time for a cultural surf!
Greetings, sun-soaked travelers! As the balmy summer breeze carries you on your journey, allow us to whisk you away on an adventure beyond the ocean's horizon. Set your sights on an enchanting new destination – the mystical land of Morocco, where the dance of Berber culture and tradition fills the air with a vibrant melody. So, grab your explorers' caps, my beach-loving buddies, for we're about to dive into the hidden depths of Berber cultural treasures.
The Origins of Berber Culture: Surfing the Tides of Time
Let's cast our wonderstruck eyes back, as history unfolds its golden scroll and reveals the ever-evolving story of the Berber people. These trailblazers of Morocco have been strumming their cultural tunes through the sands of time, riding the dunes like ocean waves since the dawn of civilization. With every tumble of the sandglass, the Berber people have etched their influence on Moroccan history and society, much like the footprints on our beloved sandy shores.
The cradle of Berber society dates back to prehistoric times, descending from an ancient North African lineage. Their rich culture, which has evolved and flourished continually, is like a tide intertwining with the ebbs and flows of ancient empires.
The Amazigh language, the heart and soul of Berber culture, surfs the airwaves on a carpet of linguistic magic. Combining ancient script and melodious tones, this language resonates with the love of oral tradition. Poetry, storytelling, and song let the Berber voice echo through time like the gentle crash of ocean waves.
Berber influence on Moroccan history and society is as clear and mesmerizing as the crystal waters of our treasured beaches. From the Roman Empire to the present day, they've shared their knowledge of agriculture, skill in craftsmanship, and passion for preservation, shaping the cultural shoreline of Morocco into the captivating wonder it is today.
So, as the warm, salty breeze tickles your taste for adventure, let us sweep you away on a current of curiosity to the Berber villages of Morocco. It's time to leave the sandcastles behind and embark on a voyage into a world where ancient wisdom meets modern beauty, and the shimmering sands stretch out to welcome the stories of ages past.
Exploring Morocco's Berber Villages: A Journey into the Past
you're meandering  through the breathtaking Atlas Mountains, basking in Morocco's warm sun, and experiencing the sights, sounds, and captivating culture of Berber villages. Prepare to embark on a sun-kissed adventure through time, breathing in the vibrant essence of a millennium-old civilization that's sure to leave you in awe.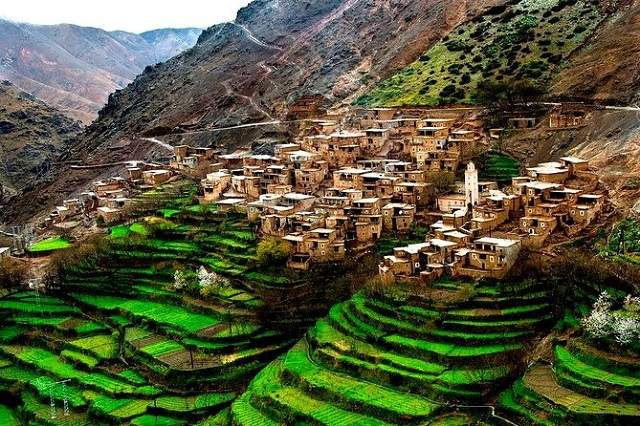 The Atlas Mountains: The Heartland of Berber Culture
High Atlas: Imagine soaring peaks, a playground for adventurers seeking traditional villages, nestled beneath mountaintops kissed by the heavens.
Middle Atlas: Envision vast cedar forests and hidden valleys, lush secrets waiting to be discovered by explorers with an appetite for nature's wonders.
Anti-Atlas: Visualize rugged terrain and ancient kasbahs, calling for intrepid voyagers to uncover the memories etched within their walls.
Key Berber Villages to Visit in Morocco: Treasures of Time
Ait Benhaddou: Prepare to be enchanted by a UNESCO World Heritage Site! This magnificent Berber fortress has graced the silver screen in classics like Lawrence of Arabia and Gladiator, whispering tales of glory and intrigue.
Ourika Valley: An oasis of lush landscapes and terraced gardens! This verdant valley is a soothing balm for sun-awaiting adventurers seeking relaxation and rejuvenation.
Chefchaouen: A blue city with a hint of Andalusian spice! Let Chefchaouen's delightful azure hues wrap you in a dreamy serenade as you wander through its vibrant streets.
Todra Gorge: Get ready for a dramatic dance between rock formations and Berber settlements! Feast your eyes upon the striking contrast of high cliffs cradling traditional communities, a true testimony to human perseverance.
So, fellow beach-lovers and sun-worshippers, let's dive into the sparkling seas of Berber culture, where treasures of Morocco's golden sands await!
Experiencing Berber Village Life: Embrace the Traditions 
Much like the radiant Moroccan sun that warmly kisses the earth, the locals of Berber villages embrace their guests with a heartening hospitality — warming your adventure-filled hearts and inviting you into their close-knit families.
Dive into the Warm Berber Hospitality 
Feel the embrace of a Moroccan welcome as local families invite you to share in their everyday lives. Imagine dipping your toes into the crystal-clear Destin waters, that initial thrill of the plunge mirrored perfectly in the warmth of their welcome.
Engage with Skilled Artisans 
Become a part of the beautiful tapestry of Berber life! The village artisans encourage a playful interaction with their crafts. One moment, you're sifting through sun-bleached sand, the next, you're twirling a potter's wheel, coloring rugs, or learning the secrets behind their intricate silver jewelry.
Partake in Village Activities 
Get a taste of Berber tradition, quite literally! Participating in everyday activities gives you a chance to feel the rhythm of village life. You can knead the dough for a hearty Berber bread, stir in the aromatic blends at a cooking class, or partake in their love for herbal tea in a tea ceremony, and feel the love that each Moroccan pours into their culinary creations.
Witness Traditional Berber Celebrations 
The Berber calendar is a sun-soaked timeline brimming with vibrant festivals, mirroring Destin's lively event scene. Let your spirits sync with the infectious sounds of traditional music and dance, and the colorful mirth of celebrations.
In essence, the life within Berber villages is a beach party of traditions, where every pebble of experience adds to your Moroccan adventure. Surf beyond the shoreline, beach lovers, and let the Berber life enchant your hearts.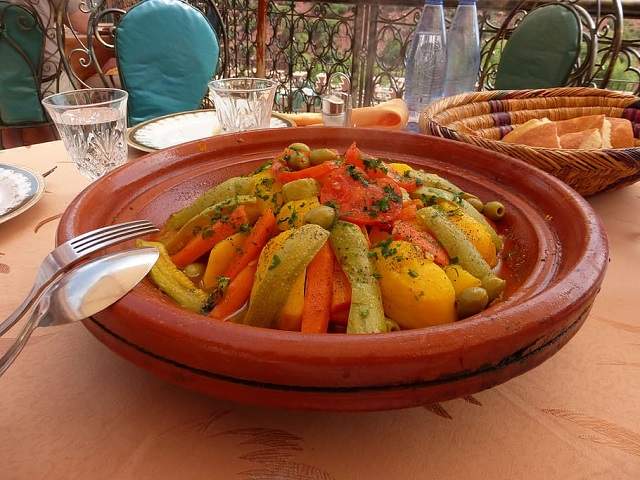 Berber Village Cuisine: A Taste of Authenticity 
We're here to dive into the succulent world of Berber village cuisine. From golden couscous rolling like sand grains to savory tagines basking in the warm embrace of their luscious flavors – Berber dishes are set aflame with the spirit of authenticity.
The Importance of Culinary Traditions in Berber Culture 
Just as beachcombers treasure the unrivaled beauty of Destin's crystal-clear waters, so do the Berber people cherish the art of their age-old culinary traditions. Simmering in a pot of culinary passion, these dishes reflect the life and culture of the villages – a harmony of flavors as vibrant as Berber rugs, brushing your taste buds with their celestial hues.
Tagine, Couscous, and Other Traditional Berber Dishes 
Cast your eyes upon the gastronomic gems of Berber cuisine – the tagine and couscous! Tagine, with its iconic conical lid, unfolds like a seashell to reveal a savory stew of tender meat and fresh vegetables. Couscous, the perfect beachcomber's companion, is a golden grain of hand-rolled semolina that soaks in the rich juices of tagine like the warm Moroccan sun. And let's not forget the myriad of other dishes, just as splendid in their authenticity: from b'stilla and zerda to harira and rfissa, your culinary journey has only begun!
The Role of Food in Berber Social Gatherings and Ceremonies 
Food is to Berber villages what bonfires and beach-side barbecues are to Destin's shores – the spark that ignites joy and connection. At social gatherings and ceremonies, hearty Berber dishes fuel laughter, brighten eyes, and glimmer like moonlight on the crashing waves. Food is a tether that binds families, friends, and neighbors together, a sumptuous link to ancestry and storytelling.
Beach-travelers and sunseekers, let the seductive call of Berber village cuisine sweep you away from your sun-soaked paradise to another sparkling gem – the warm, vibrant world of authentic Moroccan flavors!
Tips for Visiting Berber Villages in Morocco: Seize the Adventure 
Imagine swaying palm trees, Destin's captivating shorelines, and… the exhilarating heights of Morocco's Berber villages! As you embark on this magical escapade, let these tips be your treasure map, guiding you through enchanting local customs and sun-drenched landscapes. Stay strapped in, because paradise awaits!
1. Preparing for Your Trip: Cultural Considerations and What to Wear
Keep it respectful! Berber villages, like Destin's beaches, have a dress code: modesty is the way to go, just like ensuring your finest swimsuit stays under wraps until you hit the coastal sands. Opt for long-sleeved shirts, loose trousers, and knee-length skirts to stay comfy and kaleidoscopically cool.
Remember those sunglasses and sunscreen! Morocco might not be Destin, but the sun is just as eager to kiss those smiling cheeks.
2. Choosing between Guided Tours, Trekking, or Independent Travel
Guided Tours: If you're more of a beach-chair lounger than a wave-rider, a guided tour might be your ticket to paradise. Let the experts navigate you through Berber traditions and jaw-dropping landscapes. It's like having your own personal beach concierge!
Trekking: Craving an adventure as thrilling as conquering the waves? Trekking offers an adrenaline-infused option to explore these villages, accompanied by a knowledgeable guide who knows the ins and outs.
Independent Travel: Ready to dive into the Berber experience like plunging into Destin's clear waters? Independent travel lets you discover at your own pace, unveiling secrets that'll make your journey truly unforgettable.
3. Respecting Local Customs, Language, and Traditions
Manners matter on sandy shores and village streets alike! Greet locals with a heartfelt "Salam" and a radiant smile to lift the spirits, and make sure to respect their customs, beliefs, and traditions. From Destin to Morocco, a little courtesy goes a long way.
4. The Best Time to Visit: Seasonal Variations and Village Events
Pack your shades, sunscreen, and sense of adventure, beach devotees! These tips will ferry you from sparkling seas to Berber village sands, ensuring your Moroccan journey is as enchanting as the Destin shores you treasure. Surf's up, sun-kissed souls!
The Future of Berber Villages: Surfing the Waves of Sustainable Tourism and Cultural Preservation 
Ready to trade the sandy comforts of Destin for an expedition through the dazzling Berber villages of Morocco? Just as we treasure our pristine shores and sun-lit surf, the stunning Berber communities want to safeguard their vibrant culture while welcoming inquisitive explorers. Dive in to discover how sustainable tourism carries the potential to shape the future of these picturesque villages like the tide that molds sandy coastlines.
1. Riding the Impact of Tourism on Berber Communities
Tourism can be a double-edged sword; its blows can either carve ornate wonders or severe scars. Like the footprints left on Destin's silky sands, tourists make their mark on Berber villages. They bring not just shared experiences and economic growth, but also challenges: infrastructure strain, cultural dilution, and environmental concerns.
2. Catching the Wave of Sustainable Tourism to Preserve Cultural Heritage
Just as we work to keep Destin's beaches clean and vibrant for generations of sunseekers, sustainable tourism can be the sea breeze that breathes refreshing life into Berber communities. It's not just about seeing the sights, but appreciating and preserving the rhythm of local life and ancient traditions. Just as coral reef protection keeps our ocean playground invigorating and colorful, responsible travel protects and immerses explorers in Morocco's living, breathing cultural landscape.
3. Government Initiatives and NGO Efforts: Lifeguards of Responsible Tourism
Like the vigilant lifeguards who safeguard our beach frolic, assorted government initiatives and non-profit zeal form a robust lighthouse, guiding the vessel of sustainable tourism. They foster ocean-like depths of understanding about Berber culture, advocate for environmentally-friendly practices, and funnel tourism revenues to benefit local communities.
So, fellow beach-dwellers, as we soak in the radiant Destin sun and savor the tang of the salt-kissed air, let's float a thought for our Berber friends across the ocean. Let's champion the wave of sustainable tourism, ensuring that their vibrant culture continues to sparkle like the crystal-clear waters we adore.
Conclusion: Your Passport to Adventure Awaits! 
Oh, beach buddies, we've surfed some fascinating waves together, haven't we? Remember when we first dipped our toes into the sparkling waters of understanding the impact of tourism on Berber communities? Just as we'd leave only footprints in Destin's sunny, white sands, we discussed the profound imprints tourism leaves on these mesmerizing, mountainous villages.
And how can we forget that thrilling dive into the poignant depths of sustainable tourism? We found it to be as refreshing as a dip in Destin's cool, clear waters on a sweltering summer day. Sustainable tourism shows us a path where we can visit, explore, and indulge in the unique Berber culture without causing harm, just as we'd want to enjoy our beloved beaches without spoiling their natural beauty.
Our journey through the high tides of government initiatives and non-profit efforts to safeguard tourist activities felt like a wave of positivity. Just like lifeguards keeping watch over our tranquil beachside paradises, these bodies aim to guide and keep us safe while ensuring that our travels enrich both us and the locals alike.
But hey, beach lovers, we're not saying goodbye yet! We're inviting you to embark on your own adventure. Dream about exploring the enchanting alleyways of Berber villages, glimpsing their rich tapestry of life, and cherishing the awe-inspiring scenery, just as you would the sun setting over Destin's peaceful ocean horizon.
As you pack your bags ? and hats and sunscreen (nobody wants a suntan that matches the vibrant Moroccan spices) ? remember to be the cheerful beach steward Destin trained you to be! Be respectful to the age-old customs and traditions that have beautifully stitched the Berber community together through centuries.
Because my fellow sun-worshippers, just like we owe it to future generations to leave Destin's coastal paradise just as beautiful (if not more!), we have the opportunity to preserve and cherish these unique Berber customs, ensuring that these stunning villages, their captivating culture, and distinctive traditions continue to be enjoyed by adventurers like us for many more sunrises and sunsets to come.
So, come on, the adventure of a lifetime is just a plane ride away. Grab your sun-hat, lace up those hiking boots, and come feel the warm Moroccan breeze brushing against your face. Morocco is calling, beach lovers, are you ready to answer?