When you think of a beach holiday in Mexico, the white sands of Cancun may automatically spring to mind. But whilst this is an undoubtedly gorgeous beach, Mexico has over 5,800 miles of pristine coastline that's home to hundreds more sublime patches of paradise.
Whether you're looking to stretch out under a palm tree and soak up the sun, or play in the waves with some of the country's incredible marine life, there's a diverse choice of beaches to choose from.
Here, we look into three incredible beachfront destinations for you to explore in Mexico.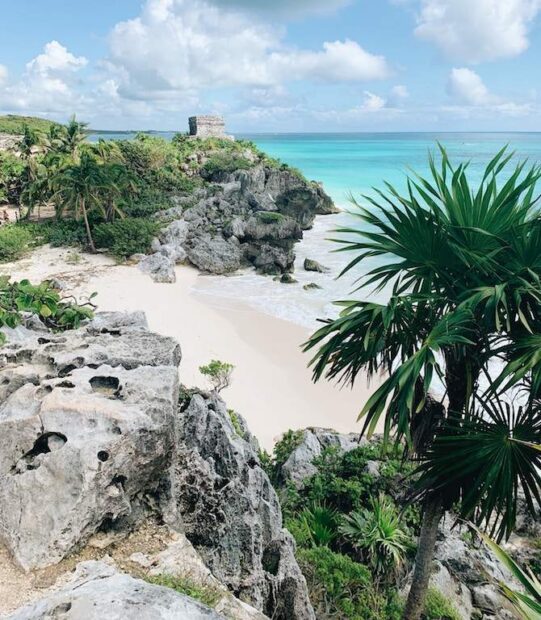 Tulum
If you like to pair your beach-going adventures with some cultural history, Tulum is the place for you. This compact archeological site is teeming with ancient Mayan ruins, including the spectacular Templo del Dios de Viento. This stone temple balances on the rocks above the Carribean waters, and is said to have once featured a special ceiling that would whistle to warn the locals of impending hurricanes.
Hidden at the base of a steep wooden staircase, you'll find the idyllic El Castillo beach. This small bay is sheltered by both the ruins and swaying palms, making the gentle crystalline waters lap gently onto the powder-soft sand.
Just south of Tulum, you can also venture through the Sian Ka'an Biosphere Reserve to enjoy a blissful boat ride through the ancient waterways carved by the Mayan people centuries ago. You may even spot wild dolphins, manatees and sea turtles along the way.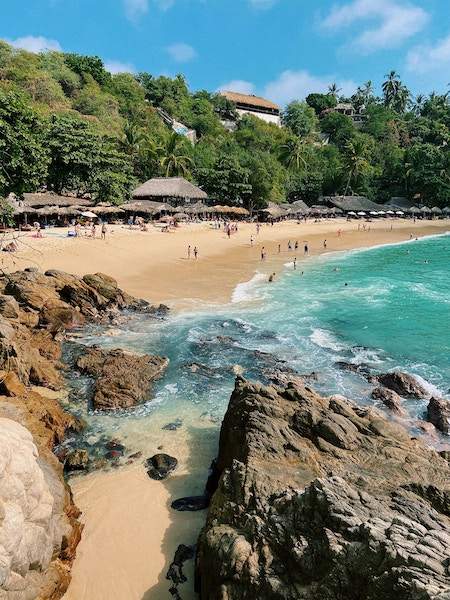 Oaxaca
The small horseshoe beach of Playa Carrizalillo is a glorious patch of the Oaxacan coast in Mexico. With its calm waves, it's a hotspot for swimmers and beginner surfers alike. Plus, there's a quaint selection of thatch-roofed beach huts serving cool beers and cocktails as well as meals and snacks.
For dolphin spotting, be sure to head out over the cobalt waters off Oaxaca. You can hop aboard a boat with a local guide in Playa Principal, and be surrounded by hundreds of dolphins in a heartbeat. Many visitors love to jump in and swim alongside these playful creatures, and you may be lucky enough to spot sea turtles or whales too.
Cabo
At the southern tip of the Baja Peninsula, Cabo is a mecca of seaside luxury. The turquoise ocean glistens against pristine sands and entices hundreds of sun worshippers to come and play on the shore. The Arch of Cabo San Lucas is an iconic natural rock formation that juts out of Land's End, marking the point where the Pacific Sea meets the Sea of Cortés. This archway is said to be around 84 million years old, according to The Atlas of Coastal Ecosystems, who carbon dated some of the granite structure. If you're looking for breathtaking views, Cabo is the place to go.
Watersports are a favourite pastime in Cabo, and if you're feeling daring you can even go swimming with whale sharks. Although they're the largest of all shark species, they're luckily very placid and gentle giants. Kayaking, paddle boarding and jet-skiing are also popular ways to explore this picturesque coastline, with plenty of hidden bays to discover.
Riviera Nayarit
Covering a 200 mile stretch along the Pacific coastline, Riviera Nayarit offers unspoilt luxury with its golden sands and hidden coves. Inland, lush vegetation covers the Western Sierra Madre Mountains creating an incredible backdrop for the idyllic seafront.
For the chance to spot humpback whale calves, visit Banderas Bay in the winter months. Or, if you're looking for a secluded escape this summer, the quaint town of San Pancho has a great surfing scene, plenty of yoga classes and a down-to-earth, eco-conscious vibe. There's also a turtle rescue centre and vibrant festivals and markets held regularly.
The award-winning Punta Mita is also in this region, with powder-soft, white sand and brilliantly clear water calmly gracing the shore of this six mile long beach. A favourite for artists, the beauty of the beach is only enhanced by the emerald gardens that border it. There's also an exquisite golf course here, plus plenty of opportunities to sample fresh seafood, fish and local delicacies.
Venture off the beaten track
On your next visit to Mexico, be sure to venture farther off the beaten track of popular tourist hot-spots to truly experience the natural beauty of this stunning country. No matter how you prefer to enjoy the coast, from thrilling water sports to laying under a palm tree with a good book, there's something for everyone on this extensive expanse of paradiscal beaches.