New Zealand is one of those places that travelers worldwide love to visit whenever the opportunity arises. However, as we all know, New Zealand is situated in the earth's southern hemisphere. That means the seasons are the exact opposite of what is seen on most of our planet. For instance, when we have summer in our countries, New Zealand is experiencing winter. Additionally, you might experience four different seasons in a single day! Yes, we are not kidding. It's a normal phenomenon in the country. Because of all this, travelers from other countries sometimes get utterly confused regarding the best time to visit New Zealand. So in this article, we will talk about it in-depth.
What is the Best Time to Visit New Zealand
High Season
December-March is considered the high or peak season in New Zealand. So it's natural that these months stay crowded and finding the right lodge becomes a problem. Plus, the prices are comparatively high. So if you're planning for a high season trip, it's best to book your lodge, domestic transport, and flight in advance.
Shoulder Season
March-May and September-November are regarded as the shoulder season in this country. It is because, during these months, the prices would start to drop. In addition, this is a time when you can land great deals on accommodation and flight tickets. So the shoulder season is an ideal time for a New Zealand trip.
Low Season
June-October is the low or off-season here. It is no doubt the cheapest time to travel. Everything from lodging to domestic transport to flights sees a drastic price drop. Nonetheless, the resort towns with ski fields remain expensive to stay in even during this time. Also, while most major sites stay open all year, some attractions might stay closed in the low season.
Summer Season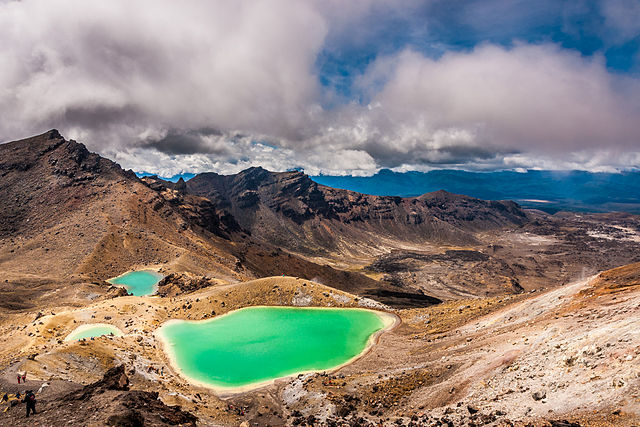 December-February is the summertime in New Zealand. During this time, the weather remains warm and sunny, with an average temperature of 20°C-25°C. Therefore, you would see the streets very crowded. As we all know, these months signify the winters in most other countries. In contrast to that snowy and cold atmosphere, NZ offers bright, warm days. That's why the summer here witnesses the arrival of many tourists from other parts of the world. The sun stays in the sky for about 12 hours each day, making the days longer and nights shorter. Thus, you get more time to explore the country.
Perhaps the best thing about NZ summers is that you can get fresh, juicy kiwis that you can enjoy while sunbathing. These kiwis taste awesome and will satisfy your taste buds like never before. Plus, the scenic views and the lovely sunshine make everything better. The beautiful mountains, gin-clear rivers, lush valleys, etc., are certainly a treat to visitors' eyes. Also, if you like adventure, the summertime weather is ideal for paragliding, trekking, hiking, etc. So, you would never get bored. No doubt it's the best time to visit New Zealand if you're keen to experience nature to its fullest.
However, as we already said, this is the costliest time in this country. Everything from accommodation to flight tickets is so overpriced. So that could be problematic. But if you're capable of affording them, it's a great time to enjoy the nature and the races, triathlons, etc., that are organized in February.
Autumn Season
March-May is the time when autumn resides in this country. The average temperature remains around 17°C-23°C during this season. That means the weather is pretty pleasant as it is neither too hot nor too cold. These months indicate the shift of weather from summer to winter. So you would see leaves falling from the trees during these months.
The soothing atmosphere is perfect for engaging in some trekking, mountain climbing, biking, etc. You can also go camping if you want. It's known that autumn here is the most ideal time to appreciate natural beauty. It is because the lovely weather keeps you from getting all sweaty. Hence, you would get ample chances to explore the country and its wildlife in autumn.
Plus, it is a beautiful time to walk the nice mountain trails as you won't get tired easily. Moreover, since there won't be any snow around you, you'd get an excellent view of your surroundings. Additionally, the red and orange-colored leaves on the trees and the ground create a vividly colorful spectacle around you. Hence, you can opt for some cycling through the parks to get an idyllic experience. Thus, it's the best time to visit New Zealand for outdoor activities.
As it is the shoulder season here, you could land excellent deals on flight, accommodation, etc. So keep your eyes peeled. However, the chances are catching a cold becomes higher during autumn. That's why we advise you to dress accordingly.
Winter Season
June-August is the winter season in New Zealand. During this time, the weather becomes cold because of the significant drop in temperature (staying around five °C in some places). On average, the temperature ranges from 7°C-13°C throughout the country, while the hilly areas experience a negative temperature. You would also witness snowfalls in many places. So there's ample scope for snow activities too. The snowy surroundings look magnificent even though your visibility will decrease.
If you're looking for a ski vacation, look no further than the months of winter. There are plenty of fantastic mountain slopes where you can safely opt for some skiing. Apart from skiing, you can engage yourself in other snow activities like snowboarding, sledding, heli-skiing, snowshoeing, etc. If you're seeking more thrill and adventure, try doing some winter hiking. The ice-cold temperature makes walking the trail way more difficult than other times of the year. But the beauty and tranquil vibe that the snow-capped mountains emit would make your soul happy.
In winters, you can also experience glacier tours in Mount Cook National Park, Fox Glacier, etc. Also, the month of June sees the Queenstown Winter Festival – a grand yearly event occurring in New Zealand. All the New Zealanders gather to rejoice at the country's first snow during this festival. Every New Zealander waits restlessly for this particular time of the year. Celebrating this extravagant event with the locals is the best way to get a taste of this country's culture. Plus, winter is regarded as the off-season here. Thus, visiting New Zealand is the best time to get the lowest prices possible. But make sure you wear a few layers of clothes to protect yourself from the cold and stinging winter winds.
Spring Season
September to November is when spring resides in the country. During these three months, the temperature stays around 15°C-21°C during these three months, and you can feel a constant cool breeze. Plus, the days are longer and brighter than in winter. Therefore, the warm weather and the lovely, cool breeze are perfect for travelers to explore the country comfortably. Furthermore, these months indicate the arrival of summer. Thus, you would see the snow starting to melt and the sun shining brightly again. Also, the trees start gaining new leaves, and your surroundings would get a more alive and greener look.
As it provides relief from the harsh, stinging winter, spring is an excellent time for engaging in outdoor activities. These include paragliding, hiking, cycling, etc. Also, you can visit the beaches and take part in adventurous water activities like snorkeling, scuba diving, and so on. Besides those, just like autumn, spring is the ideal time for some trekking as you won't get exhausted and walk more. And the lush greenery is a bonus. So you would find lots of New Zealanders sunbathing and enjoying this season.
The visibility remains excellent during these months. Therefore, they are perfect for sightseeing and exploring the country. For your information, the pleasant weather decreases your baggage by eliminating the need for bulky winter attires. Instead, wear a warm, cozy sweatshirt, and you'd be good to go.
Remember, like autumn, spring is also a shoulder season here. So it is the best time to visit New Zealand if you're searching for the best deals for a budget trip.
Conclusion
As you can see, the best time to visit New Zealand varies from person to person. Why? Because it all depends on the particular needs and preferences of the traveler themselves. As our article explains each season in detail, we hope it will help you decide your ideal best time to visit this country. Adios!
Frequently Asked Questions:
What is the most low-priced time to visit New Zealand?
The low season (June-October) is undoubtedly the cheapest time to visit this country.
What are the warmest months in New Zealand?
Both January and February are months when the weather stays the warmest in NZ.
What is the wettest period in New Zealand?
May to August is the wettest time in New Zealand, with the most persistent rains and lowest sunshine.