The oldest rivalry in football history sees its latest chapter unfold on 14 August at Wembley Stadium, as the two teams take each other on once more. Taking place just three days before the start of the English Premier League season, and about 12 days after the Scottish Premier League begins, not many club managers will be very happy that this match is taking place, as any injuries could ruin carefully laid plans. Nevertheless, the match will certainly be going ahead, and the rivalry between both the players and the fans will be as passionate as ever.
Travel
Taking place at the famous Wembley Stadium, it is often advisable to book accommodation for the night, rather than trying to get in and out of the stadium in one day. This is especially true if you are travelling from afar, and making use of the incredible number of accommodation options available in central London is certainly a good idea. For those flying in for the match, Luton Airport is a good choice as it has a good selection of flights, as well as being less busy than other London airports such as Heathrow and Gatwick.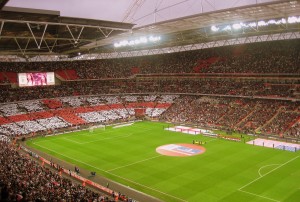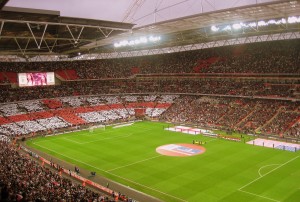 History
England and Scotland have competed against each other more often than any other two footballing nations. August 14th will see the 111th match between the two sides and the record so far is surprisingly close. England has been successful 45 times, compared to Scotland's 41. Given the relative rankings of the two teams, this almost even record still surprises, but just goes to show how rankings go out of the window when old rivalries come into play. For those simply wishing to see a good match, perhaps the best news of all is that there have only been three scoreless draws in the history of the tie, and the first two were 98 years apart.
Recent Form
It is true to say that neither side has been setting the world alight with their recent results. England has drawn their last three matches, albeit two of those were friendlies, and one of which was a creditable result away against Brazil. However, the main point for England is that after this friendly there are two crucial World Cup qualifier matches coming up against Moldova and Ukraine, and Roy Hodgson will certainly be looking for a strong result to take into these matches. For Scotland, World Cup qualification is already an impossibility, and new manager Gordon Strachan will simply be looking to build a cohesive unit and get some good results together. Scotland are coming off the back of an excellent one-nil away win in Croatia, although results previous to that were poor, losing to Serbia and Wales.
What to Expect
As with all England versus Scotland fixtures, the first thing to expect is a fervent atmosphere among fans, and a heightened sense of competition among players. Even though this is officially a non-competitive match, both sides will be fighting for national pride and will want to win more than any other friendly. Both sides may experiment with line-ups, but we can certainly expect to see plenty of high profile players giving their all.