The first time visitor to Berlin is going to notice one of two things first the sheer number of places selling currywurst and second the graffiti. Graffiti like currywurst is everywhere in Berlin, there doesn't seem to be a wall, car, or train free of tags, paintings, murals, political statements or fine art. Some of it is excellent some of it downright horrible, whatever your thoughts on graffiti we'll show you where to see the best graffiti in Berlin.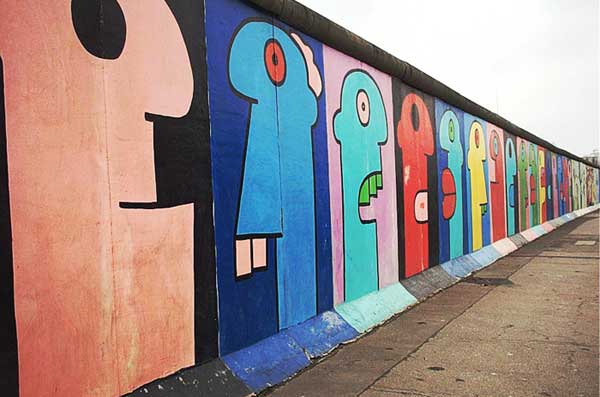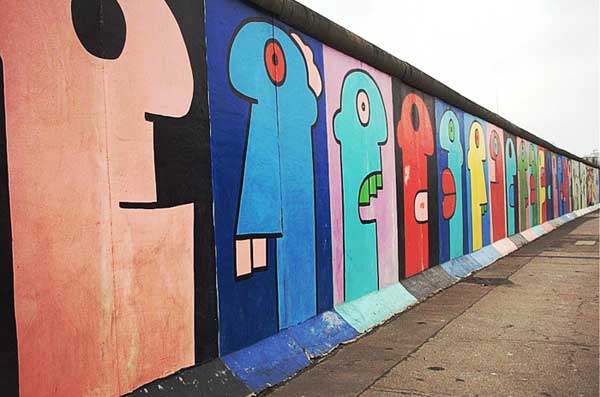 East Side Gallery- There is nowhere more famous to see graffiti in Berlin than the East Side Gallery. The gallery features some of the city's oldest and most famous graffiti along the remaining 1.3km stretch of Berlin Wall.  More than 100 artists have contributed to the gallery commemorating the fall of the Berlin Wall.
Mauerpark- Another part of the Berlin Wall donated to the public to be used for graffiti. Meaning it is legal to paint graffiti on the wall facing the park. The best thing about coming here is you can watch as an artist's work take shape, if you have enough time you can even contribute your own mural or tag. Whilst you're there check out the market and karaoke show.
Kruezberg and Friedrichshain- Take a wander around these two Berlin neighbourhoods and you are likely to come across some of Berlin's better graffiti. Including Victor Ash's Astronaut-Space Crusade and the rather disturbing Leviathan by Blu which depicts a huge man like creature made up of thousands of intertwined bodies feasting on even more people.
Teufelsberg Listening Station- In this abandoned relic from the cold war you can find some of the best graffiti in Berlin. Inside you'll find walls adorned with innumerable murals from some of Berlin and Europe's best graffiti artists. It's a great place to explore even if you don't like graffiti, just make sure to be careful when climbing around as there are plenty of dangers. Don't forget to admire the view of Berlin from the top.
If you want to go and see the graffiti you'll need some accommodation in Berlin and of course you'll need to a little more about the history of Berlin. Go forth and explore and add your own piece to the already impressive collection of art in Berlin's streets.