The United States is blessed with an abundance of stunning natural landscapes, courtesy of Mother Nature. From the mesmerizing mesas of the deserts to the tranquil valleys surrounded by dense forests and delicate barrier islands, America truly is a visual treat. Comprehending the sheer scale of beauty in America is nearly inconceivable, but we've attempted to put together a subjective list of the most beautiful places in the United States.
1. Grand Canyon National Park, Arizona
When it comes to stunning landscapes and incredible sights, there is no better place in the United States than Arizona. From the breathtaking Grand Canyon to enchanting Emerald Cove and sacred Canyon de Chelly, Arizona offers an array of spectacular natural wonders that are sure to take your breath away.
The US houses some of the most stunning places on earth. From Havasu Falls in Arizona with its beautiful turquoise waters and red rock surroundings to the majestic Horseshoe Bend of Colorado River, it is not rare to be left awe-inspired by the beauty of this land.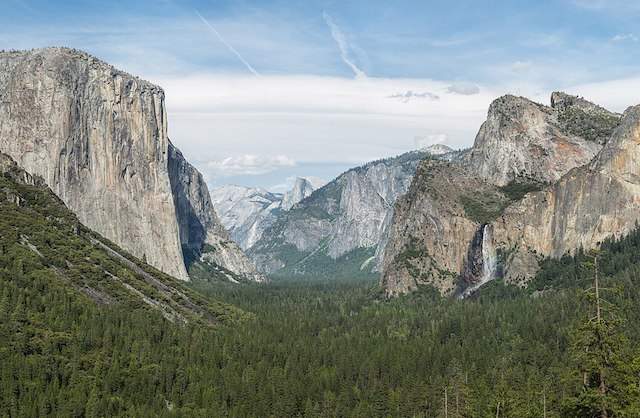 2. Yosemite National Park, California
The United States is filled with incredible, beautiful places to visit. One of the nation's top spots for travelers is Yosemite National Park in California. With it's status in both the National Park System and UNESCO, Yosemite renowned for its awe-inspiring Alpine countryside and gorgeous granites domes, towering sequoias, and plunging waterfalls. It's a place that has to be seen to be believed!
For an awe-inspiring view, escape to the majestic heights of Glacier Point in Yosemite National Park, California. Perched at 7,000 feet, this breathtaking overlook reveals a million-dollar panorama stretching far below. Capture a memory gazing upon the breathtaking Yosemite Falls, and marvel at the sheer magnitude of Half Dome as it towers 4,800 feet above the valley floor!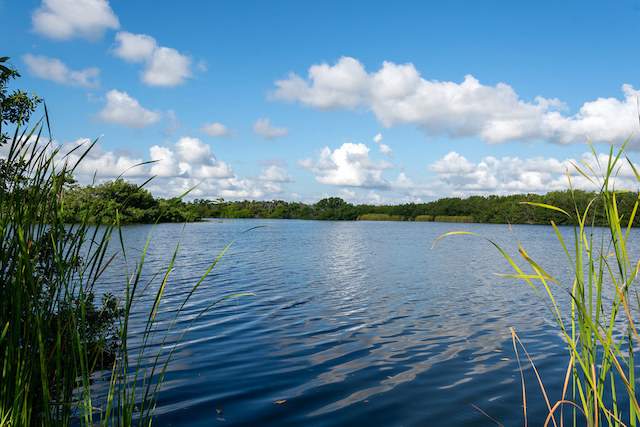 3. Everglades National Park, Florida
The United States is home to breathtaking natural wonders like Everglades National Park in Florida. This 1.5 million-acre wilderness is filled with stunning flora and fauna, including American crocodiles, manatees, otters, and wading birds. Experience the beauty of the environment by going on an airboat tour, a canoe or kayak ride through the mangroves, biking along Shark Valley Tram Road, or walking down the Anhinga Trail.
4. Magnolia Springs, Alabama
A picturesque coastal village, Magnolia Springs is a serene natural oasis located in the US. Famous for its last year-round river mail delivery, this beautiful town has been around since the late 1700s and is named after its namesake magnolia trees and gushing springs. A great place to explore, Magnolia Springs has plenty of beautiful places to visit and admire.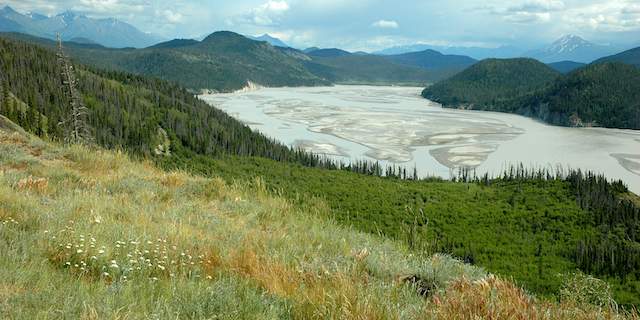 5. Wrangell-St. Elias National Park, Alaska
For breathtaking scenes and unimpeachable beauty, few U.S. locations compare to Wrangell-St. Elias in Alaska. This colossal national park boasts 13 million acres of pristine landscape featuring some of the highest peaks in the nation. Adventurers can explore a bastion of boreal forest, follow trails like Root Glacier that traverse the glistening ice, and ascend to ridgetops with panoramic views of the unending wilderness.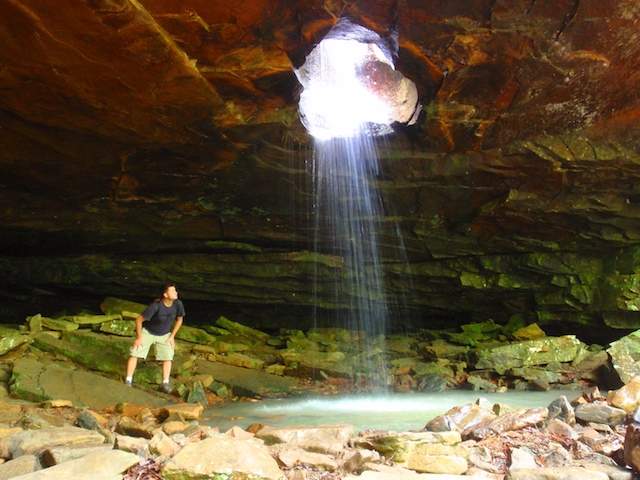 6. Ozark National Forest, Arkansas
Boasting lush forests and varied terrain, the Ozark National Forest is a stunningly beautiful place to explore in the US. With rivers and caves to explore, and plenty of trails for hikers and climbers, discoveries are waiting in every corner. Nature lovers will be delighted here as they take in majestic views from Whitaker Point or Sam's Throne.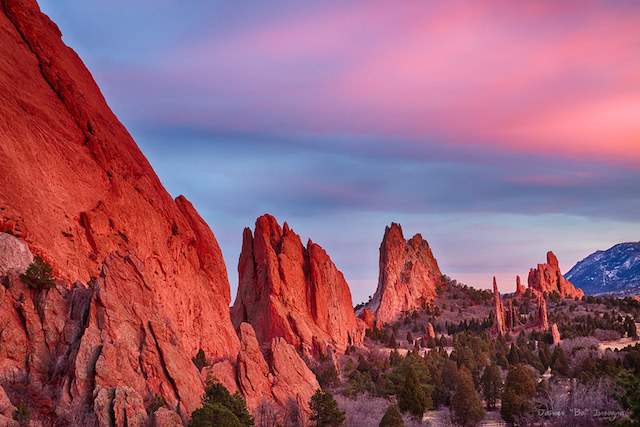 7. Garden of the Gods, Colorado
Garden of the Gods in Colorado is one of the most captivating landscapes in the United States; with towering sandstone formations and stunning views, it's a must-see spot. Admire Pikes Peak – the inspiration for 'America the Beautiful' – framed by red rocks while taking a peaceful walk around the Siamese Twins loop. For an even more serene experience, make sure to visit on a weekday morning to avoid crowds.
8. Connecticut Shore, Connecticut
Located along the picturesque Long Island Sound are a handful of charming New England towns like Old Lyme, Mystic, and Old Saybrook. It's easy to see why this stretch of coastline has become popular for its stunning natural beauty and classic atmosphere. From white-painted inns to cozy taverns, these quaint towns in Connecticut make for a perfect getaway destination in the US.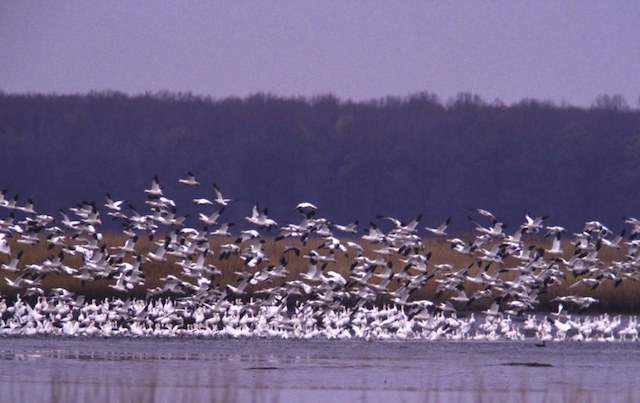 9. Bombay Hook National Wildlife Refuge, Delaware
The United States is home to some of the most beautiful places in the world – and one of them is the Great Salt Marsh. This exquisite nature preserve is the largest surviving tidal salt marsh in its region and attracts many birds and animals, such as bald eagles, snowy egrets, and great blue herons. It's a sight that any nature lover can appreciate!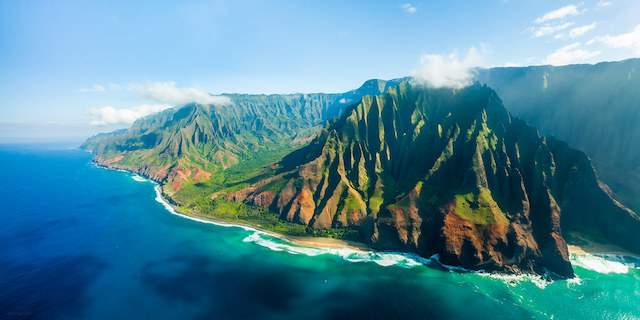 10. Napali Coast, Hawaii
The United States is home to many stunning, jaw-dropping locations. One of the most beautiful is Kauai's Napali Coast, which features incredible sea cliffs and mesmerizing jade colored valleys. The Kalalau Trail (which requires a permit) is an 11 mile route that follows the coastline, though due to instability, it has been deemed as one of the most dangerous trekking routes in the world. Alternatively, helicopter tours can be taken to view the grandiose landscape!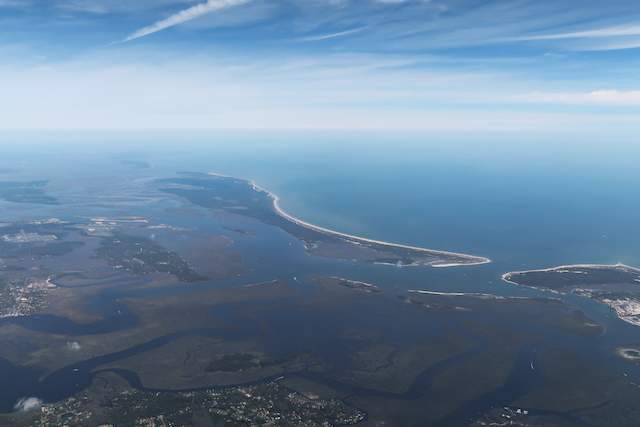 11. Cumberland Island, Georgia
For those looking for a remote paradise, Cumberland Island off the coast of Georgia is an ideal destination. This unspoiled 10,000-acre barrier island boasts beautiful beaches lined with driftwood, quiet waterways perfect for kayaking, and a historic Gilded Age-era ruin. Named a congressionally protected nature preserve, development on the island is limited to Greyfield Inn, making it the perfect place for peace seekers, bird watchers, and history buffs to experience nature at its best.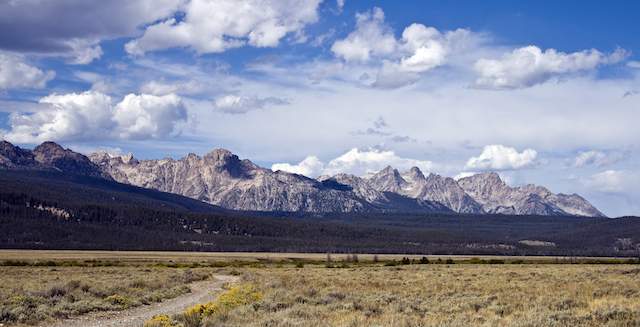 12. Sawtooth National Forest, Idaho
Sawtooth National Forest in the US is a breathtaking outdoor paradise. With four mountain ranges and four major rivers simultaneously towering and gliding through the 2.1 million-acre land, it has remained virtually untouched since Lewis and Clark first explored it in1805. The forest is home to a variety of wildlife, including elk, deer, moose, and bighorn sheep. It also offers a wide range of recreational activities such as camping, fishing, hiking, mountain biking, horseback riding, and skiing. The Sawtooth National Forest is a great place to explore nature and experience the beauty of the American West.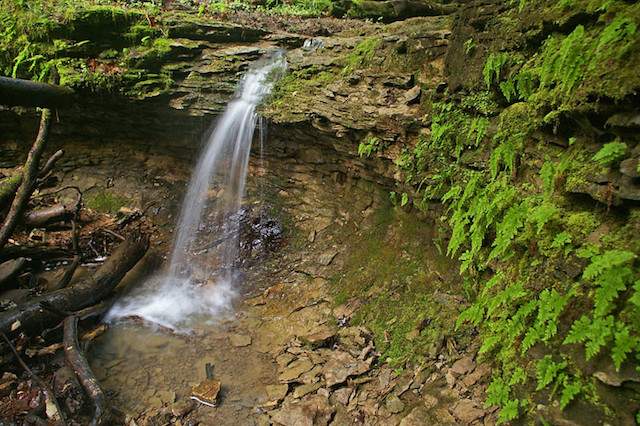 13. Hemlock Cliffs, Indiana
Indiana is a surprisingly beautiful state that has a lot to offer. Whether it's the rustic covered bridges and country roads of Vermont, the stunning sand dunes and lakefronts of Michigan, or the majestic fall foliage like in the Smokies, Indiana won't disappoint. Hoosier National Forest, in particular, is a stunning ravine with cascading waterfalls and canyons, making it a wonderland you wouldn't expect to find in the US.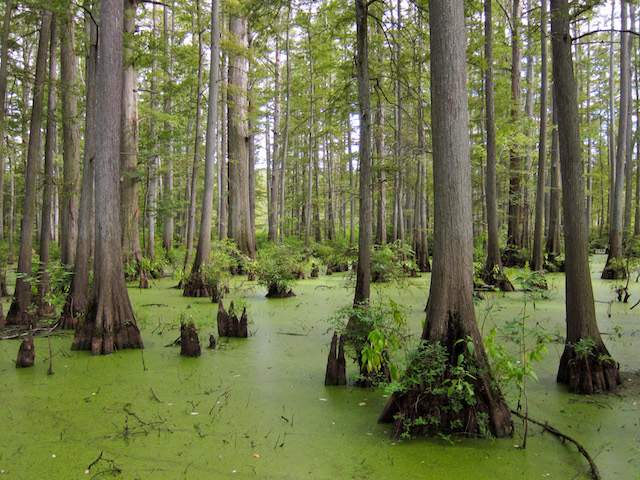 14. Cache River State Natural Area, Illinois
If you're looking for something off the beaten path in the U.S., then head on down to Congaree National Park in South Carolina. Bursting with natural beauty and wildlife, this park boasts some of the country's oldest cypress trees, with many of them estimated to be over 1,000 years old. With its picturesque waterways, boardwalks, trails, and bald cypress and tupelo swamp environment, this is a stunning destination that should not be missed!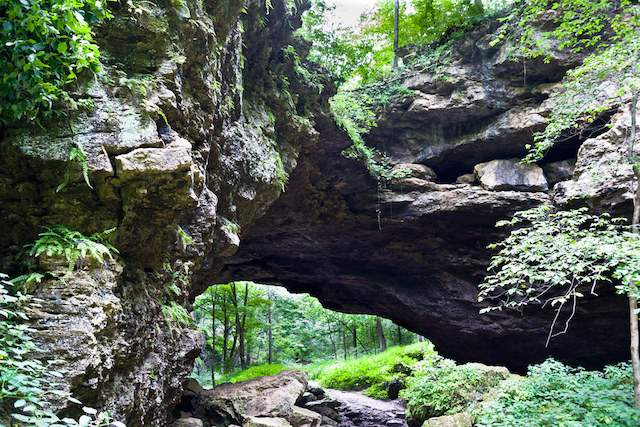 15. Maquoketa Caves State Park, Iowa
The United States is full of beautiful places to explore, and the Maquoketa Caves State Park in Iowa is a great example. This nature preserve offers spectacular bluffs, miles of trails, and over a dozen limestone caves of varying difficulty levels. Whether you choose an 800-foot Dancehall that can be walked upright or a more challenging spelunking experience, make sure to bring a headlamp to properly navigate the area!
16. Mammoth Cave, Kentucky
If you're looking for an unforgettable natural experience, you can't go wrong with Kentucky's Mammoth Cave National Park. This spectacular spot is home to the world's longest known cave system and is filled with limestone caverns, rotundas, and even crawl spaces! But it certainly isn't all underground; throughout the park, visitors can enjoy fun outdoor activities like hiking, horseback riding, canoeing, kayaking, and exploring the surrounding lush forests.
17. Wild Azalea Trail, Louisiana
Experience the great outdoors of Louisiana on a 31-mile stretch at Wild Azalea Trail. Here, you can take in amazing views of forests with pine trees, picturesque creeks and soothing hills. During the spring season, you'll be even more mesmerised as the trail is blanketed with pale pink flowers from the azaleas. Who knows – you might even spot wild horses during your hike!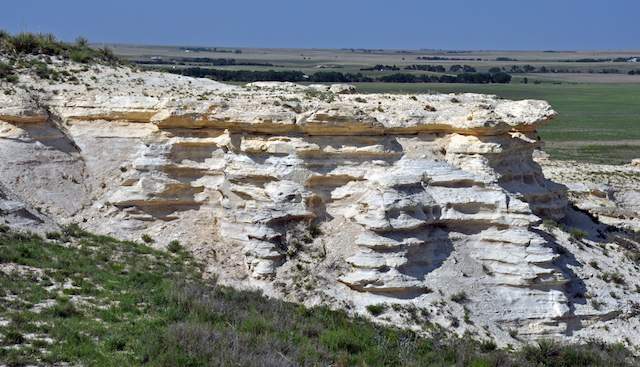 18. Castle Rock Badlands, Kansas
If you're looking for some less-traveled but mesmerizing places in the US, Castle Rock is definitely it! Located on a private ranch tucked off dirt roads that only 4WD vehicles can navigate, this landmark is actually remnants of an inland sea that once covered this area. Its majestic and fragile limestone pinnacles shift the scenery from an ordinary Kansas prairie to something out-of-this-world!
19. Acadia National Park, Maine
Acadia National Park, located in Maine, offers stunning rocky shorelines, crashing surf, and breathtaking mountain trail hikes. Those looking to visit can easily do so via U.S. 1 Coastal Highway. Moreover, for some of the most spectacular views in America, be sure to drive up Cadillac Mountain at dawn for a stunning sunrise (at least during most of the year).
20. Cape Cod National Seashore, Massachusetts
The United States has some truly stunning sights, and none more so than the Cape Cod National Seashore. Located in southeastern Massachusetts, this protected swath of land is filled with scenic beauty and abounding wildlife. Here you'll find tranquil marshes, vibrant woodlands, vast dunes, inviting trails and kilometers of pristine beaches to explore. A rare and diverse ecosystem of Atlantic pine barrens also exists here, being home to a range of animals and bird species.
21. Weverton Cliffs, Maryland
Whether you're a seasoned hiker or just a casual walker, Weverton Cliffs in South Mountain State Park is the perfect spot to marvel at Mother Nature's beauty. Take on the two-mile switchback of the famed Appalachian Trail and be rewarded with breathtaking views from 500 feet above the Potomac, taking in neighboring Virginia and West Virginia!
22. Sleeping Bear Dunes National Lakeshore, Michigan
Michigan is home to many beautiful places, with Sleeping Bear Dunes National Lakeshore standing out among them. This 35-mile stretch of coastline is characterized by rolling sand dunes, beech-maple forests, picturesque hiking and driving trails, and Lake Michigan's glassy waters. It's a stunning destination that's sure to give you an unforgettable experience of the US' natural beauty.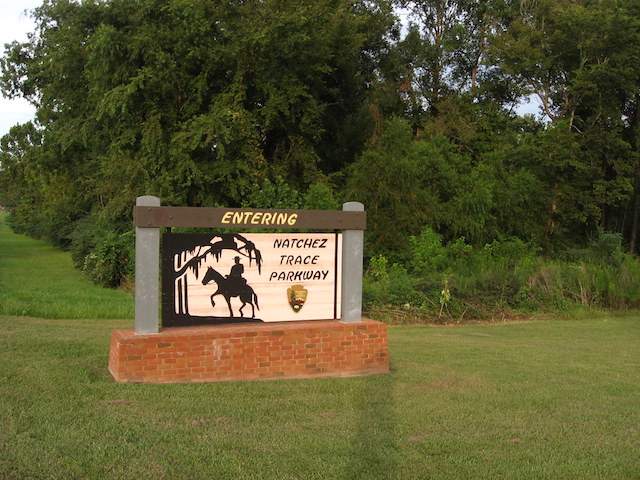 23. Natchez Trace Parkway, Mississippi
The Natchez Trace in the US is an incredibly scenic 444-mile drive that showcases some of the most beautiful spots in Mississippi. From cypress swamps and meadows, to black-eyed Susans and log fences, Natchez Trace will give you a travel experience like no other. Pull-over at any of its numerous picnic spots or go on a nature walk for the full effect. You'll discover why people have been travelling down this ancient Native American foot trail for millennia!
24. North Shore Scenic Drive, Minnesota
Looking for a unique road trip destination in the US? Look no further than Minnesota's beautiful North Shore. Here, you can explore Split Rock Lighthouse, situated on the rocky banks of Lake Superior, or hike to High Falls, the highest waterfall in Minnesota. You can also enjoy delicious deep-fried donuts at World's Best Donuts. All of this makes the North Shore an ideal spot for a memorable adventure.
25. Ozark National Scenic Riverways, Missouri
The United States provides a wide variety of beautiful places to explore, such as the Ozark National Scenic Riverways in Missouri. This national park offers countless activities for adventure seekers to enjoy, including swimming, canoeing and fishing in its clean waters. There are also hundreds of natural caves to discover and explore, many only accessible by boat. Apart from that, the area contains miles of trails, natural springs, and historic mills which provide a unique atmosphere and experience.
26. Going-to-the-Sun Road, Montana
If you are looking for some of the most beautiful places in the US, head to Glacier National Park! Here you can explore Going-to-the-Sun Road – a 52-mile journey with spectacular views of alpine valleys, rivers, and wildflower fields. At Logan Pass (6,646 feet), the road crosses the Continental Divide and provides opportunities to hike trails such as Hidden Lake and Highline.
27. Toadstool Geologic Park and Oglala National Grassland, Nebraska
Toadstool, a geological wonderland located in Nebraska, offers some of the most beautiful scenery in the United States. Its unique rock formations and fossil beds were formed by a combination of wind and water erosion, many showcasing ancient tracks left by long extinct animals like rhinos and camels. It's a place visitors won't want to miss!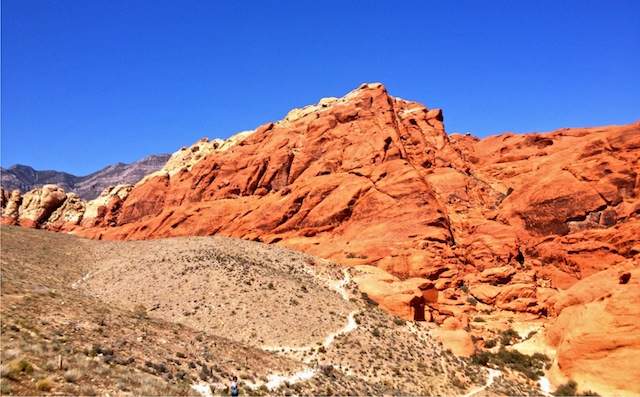 28. Red Rock Canyon, Nevada
Located just 30 minutes away from Las Vegas, the popular tourist destination of Red Rock Canyon is an outdoor oasis with its awe-inspiring red and yellow sandstone cliffs. It's a great spot to escape the hustle and bustle of city life, offering plenty of activities like hiking, rock climbing, mountain biking and sightseeing. A visit to this beautiful place in the US will truly be a memorable one!
29. Kancamagus Highway, New Hampshire
For a breathtakingly beautiful drive in the US, be sure to check out Kancamagus Scenic Byway ("the Kanc") in New England! Connecting two small towns, the journey includes passing by gorgeous gorges and waterfalls as well as camping spots, trailheads and swimming holes. And with autumn comes vibrant foliage colors, making for an even more remarkable sight. Make sure to bring snacks and gas up though – there are no gas stations or businesses for a good 30 miles!
30. Cape May, New Jersey
The picturesque town of Cape May, NJ is a must-see for travelers looking to experience the beauty of the Eastern United States. In addition to its historic Victorian architecture, there are many enjoyable attractions and activities to be experienced here. From its delicious wineries, lush gardens and vibrant wetland ecology, to the always spectacular sunset view from Sunset Beach facing out onto Delaware Bay – Cape May truly has something for everyone!
31. Finger Lakes, New York
For those seeking an unforgettable, eye-catching scenery, look no further than the "Finger Lakes" region of the United States! This incredible area in upstate New York was formed by glacial force, and features a stunning 11 long lakes, perfect for activities such as swimming, boating, fishing, and more. For those who love the outdoors there are plenty of opportunities to go on waterfall hikes or explore numerous wineries and breweries in this beautiful part of US!
32. Outer Banks, North Carolina
Looking for a tranquil getaway? Look no further than the Outer Banks in North Carolina! It's a coastal paradise, boasting pristine white sand beaches, wild dunes (including the largest on the East coast!), and miles of winding bike paths. Plus, it has a fascinating history — pirates, colonists, and early aviators were all drawn to its unique charm! No wonder why it's one of the most beautiful places in the United states.
33. Maah Daah Hey Trail, North Dakota
North Dakota's Maah Daah Hey Trail is one of the most beautiful places in the United States. This 144-mile long trail passes through a variety of majestic landscapes such as prairies, badlands buttes and more. As its name suggests, it is the perfect place to spend a long time in nature, whether you are hiking, biking or riding horseback.
34. Franklin Park Conservatory and Botanical Gardens, Ohio
The United States is home to a variety of stunning and breathtaking places, but few compare to the U.S. Botanic Garden in Washington D.C., which is like a mini version of Victorian London's Crystal Palace. Its lush greenhouses and biomes evoke desert-like, rainforest, and even Himalayan climates, giving visitors a truly unique experience they won't get anywhere else in the US.
35. Tallgrass Prairie Preserve, Oklahoma
The United States is home to some truly stunning natural sights. One of the most breathtaking parts of the country is the Tallgrass Prairie Preserve in Oklahoma, which houses the largest collection of native grasslands in the world. Visitors to this spectacular preserve can witness a picture of the American plains from centuries ago, with huge herds of bison roaming freely amongst the lush swathes of purple prairie clover.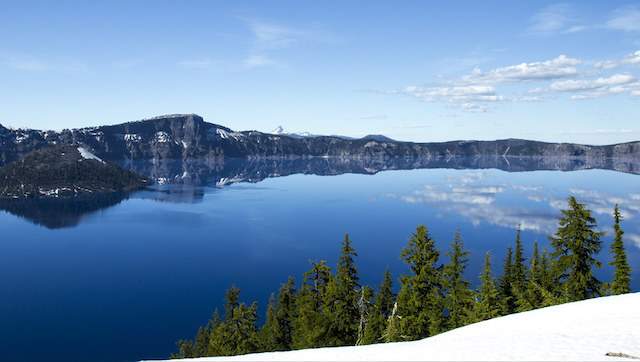 36. Crater Lake, Oregon
For nature lovers looking for spectacular places to explore, Crater Lake in the United States is simply breathtaking. It was formed from the caldera created by a volcanic eruption and later filled with rain and snow. Now, it stands as the deepest lake in America, boasting crystal-clear blue waters and amazing mountain views that stretch across the Cascade Range of the Pacific Northwest.
37. Appalachian National Scenic Trail at the Delaware Water Gap, Pennsylvania
Pennsylvania and New Jersey are home to the beautiful Delaware Water Gap, a 70,000 acre region of lush greenery, dramatic mountainous terrain and the majestic river. One of the best ways to enjoy its breathtaking scenery is by taking on a hike along Appalachian National Scenic Trail – with Mount Minsi offering a stunning view of this area.
38. Block Island, Rhode Island
The U.S. is home to some of the most beautiful places in the world, including Block Island, Rhode Island. This stunning spot features emerald-green fields with fieldstone walls and picturesque Victorian architecture, set upon dramatic cliffs that are battered by waves of the Atlantic Ocean. Admire the two lighthouses here or take a leisurely ride around the island on a bike or moped to explore its attractions. Enjoy delicious dishes at classic New England eateries like Block Island Oyster Bar and Grill, where fresh local oysters and lobster bisque await.
39. Hilton Head Island Bike Trails, South Carolina
The United States is home to some of the most beautiful places on Earth, and Hilton Head Island in South Carolina certainly lives up to this reputation. From wide, natural beaches to 85 miles of easy-to-navigate bike trails, there is something for everyone to enjoy here. A particularly picturesque scene can be had while biking in the late afternoon and watching the sun set over the marshes.
40. Badlands National Park, South Dakota
Badlands National Park in South Dakota is undoubtedly one of the most beautiful places to visit in the United States. The spectacular landscape consists of steep buttes, crystal-lined caves, granite spires, prairies, and ponderosa pine forests. Not to mention the fossil-packed terrain! Take a drive on Badlands Loop Road (Highway 240) or the perimeter route around the South Unit At sunset, head to Pinnacles Overlook for unrivaled views.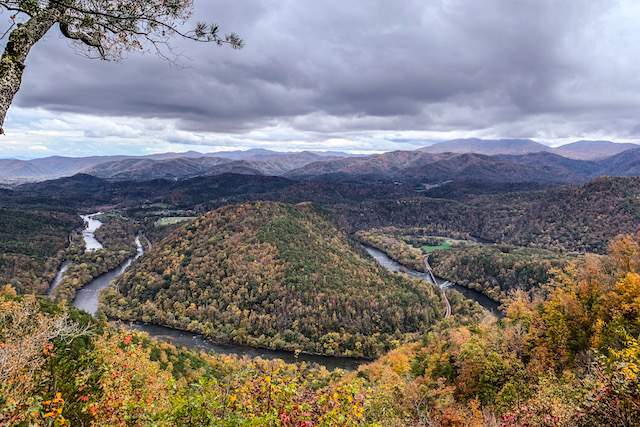 41. Cherokee National Forest, Tennessee
Tennessee is a stunning state to explore, especially along its eastern border. Covering 650,000 acres, the Cherokee National Forest offers something for every type of outdoor lover – from backcountry treks on the Appalachian Trail to white water rafting down Pigeon River to camping trips at Watauga Lake and taking in the vibrant rhododendron bloom of the Roan Highlands.
42. Arches National Park, Utah
The United States is home to some of the most picturesque and breathtaking places, with Arches National Park being one of them. Formed over 65 million years ago by natural sandstone formations known as arches, cliffs, tunnels and honeycomb rocks, this park is truly magnificent. One of the more popular activities within Arches National Park is hiking through its Fiery Furnace area, which although can be quite draining for some, will leave you with a lifetime of lasting impressions about the spectacular beauty that nature has to offer.
43. Mad River Valley, Vermont
The United States is home to many beautiful places, with the Mad River Valley in Vermont being the ultimate destination for an outdoor adventure and escape. From its creviced mountains, lush forests, and charming small towns to its maple- tasting experiences and cheese-tasting venues, this snow-capped valley has had a long history of drawing in people from all walks of life. You can go hiking, swimming, shopping for crafts or just enjoy a leisurely road trip through Route 100 – there's something for everyone!
44. Blue Ridge Parkway, Virginia
If you're looking for some of the most beautiful places in America, check out the Blue Ridge Parkway! Running through Virginia and North Carolina, this 469-mile drive takes visitors along some of the best views in the southeast. Stop by Natural Bridge to witness a 215-foot tall limestone bridge that spans 90 feet in length. Whether you're an avid hiker or photographer, there are endless trail and photo opportunities here. Don't forget your camera and your hiking shoes!
45. Hurricane Ridge, Washington
If you are looking for an incredibly beautiful place in the United States, look no further than Olympic National Park in Washington State. With majestic snow-capped mountains, pristine glacial lakes, lush meadows dotted with grazing deer, and evergreen forests that stretch as far as the eye can see, this destination is a true sight to behold.
46. New River Gorge National Park and Preserve, West Virginia
The United States of America is home to many stunning locations, none more so than the captivating views of West Virginia. The state boasts an abundance of remarkable ravines and sizable mountain ranges, with particular attention worthy of the famous New River Gorge Bridge. This mammoth steel span rises up to a staggering 90 stories high, creating a truly breath-taking spectacle.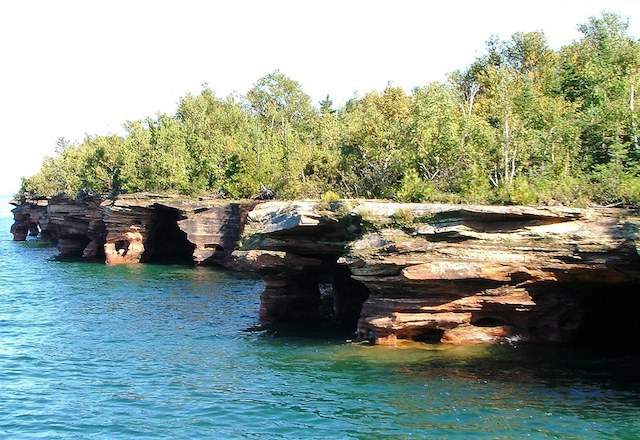 47. Apostle Islands, Wisconsin
The US is full of stunning places to explore and the Apostle Islands are just one of them. This archipelago consists of over 20 islands that you can traverse by hiking, kayaking, or scuba diving. Plus, when you visit Lake Superior, you will be in for more than just a lake – it feels like an ocean adventure with its shipwrecks and underwater sea caves! Don't forget to check out the 8 lighthouses while you're there!
48. Grand Canyon of the Yellowstone, Wyoming
The US is home to some stunning landscapes, including the Grand Canyon in Arizona. Carved by a deep river gorge and surrounded by vibrant canyon walls containing iron compounds, this vast scene also boasts roaming wildlife, like bison, elk and even grizzly bears. With its breathtaking beauty and abundance of nature, it's no wonder this site is a highly-regarded highlight of America.