Florida is known for having some of the clearest water in America, so if clear water is what you're after, your wish is our command. Whether you're looking for clear beach water or crystal clear springs, we've got you covered with this list of 20 places with the clearest water in Florida:
1. Jupiter
Jupiter in Florida is known for its stunningly clear waters. With a shallow and serene coastline, Jupiter makes for a perfect beach getaway with the family. Enjoy the bright blue hue of its waters as you relax along the shore and soak in the sunshine.
Jupiter Beach Park in Florida is the ideal spot for a fun day trip. With its crystal-clear waters, it's perfect for making the most of some inflatable rafts and letting the kids (and furry family members) float around and enjoy themselves. The beach is also great for those who love to bring their beach toys along and make sure everyone has a blast!
Are you a thrill-seeker looking to explore the crystal clear waters of Florida? Look no further than Florida Shark Diving in Jupiter! Adventurers can take a plunge with experienced divers and have an unparalleled, cageless adventure. Don't miss out on this once-in-a-lifetime experience that the Sunshine State has to offer!
Florida is known for its crystal-clear waters, making it a popular spot for scuba diving and swimming with the sharks. It's an unforgettable experience to witness the graceful glide of these majestic animals through the beautiful deep blue sea. With the clarity of Florida's water, you can be sure you'll get some amazing pictures to keep the memory alive!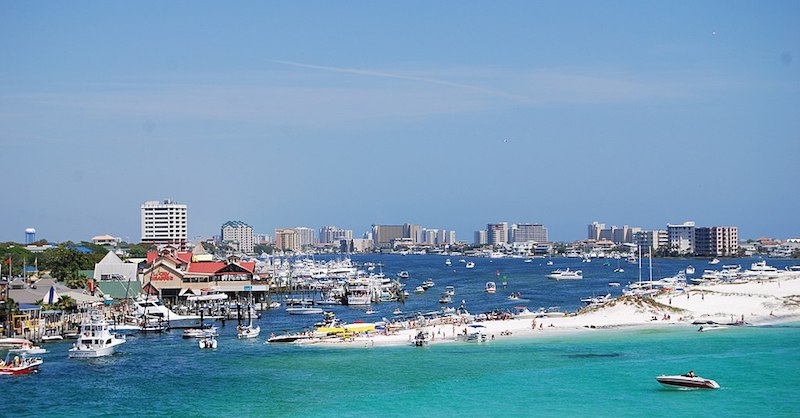 2. Destin
Florida's resilience to the changing tides is one of its most attractive features. This is especially evident in Destin, where visitors are treated to crystal-clear gulf waters and powdery white sand beaches. With plenty of opportunities for socializing by day or night, it truly is a paradise on earth!
Located off the coast of Destin, Florida lies an iconic hot-spot – Crab Island! Best known for its crystal clear waters, visitors can immerse themselves in a fun oasis and enjoy swimming or snorkelling in the shallow yet vibrant blue waters. You can either get to the island with your own boat or rent a pontoon. Once you arrive, bring some drinks and spend the day lounging around the blissful destination!
Located in Destin, Florida, Crab Island is well-known for its crystal clear waters. Visitors often come here to bask in the sun and enjoy all of the different food options that are offered on floating boats. Enjoy some snacks while relaxing in the shallow water and spending time with your friends or making some new ones!
One of the most popular clear water destinations in Florida is the state's gorgeous beachfront. With each wave, the crystal-clear waters sparkle, inviting visitors to come and explore the beauty of nature in Florida. Beachgoers can enjoy a wide variety of activities such as swimming, snorkeling and boat trips while marveling at the magnificence of their surroundings. So if you're looking for beautiful clear water views in Florida, be sure to visit one of its stunning beaches!
3. Florida Keys
Florida Keys is known for its famously crystal clear waters. Home to the only coral barrier reef in North America, these colorful and vibrant waters are a popular destination for snorkeling and diving, making it an ideal spot to get up close and personal with tropical fish and stunning coral gardens. With water temperatures of 80 degrees Fahrenheit year-round, Florida Keys welcomes visitors throughout the year.
Florida Keys is home to some of the clearest waters in the US, with picturesque turquoise hues that make it hard to believe you're right here in the States. Famous for its over 180 miles of stunning beaches, Florida Keys not only has gorgeous coastlines but also an unparalleled selection of marine life and wildlife, making it a paradise destination.
If you're looking to get close to nature, visit Florida's crystal clear gulf and atlantic waters. Known as the 'Sunshine State', it's truly breathtaking landscape offers some of the best viewing opportunities for dolphins swimming in the warm waters. Head down to the Keys for an unforgettable experience- you can even ride a dolphin!
Florida Keys has some of the clearest water in the United States. The beautiful waters come alive from October to April as sea turtles come ashore to nest and lay their eggs. A trip during this period will make for a once-in-a-lifetime opportunity to witness these beautiful creatures in their natural habitat. Admire its crystal clear water, stroll along the beach, and enjoy your stay in Florida's own paradise!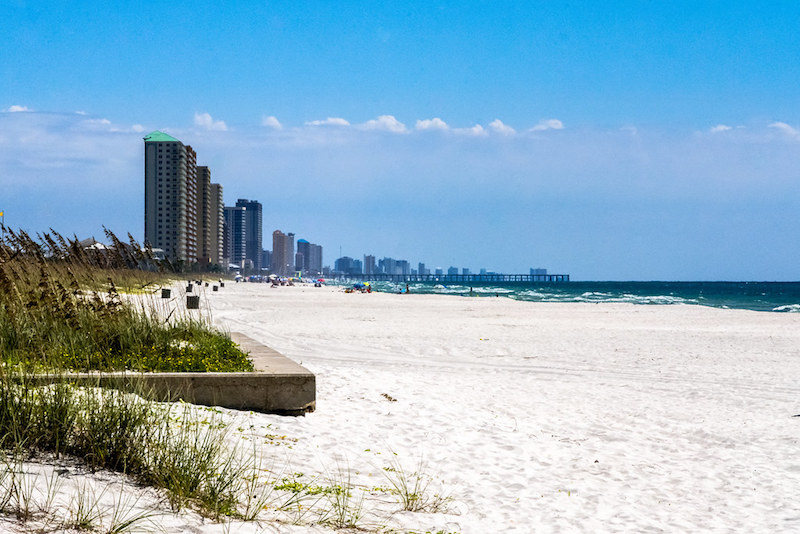 4. Panama City Beach
Known for its crystal clear waters, Panama City Beach is a renowned beach destination located in Florida's panhandle. Visitors to the area can soak up the sun on the white sand beaches while enjoying a range of activities such as waterfront hotels, restaurants, and shopping.
Panama City Beach in Florida is known for its crystalline blue waters that attract thousands of visitors every year. One of the most popular locations to visit while at the beach is Pier Park, a large shopping complex with one of the largest observation wheels in the US, SkyWheel. Experience magnificent views of the crystal clear water and relax on PCB's beautiful beaches!
Just imagine yourself soaking in the crystal clear waters of Florida while you enjoy a delicious cocktail and a sweet funnel cake! SkyWhell offers an incredible way to spend a beach day, featuring amazing ocean views at a height of 170 feet.
If you're looking for an eye-catching paradise in the sunshine state, look no further than Water Clear, Florida. With its crystal clear blue waters and miles of white sandy beaches, it's the ideal destination for swimming, sunbathing, or simply soaking up stunning coastal views. Whether you prefer surfing or relaxing on the beach with a good book, Water Clear has something for everyone – and there are plenty of vendors offering water sports such as kayaking and jetskiing too!
5. Dry Tortugas
The Florida Keys are famous for their turquoise waters, ideal for anyone looking to take a dip. One of the most spectacular spots in the area is Dry Tortugas which is isolated from the rest of the Florida Keys and boasts crystal clear water perfect for swimming and snorkeling.
The Dry Tortugas islands are located off the west coast of Florida and known for their crystal clear waters. The most popular way to get there is by ferry, which will take you from Key West in just under two hours. Other options include taking a seaplane or traveling by boat. Whichever method you choose, you'll be sure to enjoy the beauty of these pristine blue waters and white sand beaches!
Water-clear Florida's Dry Tortugas National Park is home to pristine beaches and stunning sands for a tranquil getaway. Here, four different beaches span all sides of the island, each offering its own breathtaking views and perfect conditions for a peaceful afternoon spent relaxing or exploring.
Visiting the warm, clear waters of Florida can be a wonderful way to experience the beauty of its marine wildlife. From snorkeling at Dry Tortugas to swimming with dolphins in Key West, getting up close and personal with the abundant sealife is an unforgettable experience. With its pure, crystal-clear waters, Florida offers some of the best water activities in the U.S., making it a favorite destination for both locals and visitors alike.
Dry Tortugas, just a few miles off the coast of Florida, is home to some of the country's clearest water. Whether snorkeling on your own or with friends, you can marvel at the exotic marine life and vibrant coral thriving beneath the surface of this tranquil paradise. Enjoy a perfect view of all that Dry Tortugas has to offer with complimentary snorkel gear from the island!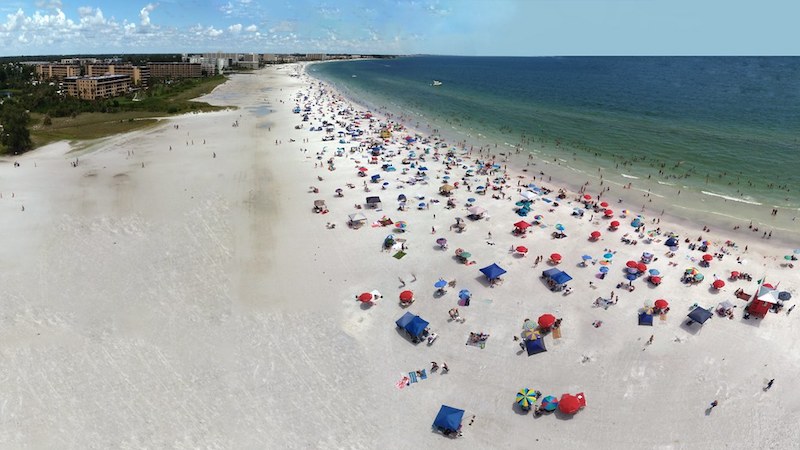 6. Siesta Key
Just off the west coast of Florida near Tampa lies stunning Siesta Key, a small beachfront town known for its magnificent white sandy beaches and crystal-clear waters. This picturesque paradise is perfect for a peaceful getaway or a much needed mineral-rich swim in the soothing Gulf Coast waves.
Home to some of the clearest and bluest waters in America, Florida's Siesta Key beach is renowned for its crystal-clear coastlines. From snorkeling among wild dolphins to experiencing the awe-inspiring sand sculptures of the annual Siesta Key Crystal Classic International Sand Sculpting Festival, there's no shortage of activities on this beautiful Gulf Coast spot! Be sure to come prepared with a pair of sunglasses:you'll need them to catch the dazzling sparks glinting off the shoreline.
Water clarity in Florida is world renowned, allowing us to enjoy its crystal clear blue depths. One such location with beautiful and clear blue waters is Siesta Key. Famous for its sugar white sand beaches and annual sand sculpture festival, it offers a range of activities that make for a truly unique day.
If you've ever wondered what it's like to take a dip in crystal-clear turquoise waters, then there's no better place than Florida's Siesta Key. The sugary white sands, bright sunshine and soothing turquoise waters make this the perfect destination for a family beach day. Escape from the everyday hustle and bustle and enjoy strolls along the shoreline or just lie back on your towel, relax and soak up all of the beauty that Siesta Key has to offer.
The crystal clear turquoise waters of Florida's Siesta Key Beach have long enticed locals and tourists alike. Located on the Gulf Coast of Florida, the sugary soft sand and calm Gulf Breezes provide a peaceful atmosphere to enjoy all that this swath of paradise has to offer. With its legendary sunsets, world-class entertainment, outstanding restaurants, watersports and shopping, it's no wonder why Siesta Key is a top destination for travelers around the world.
7. Miami Beach
Want to experience urban vibes on the beach? Miami Beach is the spot for you! This South Florida hotspot offers azure waters and stunning clearness, making it one of the best places in Florida to go for a dip in the water.
Located in the south-eastern corner of the US, Florida is a state of contrasts. Home to both wild and wonderful coastlines, with turquoise waters so clear they take your breath away, along with bustling cities packed with luxury stores and cuisine to delight any palate – it truly has something for everyone.
For sparkling, crystal clear waters, visit the beaches of Florida. In the early morning you will find the peace and tranquility you seek with much less of the crowds. For an energizing experience while in Miami, take a journey to Wynwood Walls and admire the stunning works of art on display. Get your camera ready as you won't want to miss some amazing photo ops!
Miami Beach is known for having crystal clear waters and picturesque beaches. Whether you're looking to sit back and relax or explore the area, there's something for everyone in this vibrant city. After a day of fun in the sun, head up to one of the many rooftop restaurants and bars overlooking the ocean. Get a stunning view of the water from up above, or choose to stay below with an unforgettable meal at Serena Rooftop, Voodoo Lounge and more!
8. Rainbow Springs State Park
For amazingly clear, turquoise-colored water, look no further than Rainbow Springs State Park in Florida. This spectacular park is perfect for getting up close and personal with nature and taking in the breathtaking views of the beautiful water.
Located in Dunnellon, Florida, Rainbow Springs State Park is known for its crystal clear waters and lush greenery. One of the most popular activities here is tubing down the Rainbow River. Experience peacefulness as you lazily float along the calm blue river, enjoying the lush nature while being surrounded by large trees and vegetation.
For the ultimate outdoor summer adventure, visit the crystal-clear waters of Florida's Rainbow Springs State Park. Enjoy a refreshing dip in the spring-fed pool, explore caves and caverns while snorkeling, or float along in a tube surrounded by stunning nature and wildlife. Cap off your day with an unforgettable picnic experience, grilling up your favorite food while overlooking beautiful water views.
In Florida, one of the most stunning sights any visitor can behold is the incredibly clear and crystalline waters of Rainbow Springs State Park. During the summer months, this beautiful park offers up a perfect atmosphere for swimming, camping, and spending quality time with friends and family. So if you're looking for a remarkable summer experience, pack your towels and coolers and make your way to Rainbow Springs!
9. Kelly Park Rock Springs
Located near the city of Apopka in Florida, Rock Springs is renowned for its crystal clear waters that provide fantastic views of the flowing springs. This hidden oasis offers a paradise of lush vegetation and natural wildlife to explore. Whether you're swimming in the refreshing waters or snorkeling through the springs, Rock Springs is an unforgettable destination for all nature enthusiasts!
A kayak tour is a great way to experience the crystal clear waters of Florida. Witness some of the many creatures and plants that call the region home as you paddle down Rock Springs Run either alone or in a group. Voyage along the waters and observe animals wandering, swimming, and soaring around you!
Looking to get up close and personal with Florida's sparkling waters? Consider renting a clear bottomed kayak to explore the beautiful Florida coast! These special boats let you see wildlife below the surface, like deer, alligators, and more. You'll enjoy the chance to marvel at nature in its element as you paddle along.
Florida's Rock Springs is renowned for its crystal clear springs, perfect for exploration and adventure. From biking, hiking, or horseback riding during the day, to camping in one of the many sites come nightfall, it's easy to appreciate nature at its finest. With Springs Run providing an enchanting display of starlight reflections off the water, it truly is a unique place like no other!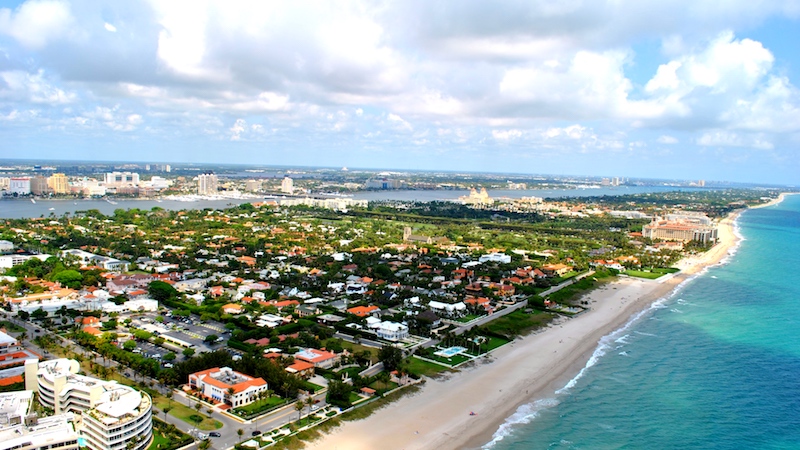 10. Palm Beach
Palm Beach in Florida is renowned for having some of the clearest water in the state. Located just off of mainland Florida, it provides breathtaking views and a pristine, luxurious atmosphere. Visitors to Palm Beach enjoy its main attraction, Municipal Beach, with its soft sand and inviting waters that are perfect for swimming with family and friends.
If you're looking for a picturesque, golfing vacation in Florida, look no further than the world-famous Palm Beach Country Club. Located on the sunny shores of Florida's beautiful white sand beaches and clear blue waters, it is truly a golf paradise. Reserve your spot in advance and enjoy everything that this luxurious course has to offer – from perfect weather conditions and spectacular views to challenging holes and world-class amenities.
The beaches of Florida can be some of the best in the world, with brilliant white sand and crystal clear water. One of the most popular places to experience this tropical paradise is The Breakers in Clearwater, Florida. Offering guests exclusive beach access and a range of watersport activities along with five-star amenities, spending a night at The Breakers is the perfect way to make your Florida vacation extra special.
11. Devil's Den
Florida's "Water-Clear" is an unforgettable natural phenomenon – a subterranean cave filled with breathtakingly clear, turquoise water. This remarkable site is sure to capture the imagination of anyone who visits!
Located merely half an hour south of Gainesville, Florida, Devil's Den is a must-visit spot for any snorkeler or SCUBA diver. It is known for its crystal clear waters and spectacular underwater view that dates back millions of years ago. Experience the breathtaking beauty underwater as you go on an unforgettable adventure by snorkel or SCUBA!
Florida is known for its crystal-clear water, with many locations that have excellent visibility even hundreds of feet below the surface. One such spot is Devil's Den, a prehistoric underground cave located in Williston, Florida. While certified divers can explore the depths of the cave, it's also suitable for snorkeling and swimming given its relatively shallow waters and ample sunshine.
If you're looking for crystal-clear water, Florida is the place to be! The inviting waters of the Sunshine State are perfect for taking a plunge and exploring the underwater world. From fossilized cave life to a variety of colorful fish, there's so much beauty to discover in these waters. Dive into Devil's Den for an adventure like no other and experience the captivating beauty that Florida has to offer!
Clear, pristine waters are one of Florida's most captivating traits. From the bustling springs of central Florida to the brilliant aquamarine of the southern Keys, Florida's beaches offer visitors an opportunity to experience some of nature's most spectacular beauty. Whether you're looking for a picturesque setting for a wedding or simply want to dip your toes in warm, friendly waters, water-clear Florida will satisfy all your desires.
12. Sarasota
Sarasota in Florida is renowned for its crystal clear waters. Just an hour south of Tampa, this lovely oceanside town boasts stunning white sandy beaches and pristine turquoise waters.
Venice Beach in Sarasota, Florida is a popular destination for those looking for white sand beaches and crystal clear water. Its not just the gorgeous surroundings that keep visitors coming back: Venice Beach is also known for its quaint beachside town and for the abundance of shark teeth that can be found among the shells on the shore!
If you're looking for amazing sightseeing opportunities, Florida's Venice Beach is certainly the place to be. Known for its incredibly clear and beautiful waters, Venice Beach is perfect for swimming, diving, and searching for ancient shark teeth hidden in the sand. Grab a bucket and a friend, enjoy the sights and see what treasures you can find!
Sarasota, Florida is known for its beautiful beaches and stunning crystal clear waters. The area offers perfect conditions for enjoying a beach day with the whole family, including the furry four-legged members! Brohard Paw Park is an excellent spot to visit, where you can bring your dog to run along the ocean and enjoy the waves lapping against the shore. With its breathtaking views, it's no wonder this part of Florida has become popular among beachgoers!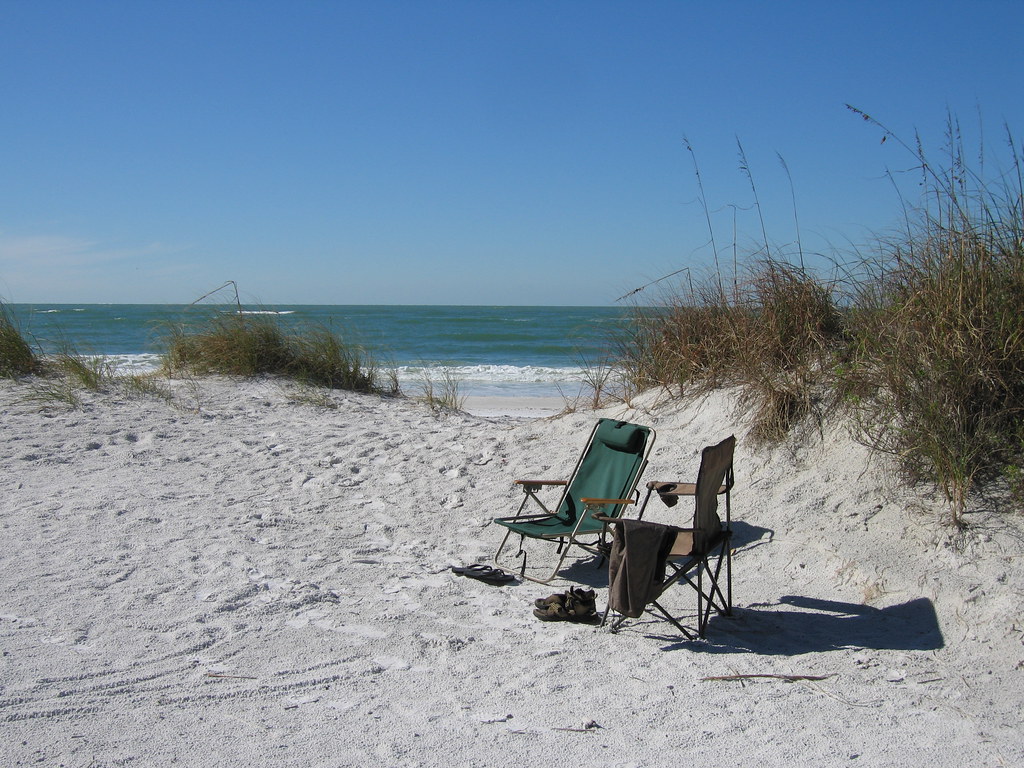 13. Tampa
Located in the beautiful Tampa Bay area, Florida is home to some of the clearest waters in the entire State. With its clear waters, Tampa has become one of the most popular cities in the area for swimming, fishing and other water activities.
Tampa, Florida is best known for its bustling airport, amusement parks, and sports. But what sometimes goes unrecognized are the beautiful beaches it has to offer. Take Ben T Davis beach for example: filled with crystal clear waters and families having fun in the sun, it's a classic beach-goer's paradise! After a long day in the sand, take a trip over to Whiskey Joe's and enjoy Tampa's nightlife.
If you're looking for the clearest water in Florida, there's no better destination than a beach with a stunning sunset view. Whether you're seeking adventure or just want to relax with some delicious drinks and food, you'll get exactly that at one of Florida's best-known beaches. Come experience the crystal clear waters of Florida for yourself!
Fancy going for a boat tour in Florida? Book a Tiki Boat and enjoy the spectacular views Florida has to offer! With its crystal clear waters, you can bring a group of your closest friends, kick back with a cool drink, admire the breathtaking scenery and even take a dip in the refreshing waters. Don't miss this opportunity while visiting sunny Florida!
14. Anna Maria Island
Home to some of the clearest waters in all of Florida, Anna Maria Island is a coastal town located around an hour away from Tampa. With miles of coastline, this beachside getaway has become renowned for its fishing spots and fresh seafood. Visitors looking for crystal clear waters should certainly look no further than Anna Maria Island!
If you want to experience Florida's water clarity like a local, Anna Maria Island is the place to go. Rent a fishing pole at the local pier and spend your morning exploring the stunning views of the ocean – you never know when you'll feel a little tug on your rod!
Head to Anna Maria Island in Florida for some of the best fishing spots. Take a trip on one of the many fishing charter boats and experience incredible clear waters while spending quality time with family. Anglers are sure to catch a multitude of fish including trout, flounder and maybe even see some sharks! However, even if you come back with empty hands, you're still guaranteed to have an amazing day out on the ocean and enjoy its breathtaking views.
15. Ginnie Springs
Located an hour northwest of Gainesville, Ginnie Springs is an oasis filled with crystal-clear waters. This prime swimming destination offers ample opportunities for outdoor recreation and makes for the perfect getaway for families looking for fun in the sun. On top of that, it's also become a popular spot to grab drinks with friends due to its allowance of alcoholic beverages onsite.
Florida's Ginnie Springs is an oasis of crystal clear water that makes it a great spot for certified SCUBA divers. The visibility in the springs' waters is so great, it looks almost unreal! If you don't have your certification, no worries – snorkeling gear is also available to rent so you can still take in the beauty of Ginnie Springs.
The Santa Fe River in Florida is an otherworldly place, with its crystal clear water that looks like liquid glass—it's a party-goer's paradise. Tubing down the river with a cold beer in hand is a must-do activity at the Ginnie Springs complex. Relax and enjoy the gentle current while you mosey along with your friends and take in the natural beauty of the area.
One of Florida's most popular and iconic swimming holes, Ginnie Springs is located in High Springs, FL, just north of Gainesville. With crystal clear water and a wide variety of underwater creatures to explore, it's no wonder why locals and tourists alike flock to this spot. The site offers camping facilities, boat ramps and picnic tables so visitors can make a day out of their excursion. Plus, with its white sandy banks, you won't have to worry about getting your feet muddy!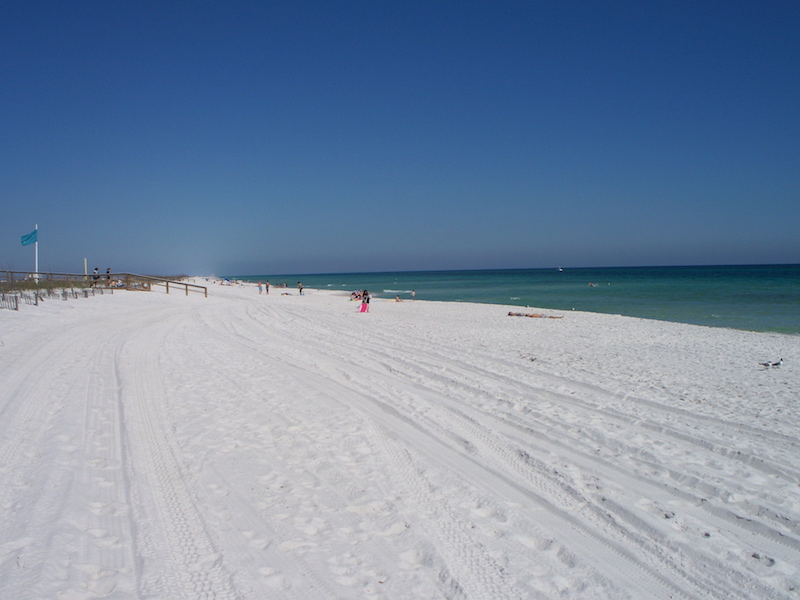 16. Navarre Beach
Navarre Beach in Florida is known for its stunningly beautiful shoreline and tranquil, crystal clear waters. Due to the white sand beaches and sparkling blue ocean, it has become a popular destination to relax and soak up some sun. Visitors come from near an far to experience the picture-perfect beach with people laughing, smiling and having a blast.
Florida's Navarre Beach is known for its clear and tranquil waters, making it the perfect place to spend time with family and friends. Swim, build sandcastles, enjoy a leisurely stroll on the shoreline – take your pick from a range of activities here. Looking for something more adventurous? Try stand up paddleboarding or even SUP yoga! Take in the beauty of Florida's pristine waters as you do some relaxing yoga poses atop a paddleboard – making for an unforgettable experience.
Thanks to its crystal-clear gulf waters, Florida's Navarre Beach offers some of the most beautiful views! If you're looking for a way to take in these stunning views without getting wet, try going on a bike tour along the beach's dunes. You'll get an unbeatable view of the coast and a wonderful time exercising all at once.
Navarre Beach in Florida is known for its crystal clear waters and miles of white sand beaches. Whether you're looking to take a dip in the cool ocean waters, go for a bike ride along the beach, or just lounge in the sun, Navarre Beach is an idyllic destination perfect for your next vacation.
17. Crystal River
Clear water and warm springs make Crystal River, Florida a paradise for its most beloved inhabitant: the manatee. Located in the center of the Sunshine State, between Gainesville, Orlando, and Tampa, this picturesque town offers breathtaking views of some of the clearest waters in Florida.
Florida's Crystal River is renowned for its crystal clear water with manatees swimming in abundance. Visitors of Three Sisters Springs have the opportunity to witness firsthand this threatened species in their natural habitat, and winter is the best time to visit for optimum viewing.
In the state of Florida you can enjoy water so clear and turquoise, it almost feels like you're in a movie. Take in the nature up close with a kayak rental or opt for something more adventurous and explore with snorkel gear. Whether you want to simply look at the underwater beauty from a distance, or swim around and observe marine life closer, you'll be in awe of what lies below those crystal clear waters.
Crystal River is renowned for its clear, turquoise waters and array of natural wildlife. Home to hundreds of Florida's endangered manatees, Crystal River is a popular spot for snorkeling, kayaking and swimming. Regulations are in place to protect these gentle giants when visiting, so be sure to acquaint yourself with the rules before heading out on your adventure!
Three Sisters Springs in Florida is renowned for its crystal clear water. This spring is part of a larger group of 39 springs that lie within the Crystal River National Wildlife Refuge. The refuge is an incredibly important habitat for manatees and other marine life, making it an excellent destination for wildlife watching and eco-tours. Visitors can also partake in kayaking, canoeing, fishing and swimming – all of which enjoy the pristine clear water of the springs.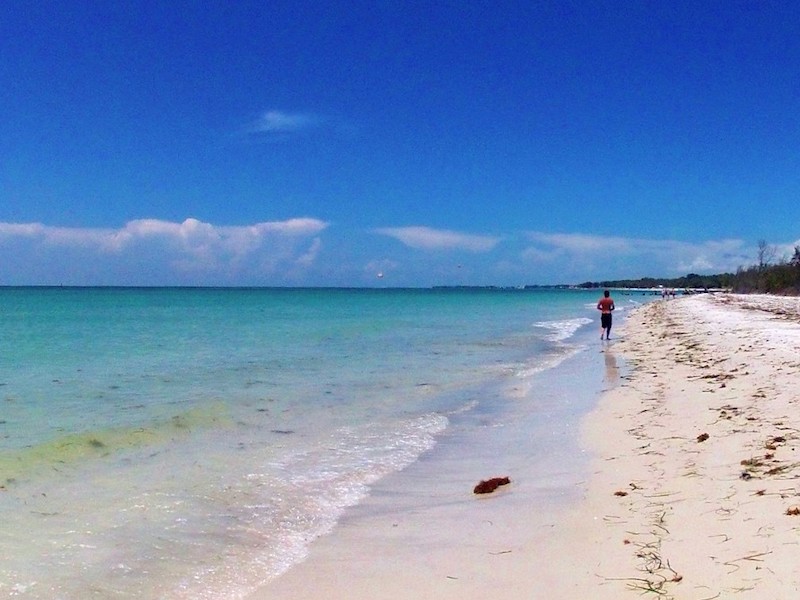 18. Beer Can Island
Beer Can Island in Florida is a stunning destination of clear blue waters located just north of Sarasota. It's the perfect spot for nature photographers to capture such a breathtakingly beautiful landscape. Whether you're swimming, sunbathing, or simply appreciating the natural beauty, Beer Can Island is sure to provide an unforgettable experience for all visitors!
With its very clear, emerald green waters, Florida's Beer Can Island is one of the most beautiful spots on Earth. Boasting thousands of white sand beaches and spectacular crystal-clear waters that create a perfect backdrop for photography or a leisurely walk, this breathtaking destination is definitely worth visiting. Whether it's just to soak up some sunshine, take a dip in the sea or even snap some stunning photographs, you won't regret exploring such an incredible corner of the Sunshine State!
Beer Can Island in Florida is known for its turquoise and crystal-clear waters! It's a great spot to relax, explore, or even take some amazing photo memories with the whole family. Whether you're looking to kayak around the island or just spend a lazy day along the beach, Beer Can Island is the perfect place for it all.
19. Gilchrist Blue Springs
Gilchrist Blue Springs State Park, near Gainesville, features a number of stunning natural springs known for their incredible crystal clear water. It is one of the newest additions to Florida state parks and is a popular destination for both underwater exploration and swimming. The bright blue springs have become an iconic symbol of Florida's nature-filled beauty!
Gilchrist Blue Springs located in Florida offers a unique experience that's hard to top. The water is crystal-clear and provides an excellent opportunity for swimming, snorkeling or even overnight camping if you choose to stay. With camping fees being minimal and the breathtaking atmosphere, it's no wonder why this spot has been drawing in visitors for years!
Enjoy a day basking in the clear waters of Florida! With options to swim or snorkel, as well as scuba diving for those with certification, there's something for everyone. Be sure to check out the concession stands if you get hungry and don't forget to end your day lounging around the grills complete with beautiful views of the natural springs.
Florida's famous Gilchrist Blue Springs is renowned for its sparkling turquoise waters and underwater visibility of up to 120 feet. the natural artesian spring, located near High Springs, is one of the clearest and most beautiful freshwater springs in Florida, filled with a variety of fish, manatees, and turtles.
20. Boca Grande
On Florida's west coast just slightly north of Fort Myers, is the beachside town of Boca Grande. This small town features some of the clearest waters in all of Florida and is a great destination for beach lovers!
Located on the southwest coast of Florida, Boca Grande is renowned for its crystal-clear turquoise waters and white sand beaches. Discover a unique dining experience with restaurants such as The Pink Elephant or Miller's Dockside, offering spectacular views of the pristine waters while treating yourself to scrumptious local seafood dishes!
Visit Boca Grande, Florida and explore its incredible, crystal clear waters. Enjoy the local seafood offerings up at the nearby Gasparilla Island Lighthouse, then take your time strolling along Boca Grande's picturesque shoreline and enjoy the calming sounds of the waves. For those seeking a more thrilling experience, try snorkeling around the island for an unforgettable experience!
Conclusion:
Florida is known to have some of the clearest water around. If you're looking for a perfect view of the blue-green waters, head to one of Florida's lighthouses in the evening and try to climb it towards sunset. From that vantage point, you'll get an amazing panoramic view, and maybe witness a magical sunset on the horizon.
Florida is famous for its clear, turquoise waters and white sandy beaches. Clear water can be found in all of the state's coastal regions, from the Keys to the Panhandle. The beautiful sight of dolphins swimming freely offshore, stingrays gliding gracefully beneath the surface, and many other aquatic creatures inhabiting the ocean depths make it an ideal place to swim, boat, surf or simply relax in the sun. Florida's crystal-clear waters are a major draw for tourists from around the world looking for an unforgettable experience.
Florida is known for its crystal clear, pristine waters. From the warm beach waves of the Gulf Coast to the shallow wetlands and cool streams of Central Florida, you can often see straight down to the bottom of the sea. It's one of the state's natural wonders, making it a favorite destination among beachgoers and outdoor adventurers alike! The clear waters come from a mixture of both natural forces and maintenance measures put in place by local authorities to protect these precious resources.