London is one of the world's most vibrant cities, offering a wealth of experiences for visitors of all ages and interests. From history and museums to luxury, arts and culture, nightlife, and more, there's something for everyone in this exciting metropolis. In this article, we'll explore the best place to stay in London, highlighting some of the top neighborhoods based on your preferences and lifestyle—be it family-friendly or budget-conscious.
Family Friendly Stay in London: The City of London
Visiting London and looking for the best place to stay? Consider the city center known as "The Square Mile," where the Romans first settled in 43 CE. Here you'll find a financial district filled with history, as well as bustling markets such as Whitecross Street (filled with international food vendors), Sunday Upmarket (for crafts and clothing) and Leather Lane (featuring everything from leather goods to tropical flowers). With its serene atmosphere and central location, this is the ideal area to stay in when visiting London.
London is a bustling city full of attractions and fun things to do. With its many boroughs, visitors will be spoiled for choice when selecting where to stay in the city. London's top areas for accommodation include Westminster, Kensington, Camden, Notting Hill, Bayswater and Shoreditch. Each area brings its own unique character and attractions – from renowned tourist spots to hidden gems – making it easy to find a best place for everyone.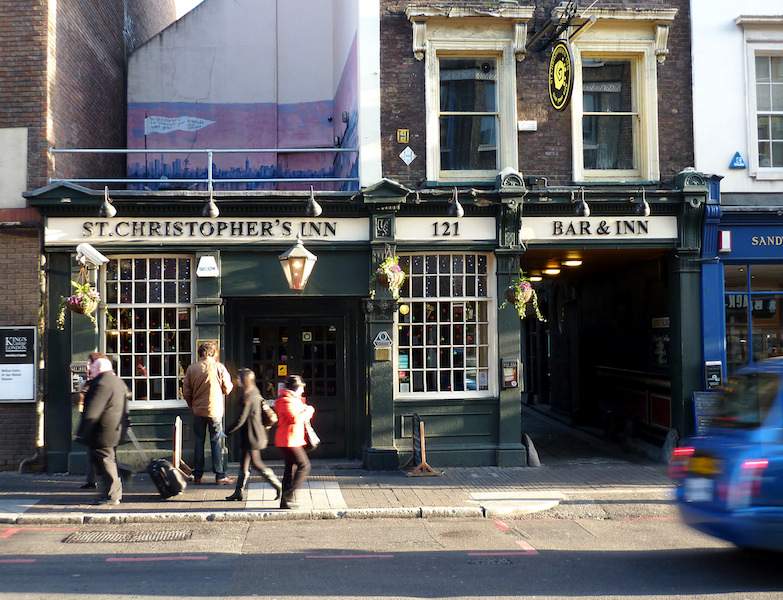 Looking for a place to stay in London? On a budget? Check out St Christopher's Inn at the Liverpool Street train station! This hostel has clean yet basic dorms, as well as a pub downstairs that offers cheap breakfast and drink discounts. It's the newest of the eight St Christopher's hostels located throughout London!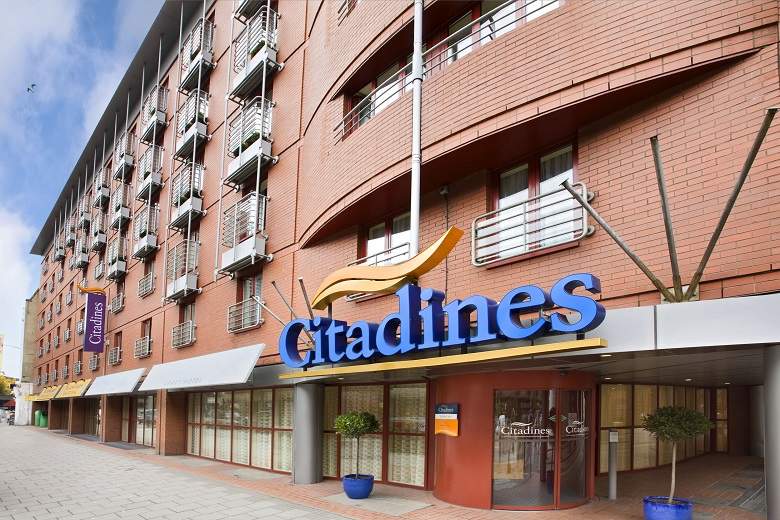 Looking to stay in London, but not sure where to book? Check out the Citadines Barbican London! This recently renovated hotel offers you comfort and affordability right by the Barbican tube station. With many great restaurants like Tinseltown and Workshop Coffee surrounding you, plus a Sourced Market within the hotel itself, you're sure to have all the food you need during your stay!
If you seek an immersive luxury experience in London, look no further than the Counting House. This classic English pub offers 15 spacious rooms with beds featuring Egyptian-cotton linens and select accommodations even boasting a living room. To top it off, guests enjoy a free hearty breakfast each morning. The best spot to relax after exploring all that London has to offer.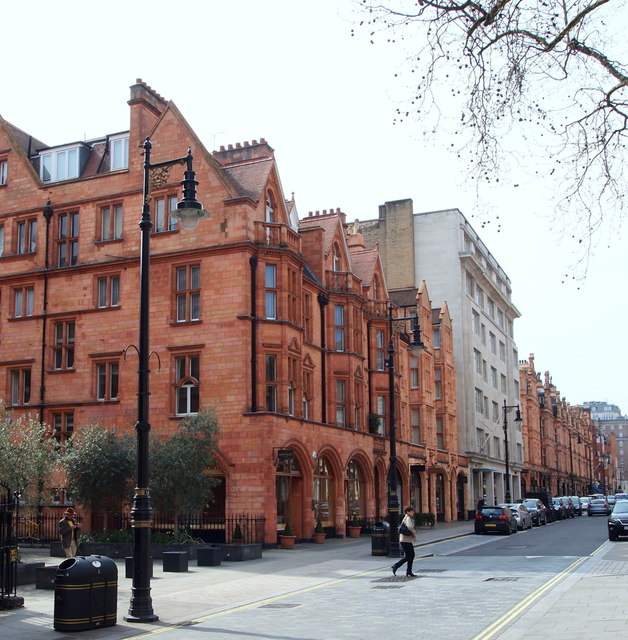 Ultimate Luxury Experience: Mayfair
If you're after a luxurious, upscale area to stay in London, then consider staying in Mayfair. This part of the city oozes sophistication and wealth, with its grand art galleries, exclusive shops and lavish five-star hotels. Plus, it's conveniently located between Hyde Park and the West End, so it's easy to explore the many attractions of London. But one thing is for sure – expect a peaceful night considering it's quiet at night!
Looking for accommodation in London? Mayfair is your best bet! Located in the City of Westminster, this luxurious area has plenty of desirable places to stay, from posh five-star hotels to chic boutique apartments. Whether you're looking for a short stay or a long one, there are plenty of options available in this popular neighbourhood.
Looking for budget accommodation in London? Mermaid Suite Hotel on Oxford Street is your best bet! Here, you can get a private room with en suite bathroom, satellite TV, tea and coffee making facilities as well as a free continental breakfast. Enjoy the conveniences of this hotel without breaking the bank.
Looking for mid-range accommodation in London? Try the Mayfair Guesthouse! Located in a great spot, it offers private, spacious rooms with some featuring balconies. Shared bathrooms are usually included but you get amazing value for your money.
For an unforgettable experience in London, book a stay at the Beaumont Hotel! This luxurious hotel is like stepping back in time with its walnut-paneled walls and original art deco rooms featuring king-sized beds. Marble bathroom floors are heated for added comfort. Take advantage of the sauna, steam room, fitness center and hammam while staying here. For a truly special night, enjoy delicious fresh lobster from the Colony Grill or sip on a strong whiskey cocktail in Jimmy's Bar to get that 1920s feel.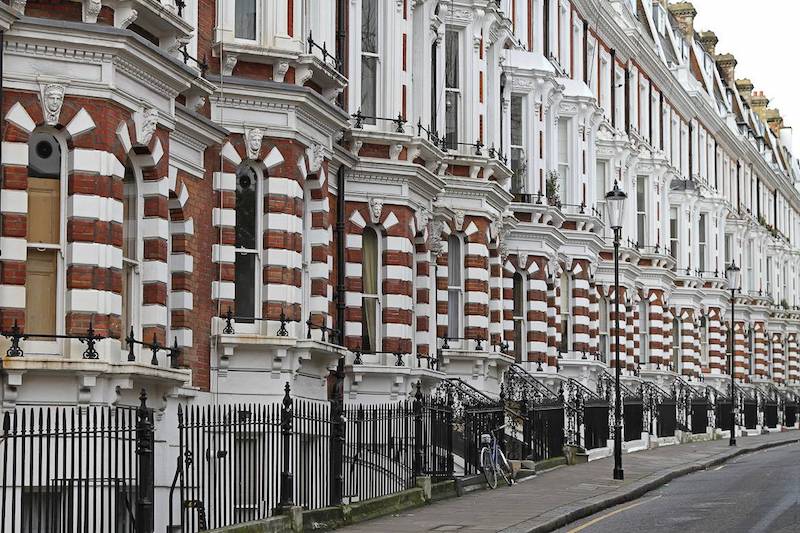 History and Culture Enthusiasts: South Kensington
If you're looking for where to stay in the famously rich and historic city of London, why not opt for the Kensington area? Not only will you be close to a number of Kensington's famous parks and gardens, but within strolling distance are a number of renowned museums including the Victoria & Albert, Science and Natural History Museums. And by nightfall, you can experience the royal calm that exudes throughout die mansion-lined streets. A best combination of beauty and culture!
Are you looking for a place to stay in London? Kensington/South Kensington is one of the best areas to settle in. With its close proximity to museums, green spaces and plenty of attractions, this area offers a great number of cozy hotels and charming inns. Whether you're visiting for a long vacation or just passing by, Kensington/South Kensington is certain to provide comfort and relaxation.
Looking for budget-friendly accommodations in London? Astor Hyde Park is the perfect place! Located right off of Hyde Park, this hostel provides a quiet neighborhood vibe while being within walking distance to major attractions like the Natural History and Victoria & Albert Museums. Plus, guests can expect a very homey atmosphere with wooden décor throughout, as well as a social vibe with friendly staff that are more than willing to help arrange activities and tours for guests. Dorms are spacious and there is an afforable £1 breakfast available. Though be wary if you plan on staying on the upper floors since there is no elevator available.
Looking for a place to stay in London? Consider London Lodge Hotel, where you can find comfortable mid-range accommodation. The rooms are all well decorated in a vintage style, with colorful patterned wallpaper and carpeting, and pieces of furniture that have been carefully chosen to make them feel like home. Single rooms are available as well as executive rooms – which offer more room to move around and spacious bathrooms.
Wanting to stay in luxury while in London? The Ampersand Hotel is your answer. Located close to the South Kensington station, this beautiful boutique hotel showcases unique themed rooms such as music or astronomy. You can also enjoy their posh afternoon tea in drawing rooms and a game of ping-pong in their games room. If you stay on the top floor, you'll have a great view over London!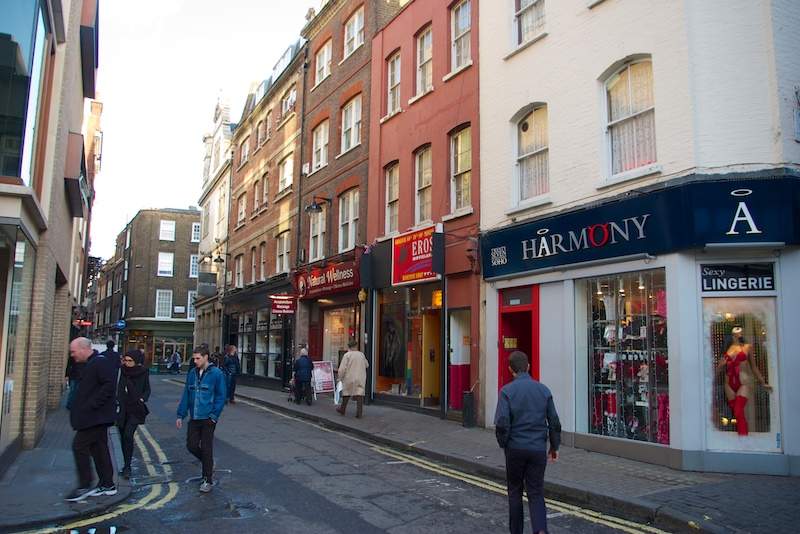 Experience London's Arts and Culture: Soho
Where should you stay in London? Soho is a great option! This dynamic district is home to some of London's most interesting sights and experiences, from lively pubs and eateries to thrilling theaters. Staying here will put you within easy walking distance of the West End's many attractions and just a 20-minute stroll from some of the city's famed landmarks. Plus, Soho transforms into an even more vibrant area come nightfall, making it the best place to soak in London's after-dark scene.
If you're looking for the best places to stay in London, look no further than Soho. This vibrant West End neighbourhood is a popular area for tourists with its plethora of trendy restaurants, sophisticated bars and shops, theatres and vintage markets. With its wide selection of accommodation options ranging from luxurious hotels to budget-friendly apartments, Soho is the best place to find a home away from home when visiting London.
Planning on visiting London on a budget? Consider staying at YHA Oxford Street – it is one of the most economical yet enjoyable places to stay in the city. Enjoy a night out at the hostel's bar, take part in various organized activities such as game nights, and make some friends while you're there!
Are you looking for a place to stay while visiting London? Consider Mimi's Hotel Soho, located in the heart of the city. The hotel features different room sizes and options, ranging from "tiny" to "lux". Each room is equipped with floor heating, filtered water and marble bathrooms for added comfort. You'll also have the opportunity to dine in the on-street bar, Henson's, which is popular amongst locals and tourists alike.
For luxury accommodation in London, you cannot go past The Soho Hotel. Each room is unique and spacious, with magnificent floor-to-ceiling windows. There is a well-equipped gym and personal trainer on-site, as well as a library full of books to curl up with. You won't have to go far to explore the vibrant nightlife – trendy bars, restaurants, cafes and theatres are all within walking distance from the hotel, plus Oxford and Regent Streets are only a few steps away.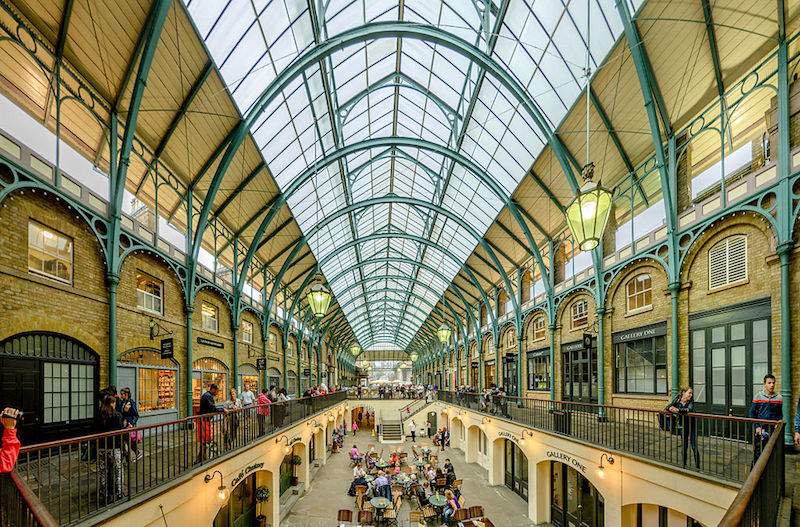 Experience London's Arts and Culture: Covent Garden
London visitors looking for a central and vibrant spot to lay their heads at night should look no further than Covent Garden. Located just east of Soho, this traditional theater district is full of historic indoor markets and a charming square, plus plenty of great shops, restaurants and street performers. Ideal for travelers looking to be close to the action!
Are you visiting London and looking for the best place to stay in the city? Covent Garden is a great option. With its central location, it's close to many of the city's top attractions and is brimming with restaurants, pubs, entertainment venues, and more. Here you'll find hotels ranging from budget-friendly to luxurious, so there's something for everyone. So don't waste any time — make Covent Garden your base for a fabulous London getaway!
Travelling on a budget? Astor Museum Inn is the ideal place to stay in London! Here, you'll find clean and affordable dorm rooms as well as a cozy lounge and kitchen. Plus, they offer free dinners regularly. While it's not quite as picturesque as the Astor Hyde Park, it is still conveniently located for easy access to everything London has to offer!
If you're looking for a mid-range accommodation option in London, the Strand Palace Hotel is a great choice. With its origins dating back to the early 1900s, this hotel offers single-room options that overlook its peaceful inner courtyards. A perfect place for solo travelers who are looking for some peace and quiet while they explore this vibrant city!
Looking for a luxurious place to stay in London? Consider the Fielding Hotel, known for its charming 19th-century atmosphere. The rooms are small but equipped with big TVs, tea and coffee amenities, and some even have claw-foot bathtubs! Located very close to the Royal Opera House and just five minutes away from Covent Garden Market, it's the perfect spot for anyone looking for a memorable stay.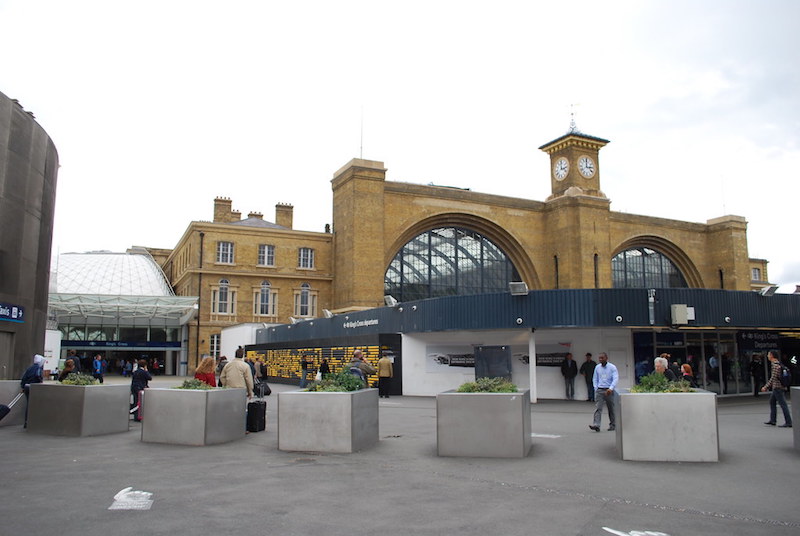 Budget-Friendly Accommodations: King's Cross/Camden
London is a great destination for travelers and locals alike. If you're looking for somewhere to stay, there are plenty of places to choose from! Kings Cross and Camden Town are popular settings for those on a budget, with many hostels, vintage shops, bars and restaurants in the area. Camden Lock Market is particularly noteworthy; visitors can browse an array of unique finds here. Whether you're looking for an exciting nightlife or something a bit more low-key, these areas in London offer something for everyone!
Are you looking for a place to stay in London? The King's Cross/Camden area is a great spot- with easy access to public transportation, lots of great restaurants, and plenty of cultural attractions. Whether you're looking for budget-friendly options or luxurious accommodation, this neighbourhood has something for everyone!
Looking for an affordable place to stay in London? Generator is a great choice! Located in an old police station, the hostel boasts modern amenities, a large common area, bar and restaurant, and plush beds. It's well-situated too – just a stone's throw away from Regents Park, Covent Garden and the British Museum. Note that charging outlets are limited – so be sure to grab one while you can!
Are you looking for a comfortable and affordable place to stay in London? Look no further than Ambassadors Bloomsbury! This hotel offers simple and cozy rooms with excellent beds, blackout curtains, and powerful showers. They also serve delicious afternoon tea to help add to your stay.
For those looking for luxury accommodations in London, Great Northern Hotel is a great choice. The traditional hotel dates back to the 1850s, and has been freshly renovated to offer modern amenities. Guests will enjoy extra perks such as free snacks and drinks in the pantry, as well as high ceilings, walnut furniture, and large walk-in showers in their rooms.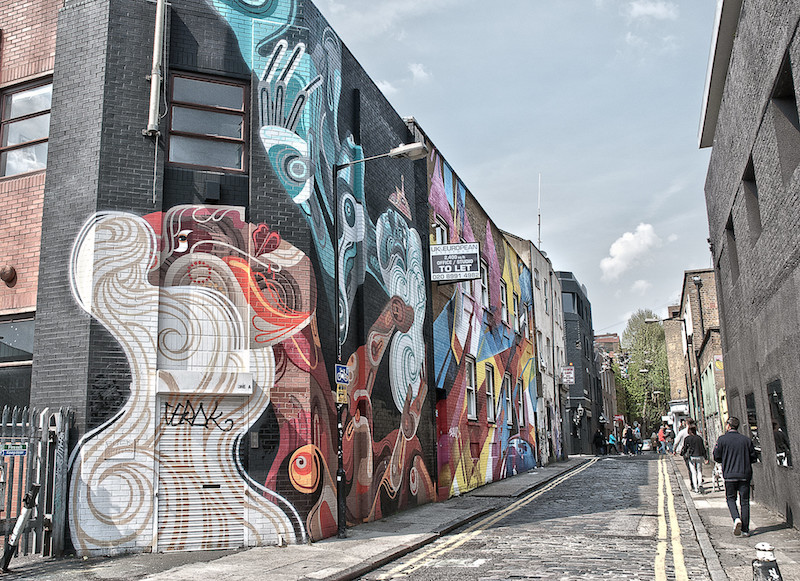 Nightlife Hotspots: Shoreditch/Spitalfields
Looking for the best place to stay in London? Shoreditch is a great option! It's an up-and-coming neighbourhood with a hip and artistic flair, boasting outdoor markets, vintage stores, bars, and plenty of delicious eateries. With its presence of street art among the industrial warehouses and dim back streets, you can explore the various cultures that have left their mark here. Don't forget to sample some European döner kebab or Peruvian ceviche while you're there!
When searching for a place to stay in London, look no further than the bustling areas of Shoreditch and Spitalfields. These hip and lively boroughs offer a wide range of accommodation options, including luxury hotels, budget-friendly hostels, and holiday apartments. Whether you're looking for a short city break or an extended holiday in one of the world's greatest cities, this is the perfect destination to choose!
Are you looking for a budget-friendly place to stay in London? Look no further than The Dictionary! This hostel has all you need: a rooftop terrace, a bar, free breakfast, and an equipped kitchen. The rooms are basic but spacious and the beds are comfortable. It's the perfect spot if you want to save money while still having a pleasant stay.
Wondering where to stay in London? Look no further than Brick Lane Hotel! This mid-range option features single, double and triple rooms with en suite bathrooms and a tea/coffee station. Plus, the hotel only has eight rooms, so you'll get the chance to really get to know the hosts. Don't forget to try out their onsite Sheraz Bangla Lounge for some amazingly delicious (and affordable!) curry too!
Staying in style? Look no further than Mondrian London—a luxury hotel that stays true to its contemporary design. With spacious rooms, exposed brick walls, nice seating areas, and rainfall showers, you'll definitely be living in the lap of luxury during your stay. Work on your fitness with daily yoga or cycling classes at the hotel's fitness center, topped off with a dip in the rooftop pool!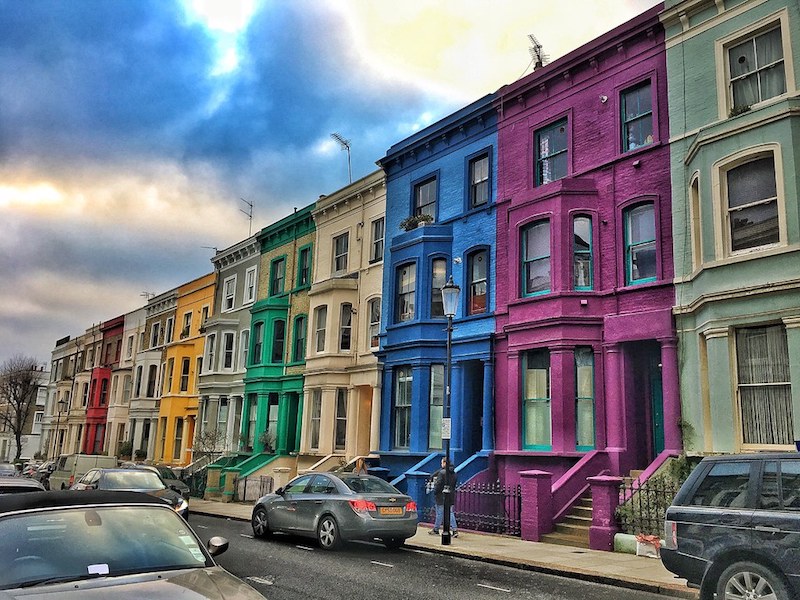 Quaint and Charming: Notting Hill
London's Notting Hill neighborhood is an ideal place to stay if you're looking for a taste of quintessential British life. The area is known for its charming cobblestone streets and colorful Victorian townhouses, as well as the renowned Portobello Road Market, which takes place each Saturday. Trendy shops line the walls, offering antiques and unique items, while visitors can also enjoy food from street vendors or small cafés and pubs.
If you're looking for a great place to stay in London, the trendy district of Notting Hill is the ideal destination. With its mix of quaint boutique hotels, luxury serviced apartments and high-end hostels, it's no wonder that Notting Hill is one of the city's most popular areas for visitors. From cosy bed and breakfasts tucked away in cobbled streets to spacious flats with picture perfect interiors, there's something for everyone when it comes to choosing accommodation in Notting Hill!
Looking for a place to stay in London but don't want to break the bank? Hostel One Notting Hill is the ideal budget choice. Not only do guests receive a free homemade dinner every night, they can also join in various activities, including fun drinking games with other travellers. The hostel itself has a great social atmosphere and friendly staff, although the rooms may be small and the pillows not overly comfortable. Looking for more? There's also another location in Camden if you're looking for different vibes.
Looking for a budget-friendly option for your stay in London? Try Ravna Gora! This Victorian mansion is tucked away on a quiet, tree-lined street and offers clean, comfortable rooms with all the usual amenities. Plus, their friendly staff will be happy to help make your stay a pleasant one. Best of all, there's a common room where you can enjoy free coffee or tea any time of day!
Looking for a luxurious place to stay in London? The Portobello Hotel is your perfect choice. Every room in this chic boutique hotel is unique, featuring trendy elements such as round beds with feather toppers and matresses so high that you need stairs to climb on it. You will also be pampered with the best breakfast ever, from tea and coffee to fresh pastries, cheeses, meats and fruit. Plus, the staff even brings a flask of hot chocolate to your room every night!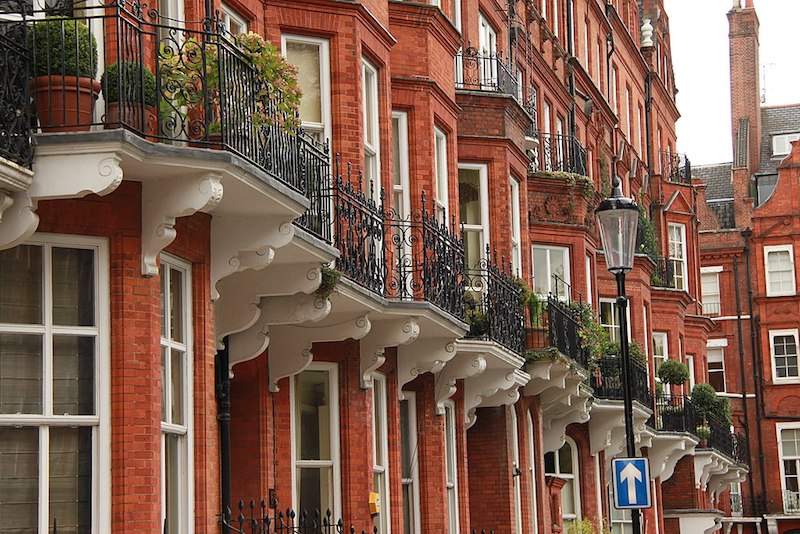 Fashionista's Destination: Chelsea
Looking for a great place to stay in London? Chelsea has it all! This fashionable neighbourhood is home to picturesque hidden squares and brightly coloured buildings. Set right by the Thames, and with Albert Bridge as its crowning jewel, Chelsea boasts beautiful views of the city. From galleries and shopping centres to residential areas, this lively district has something to suit every taste!
Are you looking for the best places to stay in London? One of the top neighborhoods for accommodation is Chelsea. This iconic spot offers a wealth of vacation rentals, and there's something suitable for everyone. From budget-friendly hotels and hostels to luxury serviced apartments, you'll find it all in this fashionable area of town.
Looking for a place to stay while visiting London? The YHA Earl's Court is worth considering. It's a great budget option, located in an attractive Victorian building that has been recently renovated. They host lots of social activities, and have their own bar, making it the perfect spot to meet new friends!
Looking for a place to stay in London? Consider Chelsea House Hotel, located near Earl's Court. This 150-year-old Victorian hotel features classic charm and cosy rooms with all the basics you need – tidy beds and free continental breakfast buffet included!
Are you looking for a luxurious stay in London? Blakes Hotel offers the perfect combination of modern amenities, elegant décor and convenience. From four-poster beds to heated floors and soaker bathtubs, the rooms offer something unique that is sure to please. Don't forget to take advantage of The Courtyard garden – enjoy a cocktail while surrounded by colorful graffiti art and installations including a giant zebra!
Best Neighborhood for Sightseeing and Food: Southwark
London's South Bank is an ideal place to stay for tourists. It has the historic Tate Modern, Shakespeare's Globe Theatre and Borough Market – perfect for foodies! Don't forget to marvel at the Shard, London's tallest building, or take a stroll along the river Thames and check out the Tower, Millennium and London Bridge. Accommodations available range from luxurious hotels to hostels making it suitable for all budgets.
Are you looking for the best place to stay in London? Southwark is a great district for travelers, offering a great mix of accommodations from luxury hotels to affordable bed and breakfast options. Whether you're in town for a business trip or just exploring the city, there's sure to be something that suits your needs. With its central location, diverse cultural attractions, excellent restaurants, and convenient public transport links, Southwark is one of the best areas to stay in London!
Are you looking for a budget-friendly place to stay in London? St. Christopher's Inn at the Village is an excellent option. It has eight locations, with the Village location offering easy access to must-see attractions like the Borough Market, the London Eye and Tower Bridge. With communal spaces like its outdoor terrace, as well as social events such as beer pong and musical performances, you'll get to know your fellow travelers quickly. The hostel is also known for its comfortable pod-style beds, which provide one of the best sleeps in town!
Looking for a mid-range place to stay in London? The Bridge Hotel may just be your best option! Located in close proximity to London South Bank University and the Tate Modern, it has all the comforts you need with some added extras. Guests can expect big beds, soft linens, strong shower pressure and access to the nearby Fitness First gym. Enjoy some evening entertainment at their classic English pub with its additional musical acts.
If you're looking to stay somewhere luxurious in London, then H10 London Waterloo is the perfect spot for you! This stylish hotel has bright and airy rooms with floor-to-ceiling windows, giving lots of natural light. Plus, their beds are incredibly comfortable. Also be sure to take advantage of the stunning views from their rooftop Waterloo Sky Bar, where you can relax with a drink in hand and enjoy the views of the skyline and the London Eye.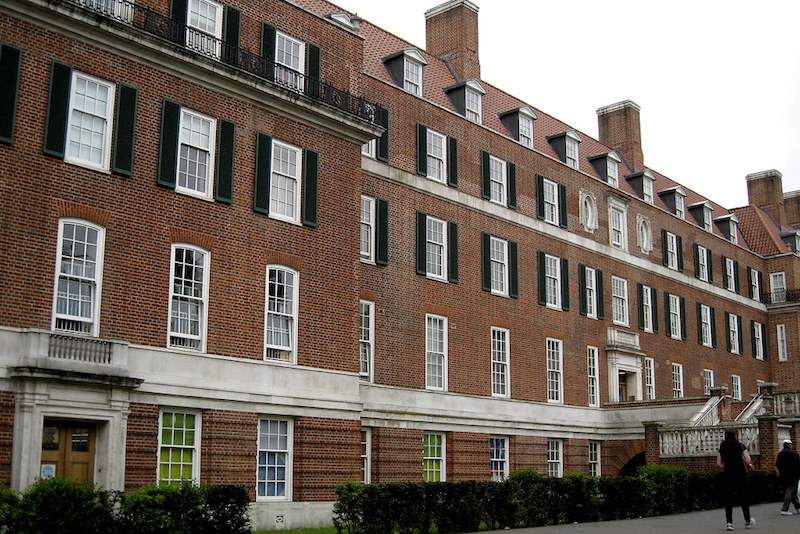 Diversity and Vibrance: Clapham
Clapham is an up-and-coming district in London that is quickly becoming one of the city's hottest neighbourhoods. With its affordable rental prices, variety of entertainment options, excellent restaurants and bars, and picturesque Clapham Common park – it has everything you need for a great stay in the city. So if you're looking for somewhere to stay while visiting London, Clapham may be the perfect place!
When looking for the best place to stay in London, consider Clapham for its convenience, transportation access points and array of accommodation options. Whether you're looking for a large hotel with plenty of amenities or something smaller and more intimate, you'll find good options available in this part of the city. At different price points, visitors to London can enjoy the convenience and comfort that come with staying in a great neighborhood like Clapham.
Looking for budget accommodation in London? PubLove The Crown offers basic, clean and secure amenities at a fraction of the price. Located in a local pub that attracts visitors from all over, this hostel was recently refurbished in 2018 and provides individual sockets and security screens for each bed. Don't forget to take advantage of discounts on food and drink while you're there!
Looking for comfortable and affordable accommodation in London? The Gateway Hotel might just be the perfect place to stay. Located only two minutes away from the South Clapham metro station, this hotel offers en suite rooms with coffee and tea making facilities. With only 20 rooms, it is an intimate establishment that is sure to make your London getaway stress-free.
Looking for the perfect place to stay in London? The Windmill on the Common offers luxurious accommodations! With its 500-year-old British pub, 42 boutique rooms, and cozy lounge featuring a fireplace and friendly Bernese Mountain dog named Max, this is the ultimate luxury getaway. Plus, if you're lucky enough to be there Sunday, you can enjoy their delicious roast dinner!
Are you planning a trip to London? Wondering where to stay in the city? Well, there are lots of great neighborhoods in London that offer accommodation for travelers. From trendy apartments in Covent Garden to cozy B&Bs near Madame Tussauds, there is something for everyone and every budget. So choose your spot and enjoy an amazing holiday in the English capital!
Conclusion:
London is a city that caters to all types of travelers. Whether you're looking for luxury, culture, nightlife, or budget-friendly options—there's a neighborhood in London that's sure to suit your needs. So why not book your next trip today and explore all that this magnificent city has to offer?