If you're going to hit the slopes this season, it's important to have the proper etiquette. Knowing how to behave is about more than just knowing how to ski. Resorts can be packed with tourists all looking to get their hands on some fresh powder. The size of the crowds will vary based on the time and day of the week, but you likely won't be the only person on the mountain. That means watching out for and respecting the other people on the trail. From utilizing ski helmet communication to practicing how to slow down, remember these ski and snowboard tips to stay on good terms with everyone you meet along the way.
5 Essential Ski and Snowboard Tips
1. Stop and Steer to Avoid Oncoming Obstacles
You are bound to run into a few obstacles on the course, especially when you're first starting out. Hitting a tree or a large clump of snow might lead to aches and pains, but it's better than running into another person. You need to be able to come to a complete stop and turn on a dime when skiing near other people. If you are still learning how to steer, practice in a sparsely populated area before heading to the top of the mountain. Make sure you've practiced slowing down on skis in order to stop when gravity gets the better of you.
Remember that the people downhill won't be able to see you, so it's your responsibility to avoid them. If you're like a runaway train and can't stop, do your best to give the people in front of you a heads-up to avoid a collision. Avoid stopping in the middle of the trail or run so the other skis don't have to steer around you.
2. Follow the Trail
Nothing will anger both other guests and workers at the lodge like going off trail. You need to follow all the signs and warnings posted throughout the trail. Bad weather and warming temperatures can make certain paths inaccessible during certain times of the year. Be prepared to adjust your travel plans depending on the changing conditions. If you disregard the warnings and signs, you are putting your own life and safety at risk. The staff might have to go looking for you if you get lost, which could bring the entire resort to a grinding halt.
3. Use Wireless Communication to Keep in Touch
The mountain should be a quiet place to reflect and spend time in nature. No one wants to hear you shouting on the slopes when you need to get someone's attention. Use a ski or snowboard communication device to keep a low profile on the mountain. You can carry on a conversation with your companions in real-time as you navigate the trail. Just speak into the device to speak to the other person as if you were standing face-to-face. The speakers produce clear audio, so you can hear everything the other person is saying even when the wind is howling. Using your inside voice won't prevent avalanches, but it will make the other guests more comfortable.
Attach your ski communication device directly to your helmet. It should automatically connect to anyone in your group when you are in range. You shouldn't be looking down or fiddling with your device when skiing near others.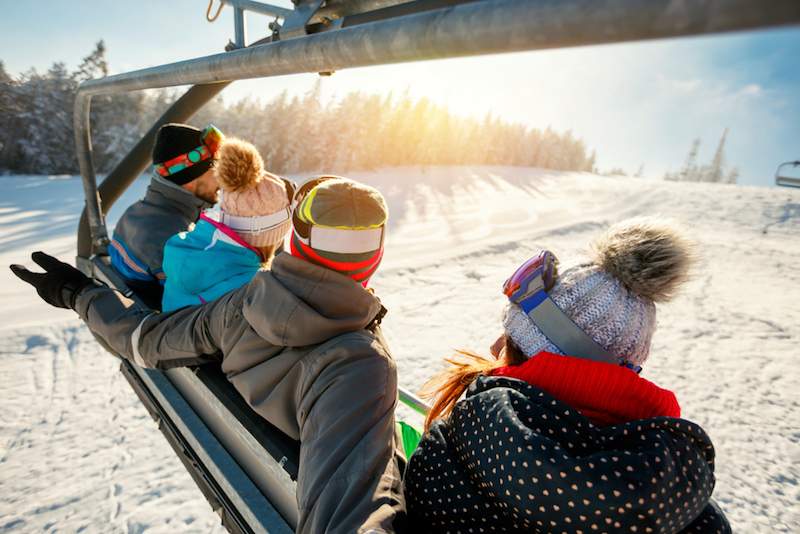 Source: Lucky Business/Shutterstock.com
4. Get Ready for Lift Off
Hitching a ride on the ski lift can be intimidating for new skiers. Letting the machine take you where you need to go takes a certain amount of trust. You should be able to get on and off the lift without running into problems, or you could hold up the line for everyone else. You also need to be prepared for the run when you reach the top. You can always ride the ski lift back down if you change your mind or aren't comfortable getting off. No one will be there to escort you down the mountain once you're at the top, so make sure you can ski to the bottom all by yourself.
5. Respect Schools and Groups
You're bound to encounter all skiers of all skill levels on the hills. This is a sport for everyone, so make space for those still learning how to ski. Keep your distance from other people on the slopes, especially if they are struggling to get their footing. Give new skiers more space to stop and turn to avoid a collision. We all start out as beginners, so show others the same respect you received when you were first starting out. The same goes for groups and tourists who are more interested in taking in the scenery than landing a perfect run. We all enjoy the slopes for different reasons, so mind your manners and stay out of each other's way.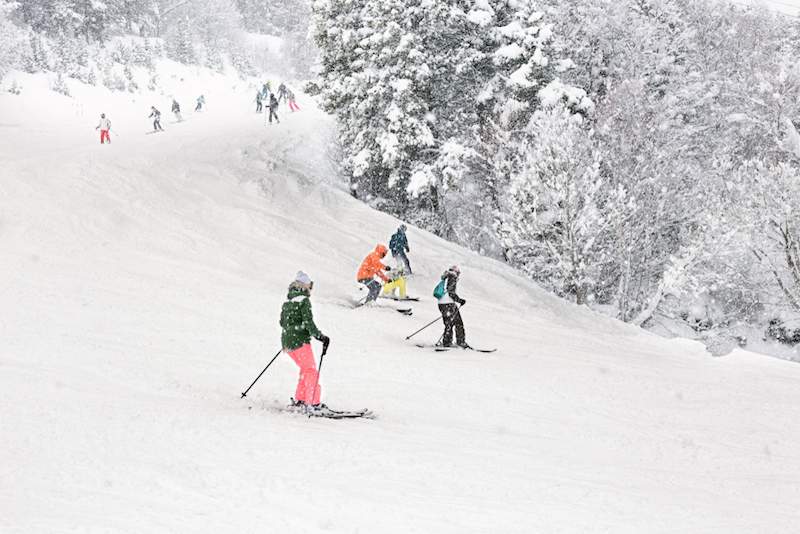 Source: Ekaterina Kolomeets/Shutterstock.com
Skiing requires a certain level of patience and understanding as the sport increasingly gains in popularity. It's all about giving each other space and taking ownership of your behavior on the slopes. The golden rule applies to skiing as well. Don't do anything on the mountain you wouldn't want someone else to do to you.