By: Jessica Kamikaze
Folk on the Rocks, Yellowknife: Music Festival-slash-Best Time in the World
Northern Canada is not a super popular destination for people like me who don't particularly enjoy nature or bugs or outdoor activities or going outside. And the temperatures! No one's going to tell you that winter in the North isn't remarkably long and unbelievably cold. But if you have the chance to get to Yellowknife in July you will be met with balmy, sun-filled days and friendly locals, all hopped-up on extended hours of daylight. And you'll also get Folk on the Rocks – Yellowknife's ultimate outdoor music festival and the place to learn innumerable life lessons.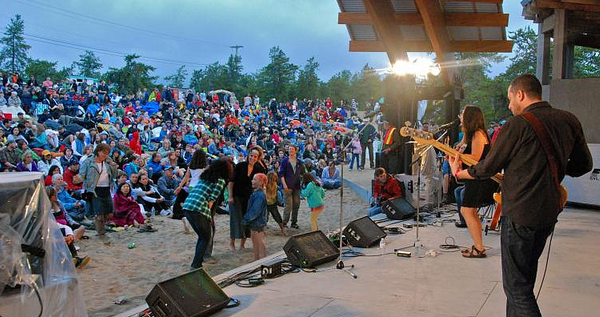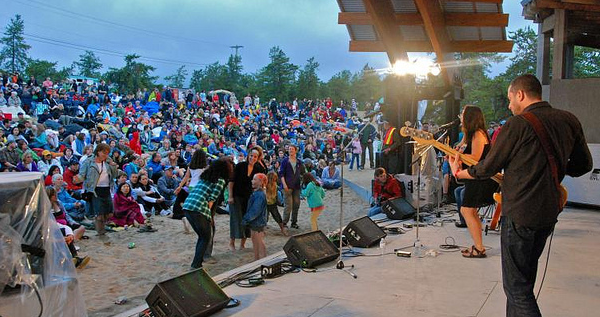 On the first day of the festival, I headed out with a friend to check it out. We made a cursory inspection of some of the vendor stalls and activities, but then we headed over to the beer garden and pretty much stayed there all day. I saw a bunch of awesome local bands and made a bunch of new friends, and afterwards we all went and sat on lawn chairs in the gravel parking lot to continue drinking. Some guy brought a mandolin. How is THAT for a magical evening? Life advice: when you're drinking in the parking lot of life and someone brings a mandolin, pretty much everyone's going to have a good time. Was that even advice? Whatever, you'll take what I give you.
The second day was a little harder to get up for, but after a hearty brunch we were back at the beer garden, listening to more bands and meeting more people! On this day we took a few more breaks to get out and see the bands playing on the other stages. Life advice: you can't just hang out in the beer garden of life and expect all the best bands to come to you. On one of these little sojourns we saw Fred Penner! He was at Folk on the Rocks performing on the kids stage earlier in the day, then I guess he decided to just walk around delighting everyone with his presence for the rest of the day!
Near the end of the day I got an insider tip that cider was running out. How many were left? Only four. A couple of the people at our table were drinking cider, because the beer options were a little too unique for some (they were craft brews that were strong or bitter or both), so I knew this was going to be a problem. Then I did what any normal, enterprising individual would do: I bought the remaining cans of cider and returned to my table as a cider slum lord, intent on charging exorbitant prices for the last four ciders in the beer garden! Unfortunately, I wasn't made for the rough and tumble world of the cider game, and I think I just ended up drinking two of my precious commodities and giving the other two away. Life advice: when you're trying to make it big in the illicit alcohol trade of life, you will probably need to actually be tough; or hire enforcers.