While Florida is mainly known for its beautiful beaches and warm weather, that's not the only thing the Sunshine State has to offer visitors. There's also Orlando – the capital of theme parks and home to some of the most incredibly designed thrill rides ever built.
These parks also have a reputation for throwing everything they can at the concept of "theme" – visitors find themselves utterly lost in the fantastical realms created for their enjoyment. With this in mind, we've decided to highlight the best ways to get your geek on in Orlando, Florida: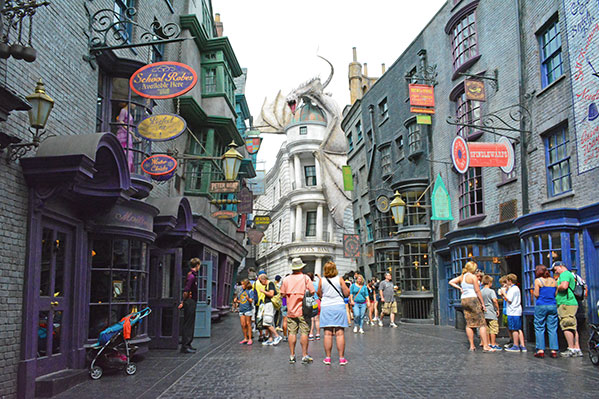 The Wizarding World of Harry Potter
Located in the Universal Orlando Resort and within walking distance of many fine hotels in Orlando, The Wizarding World of Harry Potter offers guests the chance to walk through Diagon Alley, ride the Hogwarts Express, and see Hogwarts up close, all while wearing wizard robes and holding magic wands. In fact, some wands will even trigger various interactive features hidden throughout the park. Please note: The Wizarding World of Harry Potter is spread across two parks requiring two different tickets to enter (the Hogwarts train acts as a way for guests to go from one to the other) so make sure you've purchased an upgraded ticket that lets you go to both.
Magic Kingdom
When it opened in 1971, the Magic Kingdom was the first and only park in the newly developed Walt Disney World Resort. A near carbon copy of Disneyland in California, the Magic Kingdom lives up to its name by giving guests the opportunity to leave the world of today and enter a world of fantasy and wonder. You'll see characters from your favorite Disney movies, go on rides that send you through magical realms, and feel like you stepped into a child's idea of heaven. But the Magic Kingdom is only one of four parks in Disney World, with the others doing an equally outstanding job at creating the illusion of being transported to another time and place.
EPCOT World Showcase
Originally conceived as a city of the future – EPCOT stands for Experimental Prototype Community of Tomorrow – the second-oldest park on Disney property is more play than practical. Half the park is designated as a year-round World Showcase, with 11 pavilions representing 11 different countries, complete with authentic food and appropriately-themed rides. Those who've always wanted to travel abroad but haven't done so can come close by stopping by each pavilion and enjoying the highly detailed and accurate ambiance they provide. Consider it a trial run for your dream trip to France, Morocco, or Japan (among others.)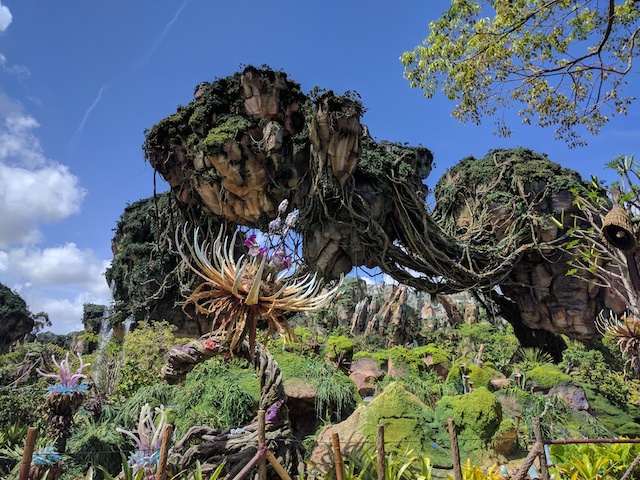 Pandora – The World of Avatar
Located in Disney World's Animal Kingdom, Pandora is an entire area of the park devoted to recreating the vivid world found in the hit film Avatar. The crown jewel of the World of Avatar is "Flight of Passage," a ride that takes you on a virtual journey through Pandora on the back of a Banshee. You even get struck by enticing smells during the ride in a successful effort to sell the illusion. Every fan of Avatar needs to go to Animal Kingdom at least once.
Galaxy's Edge
Every Star Wars fan grew up dreaming of piloting the Millenium Falcon. Now's your chance, thanks to the newly opened Galaxy's Edge in Disney's Hollywood Studios. Not only does the ride Smuggler's Run put you in the cockpit, but there's also a full-scale replica of the Falcon right outside for you to see and touch. You can even order a glass of blue milk to finally discover what it tastes like. We think it tastes great – especially with a splash of bourbon!
Kennedy Space Center
Okay, enough about fantasy and science fiction. There are plenty of people out there who geek out over science reality. Those fascinated by the story of human spaceflight need to head 50 miles east to visit Kennedy Space Center. While most of it is an active government facility and off-limits to visitors, buses will take you on a driving tour of the most famous parts of the historic spaceport, including the Vehicle Assembly Building and Apollo-era launch pads.
Are you a franchise geek? Are you headed to Orlando? If so, you're in luck! From wizards and princesses to Jedi Knights and real-life space explorers, O-town has you covered!