Hello adventurers!
We're about to embark on an exciting journey right into the heart of Vietnam, exploring the vibrant metropolis of Saigon. Dynamic and ever-evolving, Saigon – or Ho Chi Minh City as it's officially known – is a heady blend of old and new. Picture bustling markets teeming with traditional handicrafts shadowed by towering skyscrapers, their glass windows reflecting the centuries-old pagodas below. Intriguing, isn't it?
Now, I can hear some of you saying, "But isn't exploring a big city like Saigon expensive?" Not to worry! This bustling city is full of wonders that won't burn a hole in your pocket. So for all you budget-conscious explorers out there, this guide will prove to be your trusty companion.
Whether you're a history buff intrigued by Vietnam's rich past, a food lover eager to dive into the world of tantalizing street food, or an urban explorer ready to weave through Saigon's energetic streets, we've got you covered. Through this blog, we'll unearth affordable gems in this city of contrasts that cater to every interest, every palate, and every type of adventurer.
So are you ready to pull out that backpack, strap on those comfortable shoes, and see the best of Saigon without breaking the bank? Let's get started on this enthralling journey! Stay tuned and join us on a delightful exploration of Saigon's myriad attractions that are easy on the pocket yet rich in experience. Adventure, culture, and budget-friendly fun await in Saigon, Vietnam.
Stay bold, travel smart, and keep exploring with us!
Next stop, Saigon!
Saigon in Vietnam: A Trailblazer's Guide to Ben Thanh Market
Hello adventurous souls! Welcome to the second installment of our practical guide on exploring the thriving metropolis of Saigon in Vietnam. With your trusty backpack and a sprinkle of adventurous spirit, we're headed right to the pulsating heart of the city: Ben Thanh Market.
All About Ben Thanh Market
So why Ben Thanh, you ask? Well, it's not just a market. It's the oldest surviving one in Saigon and a vibrant symbol of the city itself. Officially established in the 1850s, the market we see today boasts a clock tower and four ornate gates – pieces of architecture that serve as vivid reminders of Saigon's colonial past.
From daybreak to nightfall, it's a whirlwind of colors, sounds, and scents. Picture stall upon stall selling everything from authentic Vietnamese silk to fragrant spices, gorgeous ceramics to succulent fruits. Essentially, we can say it's a miniature version of Saigon itself!
What to Expect at Ben Thanh Market
Are you ready for some serious bargaining? Yes, you heard it right. Ben Thanh is a bargain hunter's paradise. As you wander among the labyrinth of stalls selling traditional clothes, unique souvenirs, and mouth-watering street food, show off your haggler persona!
Variety: Expect a kaleidoscope of goods. Whether you're seeking a 'non la' (traditional Vietnamese hat) as a keepsake or local art pieces, you're sure to find it here.
Haggling: This is part and parcel of the Ben Thanh experience. Most prices handed out by vendors are "tourist prices." Don't let that deter you. A polite, friendly haggle is expected and appreciated.
Street Food: After all that shopping, treat yourself to a culinary adventure. From 'banh mi' (Vietnamese sandwich) to 'pho' (noodle soup), the food stalls at Ben Thanh offer some of Saigon's best and most authentic street food.
Affordable Tips for Visiting Ben Thanh Market
Shop smart: Not all souvenirs are created equal. For standard items like t-shirts or keychains, explore a few stalls before settling on a buy. This way, you get a clear idea of how much the item should cost.
You can't over-prepare: Do some research on average prices and traditional food before you go. This will help you bargain more effectively and make smart food choices.
Remember, the goal is to dive headfirst into the local Saigon culture while treating your wallet kindly.
Whether you're an avid shopper or not, Ben Thanh Market provides a fascinating peek into Saigon's vibrant livelihood and culture. So, get ready, brave explorers, because some serious market exploration awaits your arrival in the mesmerizing world of Saigon! Onwards and upwards!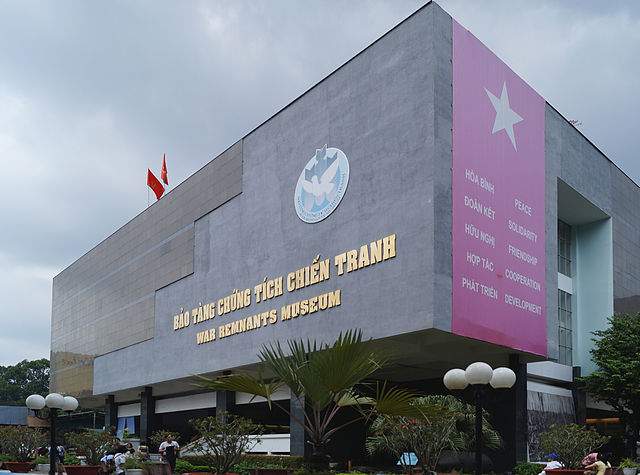 Saigon's Living History: The War Remnants Museum
Welcome back, dear adventurers! Today, our journey through Saigon, Vietnam, leads us to a heart-wrenching yet insightful stop — the War Remnants Museum. Stepping inside, we're privy to a compelling narrative of Vietnam's past, brought to life through exhibits that honor resilience and peace.
What Makes the War Remnants Museum Unique?
This isn't just another museum. It's a sober reminder of Vietnam's tumultuous past, captured through exhibits that narrate a tale of both pain and triumph.
Established in 1975, the War Remnants Museum has become an integral facet of Saigon's landscape. It houses displays from the Vietnam War, or what locals refer to as the "American War". Each room within the museum is like a chapter from a history book, brimming with artifacts, military equipment, and photographs, each with its own heartbreaking yet resilient tale.
Visiting this museum is walking through a sobering display of history. Yet, it inspires a deep respect for Vietnam's enduring spirit. Not for the faint-hearted, the War Remnants Museum reveals the stark realities of war, fostering more profound understanding and compassion for the impacts of conflict.
Tips for Exploring on a Budget
For you frugal explorers, the War Remnants Museum is a mecca of knowledge that comes with a very minimal price tag.
Entrance Fee: Entrance to the museum is extremely pocket-friendly compared to other historical sites around the world. The small fee you pay goes towards the upkeep of exhibits, ensuring they remain accessible for generations to come.
Time is Your Friend: There's no added cost for lingering, so take your time. The exhibits are dense with information. Slow down to allow the weight of the history you're witnessing to fully sink in.
Guided Tour: Most signage is in English, but for a small extra fee, you can hire a local guide. They provide rich context and personal narratives that deepen the experience.
Remembrance Shopping: There's a small gift shop with books, postcards, and memorabilia. Buying here supports the museum and gives you a keepsake of your visit.
An encounter with the War Remnants Museum invites us to learn, reflect, and extend empathy in ways we might not have imagined. As budget adventurers, it serves us not just a lesson in history, but also in humanity, without us having to dig too deep into our pockets.
Stay tuned for our next frugal adventure in good old Saigon! The journey is far from over!
Saigon's Notre-Dame Cathedral Basilica: A Glimpse of Religious Grandeur
Hello adventurous traveler! Our exploration of Saigon's marvels continues, and up next, we have a real treat. Our third stop is none other than the historic Notre-Dame Cathedral Basilica of Saigon, a beacon of Saigon's rich cultural tapestry and architectural grandeur.
The Aesthetic Splendor of Notre-Dame Cathedral Basilica
Often highlighted in postcards and travel books, the Notre-Dame Cathedral Basilica steals hearts right at first glance. Standing tall in the heart of Saigon, the Cathedral is a striking testament to Saigon's Colonial French era.
Constructed between 1863 and 1880, the Cathedral boasts a unique blend of Romanesque and Gothic architectural styles. Its majestic twin bell towers reach 58 meters high, and its 'Statue of Peace' stands as a symbol of serenity amidst the hustle of city life.
What's more, every red brick that forms this awe-inspiring structure was imported from Marseille, France. Even today, the Cathedral's red hue gleams under the Saigon sun, earning itself the nickname "Ruby of the City."
This iconic structure not only showcases exemplary architecture but also serves as a spiritual sanctuary for Saigon's Catholic population, making it a pivotal landmark of the city's tapestry both aesthetically and culturally.
Budget-Conscious Exploration of Notre-Dame Cathedral Basilica
Visiting Notre-Dame Cathedral Basilica doesn't necessarily have to leave you penniless, frugal explorer! Here's how you can make the most of your visit:
Entrance Fee: Marvelous news! There's no entrance fee to the Notre-Dame Cathedral Basilica.
Availability: The cathedral itself is open only during Mass, but its stunning exterior and tranquil park are accessible throughout the day.
Is a Guide Necessary?: Handy tip – though invaluable, a local tour guide isn't necessary for an enriching experience. The Cathedral's exterior radiates historical significance that's palpable even without a guided explanation.
Appreciating from Afar: Yes, the basilica is impressive up close, but distanced views from the surrounding garden or local cafés also offer stunning vistas of this architectural wonder.
The Notre-Dame Cathedral Basilica of Saigon isn't just a sight for sore eyes but a monument enveloped in spiritual significance and historical import. Happy exploring, adventurers! Our journey through Saigon continues with equally enchanting stops. Stay tuned!
One-Stop Postcard from the Past: Saigon Central Post Office
Hello DIY enthusiasts and budget-conscious explorers! We've now landed at our fourth stop in vibrant Saigon, Vietnam: the Saigon Central Post Office. And, you bet it's more than just your run-of-the-mill post office. It's a living testament to Saigon's colonial past, both as a functional entity and an architectural wonder.
Retracing History at Saigon Central Post Office
Constructed at the height of the French colonial era, between 1886 and 1891, the Saigon Central Post Office is a standing masterpiece designed by the famed architect Gustave Eiffel (yes, the same man who designed the Eiffel Tower).
With its gothic architectural style, ornate furnishings, and a vast map showcasing the old telephone lines system in Southern Vietnam, the post office takes us back to the late 19th century. The charm of large clock above the entrance, old-fashioned telephone booths, looping arches, and patterned tile floor truly captures the essence of an era gone by.
But don't be fooled by its historic garnish! In the heart of this architectural wonder, you'll find a robustly functioning post office, happily standing the test of time.
Visiting Saigon Central Post Office on a Budget
Thrifty souls, rejoice! The Saigon Central Post Office is the perfect rendezvous for all who love grandeur on a shoestring budget.
Entrance Fee: The best things in life are indeed free! There's no charge to enter and roam around this heritage building.
Explore at Leisure: Take your time strolling around, as there's no time restriction.
Time Travel: You can purchase a postcard at a nominal price from the many local vendors inside, write a note, and mail it to your loved ones right from this historic place.
A Picture Speaks a Thousand Words: Don't forget to capture the timeless elegance of the building and of course, your memorable visit, in a few snaps. No charges apply!
The Central Post Office is more than a landmark; it's like a message in a bottle from the old-world, beautifully nestled within the lively buzz of modern Saigon. Stay tuned, our Saigon adventure isn't over yet. There's plenty more to explore without breaking the bank!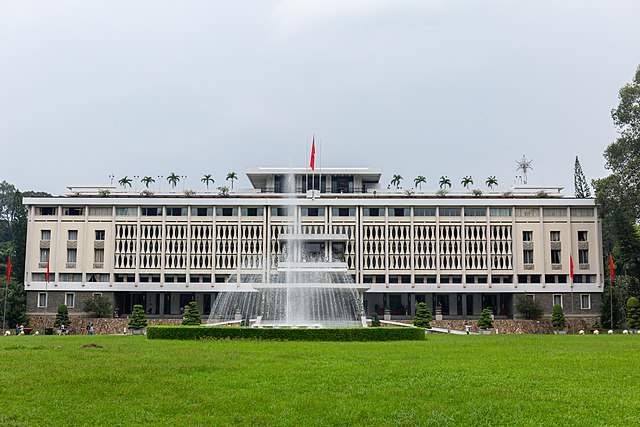 Stepping into History: Independence Palace, Saigon
Hello DIY adventurers and frugal travelers! Our whirlwind journey through Saigon continues. Today, we bring you to one of the city's most emblematic symbols, the prestigious Independence Palace. This place isn't only about splendid architecture; it's steeped in history, making it a must-visit during your stay in Saigon.
Why The Independence Palace is of Historical Significance
Independence Palace, or Reunification Palace as it's also called, has lived through a fair share of defining moments. From the fall of Saigon to the reunification of Vietnam, this iconic landmark has stood witness to major turning points in the nation's history.
Constructed in the 19th century as the seat of the French colonial administration, Independence Palace was later occupied by South Vietnam's president. In 1975, the North Vietnamese Army famously crashed through the gates with a tank, signaling the end of the Vietnam War. Today, the palace is a museum, having been preserved almost exactly how it was left in 1975, giving visitors a grand and humbling historical immersion.
Budget-Friendly Tips for Visiting Independence Palace
Fear not, frugal explorers! We have you covered with smart suggestions for experiencing Independence Palace without emptying your wallets.
Entrance Fee: A reasonable fee gives you access to explore the palace and wander through its hallowed corridors, gaining a priceless insight into Vietnam's history.
Do It Yourself: While hiring a guide is always an option for an additional cost, you can also discover the palace at your leisure. The English captions on display offer a wealth of information about exhibits and rooms.
Bring Your Camera: Be sure to capture the stunning building as well as your memorable visit. Photography is allowed!
Timing is Key: To avoid the crowds, we recommend visiting Independence Palace during the week, early in the morning, or late in the afternoon.
Embarking on a journey through Saigon's Independence Palace is like walking the pages of a gripping history book. With our budget-wise tips, you can now unravel the mysteries held within its walls without breaking the bank.
Stay tuned for more exciting adventures and practical, budget-friendly travel recommendations for your next experience in Saigon!
Soak in The Charm: Bui Vien Street, Saigon
Hey adventurous DIY enthusiasts and budget-conscious explorers! Our next and most vibrant Saigon pitstop is Bui Vien Street – a bustling thoroughfare that enchants visitors with its exhilarating atmosphere and local color. From dusk till dawn, this busy street paints an authentic picture of Saigon's lively nightlife.
The Unmatched Allure of Bui Vien Street
Located in the heart of the city, Bui Vien Street is an epicenter of action. It's a place where cultures collide, where the old world merges beautifully with the new, and where the night sky vibrates with the murmur of hearty conversations, laughter, and delightful music.
The street is a sensory carnival! With vibrant neon signs, a rainbow of lanterns, and a symphony of street performers, every moment here is Instagram-worthy. The aroma of sizzling street food competes with the fragrance of lush tropical trees lining the pavements. You'll mingle with a happy mix of locals and foreigners, and you can't escape the infectious energy that pulsates through this dynamic locale.
How to Experience Bui Vien Street on a budget
Fear not, budget travelers! You can comfortably savor the extravaganza of Bui Vien Street without breaking your bank. Here's how:
Stroll and Explore: Wandering the streets doesn't cost a dime! Simply soak in the lively vibe and enjoy the street performances.
Satisfy your Hunger: Relish in the affordable street food. Try out bánh mì or ph?, two famous Vietnamese dishes, for a truly local experience.
People Watching: Pull up a chair at one of the numerous sidewalk cafés, order a Vietnamese iced coffee, and enjoy top-notch people watching.
Barter Wisely: If shopping is on your agenda, remember that bargaining is part of the culture on Bui Vien Street.
That's the beauty of Bui Vien Street! It has something for everyone and fits every budget. Despite being a playground for night revelers, it never loses its authentic Vietnamese charm. Stay tuned as we dive into more incredible and budget-friendly experiences through Saigon!
The Hidden Gem: Jade Emperor Pagoda, Saigon
Greetings, DIY enthusiasts, and budget-savvy adventurers! We continue our exciting journey through Saigon with a stop at the mystical Jade Emperor Pagoda, an oasis of tranquility amidst the bustling city. This centuries-old pagoda lends a touching glimpse into the deep-seated Buddhist and Taoist traditions of Saigon.
Unveiling the Jade Emperor Pagoda
The Jade Emperor Pagoda, also known as Phuoc Hai Temple, is not your everyday tourist attraction. It's a sacred place where incense-filled air, detailed woodwork, Taoist deities, and ages-old statues create a unique spirituality that's palpable in the atmosphere.
Constructed in 1909 by the Vietnamese-Chinese community, the pagoda is dedicated to the supreme Taoist god – the Jade Emperor or 'Ngoc Hoang'. Its intricate architecture, adorned with carved panels and gilded woodwork, reflect the profound devotion towards religious beliefs.
Adding to the charm are the turtle and fish ponds in the courtyard. The locals believe releasing these creatures into the ponds brings good luck, a time-honored custom that further integrates the pagoda into daily life.
Embrace the Mystique Without Stretching Your Budget
Here's the good news for those watching their wallets! Enjoying the spiritual ambiance of the Jade Emperor Pagoda doesn't have to be expensive. Take note of the following tips:
Entrance Fee: Put your wallet away because entering the pagoda is completely free!
Self-guided Visits: There are informative English boards throughout the pagoda, steering you through the religious symbolism and cultural references.
Photo Ops: Capture the exquisite details in the pagoda without any cost, but remember to be respectful in this place of worship.
Gift of Good Luck: If you wish, you can buy a small turtle or fish from a nearby vendor and release it in the pond.
Remember, the Jade Emperor Pagoda isn't just about history and architecture; it's a spiritual heartland teeming with local life, offering a precious peek into traditional belief systems. So buckle up and let's immerse ourselves in more rich experiences that Saigon holds for us, without any strain on the budget!
Reach for the Sky: Bitexco Tower, Saigon
Hey DIY explorers and budget-wise adventurers! Next on our Saigon journey is Bitexco Tower, the beacon of the city skyline. This modern masterpiece is not just architecturally striking but also offers a panorama of Saigon that's downright breathtaking.
Soaring Saigon: Bitexco Tower and Its Grandiose Views
Bitexco Tower, standing at 262 meters high, dramatically reshapes Saigon's skyline. Its unique, lotus-inspired design signifies the culture-rich Vietnam blooming into a thriving, futuristic nation. The building's crown jewel is the Sky Deck on the 49th floor, offering an unobstructed, 360-degree view of the bustling city.
From serene river areas and colonial structures to the bewitching city lights as darkness descends, the view encompasses Saigon's dynamic evolution. It's a real treat for skyline lovers, day or night!
A Budget-Friendly Visit to Bitexco Tower
You may think that experiencing the grandeur of Bitexco Tower might burn a hole in your pocket. Not necessarily! Here are our penny-saving suggestions:
Sky Deck Entrance Fee: Granted, there is a fee to take the elevator to the 49th floor. However, the chance to view Saigon from such heights justifies the cost.
Coffee with a View: For a more wallet-friendly alternative, head to the EON Cafe on the 50th floor. Though the prices here are a bit steeper than average Saigon cafes, the mesmerizing city view comes free!
Time Your Visit: Sunset is a captivating time to visit, but it's also the most crowded. Schedule your trip during off-peak hours to enjoy a less crowded view.
Remember, the Bitexco Tower visit isn't only about viewing Saigon from a dizzying height; it is understanding the city's march towards modernity yet clinging to its roots.
Join us as we continue our journey, discovering more of Saigon's wonders while keeping our wallets cheerful!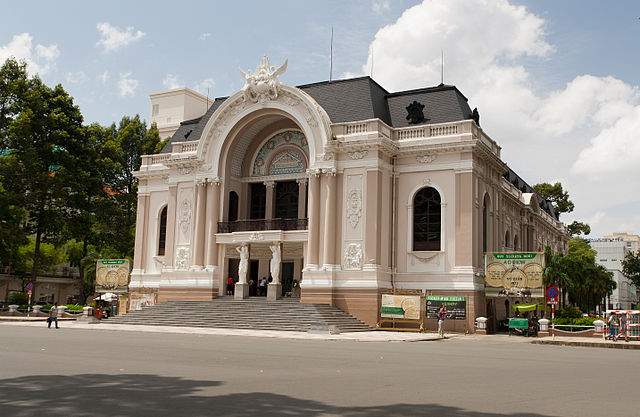 Encore! Saigon Opera House: A Soulful Slice of Culture
Hello there, DIY enthusiasts, travelers, and budget-conscious adventurers! Our exploration of Saigon continues, with a step into the elegant world of culture and arts at the Saigon Opera House. This architectural gem will make you feel like you're living in a scene from an old French painting.
The Melodic Masterpiece: Saigon Opera House
The Saigon Opera House, or the Municipal Theatre of Ho Chi Minh City, is a stunning remnant of the French Colonial era. Built in 1897, this landmark stands tall on one of the broad avenues near Saigon's rivershore, reflecting the perfect blend of Beaux-Arts and Renaissance architectural styles.
But the opera house is not just a pretty façade! It's a contemporary performance venue where artistic expressions in the forms of ballet, music concerts, and traditional Vietnamese theater come to life. Attending a show in this historical setting is an experience you don't want to miss!
Appreciate Saigon Opera House on a Budget
Worry not, we've got you budget-conscious aficionados covered. Follow our money-saving tips to enjoy the splendor of Saigon Opera House without causing distress to your wallet:
Get Acquainted: Even if you can't splurge on a performance ticket, appreciate the grandeur of the Opera House from the outside. Marvel at its ornate façade and take stunning photographs, all for free!
Affordable Performances: Keep an eye on the Saigon Opera House's events calendar to pick up discounted performance tickets. Some shows are more budget-friendly than others!
Audio Tours: For a small fee, take advantage of an audio tour to learn about the rich history and cultural significance of the Opera House.
Timing is Key: If you happen to visit Saigon during the city's major events or festivals, you may be lucky enough to catch some free performances hosted by the Opera House!
Saigon Opera House is the epitome of grace and culture, inviting you to envision Saigon's charming history while remaining in touch with its vibrant present. So, let's get ready and dive into more exhilarating experiences that Saigon has in store—all while keeping our budgets happy!
Embrace Nature's Serenity: Tao Dan Park, Saigon
Good day, DIY enthusiasts, travelers, and budget-conscious adventurers! Our Saigon escapade leads us to the lush, green sanctuary of Tao Dan Park. This verdant oasis amidst the urban jungle offers a refreshing break, and the best part is, you don't need deep pockets to enjoy it!
A Breath of Fresh Air: Tao Dan Park
Tao Dan Park stretches over 10 hectares, boasting well-maintained lawns, meandering pathways, and countless tree species. This peaceful retreat is perfect for everyone seeking respite from Saigon's frenzied pace or simply wishing to connect with nature.
The park is not only a recreational hub but also home to some cultural and historical gems, such as a miniature display of Cham towers and the Hung Kings Temple, offering a glimpse into Vietnam's rich past.
Here, you can join the locals in various activities such as jogging, tai chi, or even bird-watching! In fact, you'll often find dedicated morning bird clubs gathering around their prized birds housed in intricate cages.
Enjoy Tao Dan Park on a Budget – Some Practical Tips
You can have a fulfilling experience at Tao Dan Park without stretching your budget. Consider the following advice:
Free Entry: Good news – no entry fee to Tao Dan Park! Just walk in and start exploring!
Pack a Picnic: Bring your munchies along for a delightful picnic on its lush lawns, eliminating the need to buy food.
Join the Locals: Take part in free activities, like tai chi or badminton, to immerse yourself in local culture without spending a dime.
Free Culture Exploration: Discover the park's historical spots, like the Hung Kings Temple and Cham towers, at no extra cost.
Remember, you don't need to splurge to experience the tranquility and charm of Tao Dan Park. So, let's keep discovering the enchanting wonders of Saigon, confident in the fact that fun and adventures can be found at every budget level!
Concluding Our Journey: Saigon Uncovered, Wallets Respected
DIY enthusiasts, travelers, and budget-conscious adventurers, we've arrived at the end of our enchanting journey uncovering Saigon's top ten affordable attractions. While exploring Saigon's timeless streets to the dizzying heights of the Bitexco Tower, we've embraced its history, culture, majestic skyline, and of course, its irresistible street food! And we achieved it all without causing any distress to our wallets!
Overcoming Budget Concerns & Embracing Saigon's Wonders
Remember, embracing Saigon on a shoe-string budget means mixing things up:
Savour street food like the locals,
Explore markets pulsating with energy,
Embrace serenity at public parks,
And of course, gaze in awe at the city's booming cityscape.
Join pick-up soccer games, bring along your picnic to the park, marvel at architectural wonders, and pay your respect at the city's numerous monuments. Saigon rewards visitors who engage with its vibrant spirit, irrespective of their budget.
Going over budget doesn't mean going overboard with expenses. It's about being savvy, planning ahead, and immersing yourself in the local culture.
So pack your bags, assemble your DIY kits, and unravel the wonders of Saigon, without breaking the bank! Have a blast, and remember every special moment you spent here. We're sure you'll leave with colourful stories to tell and extraordinary memories to treasure!
Adventure awaits!
References
All the insights and tips included were gathered using a variety of sources. Here are some of them: